The summer months might be a time to relax for some Houstonians. For others, the season offers opportunities to explore new creative disciplines and discover untapped talents.
Each year, the University of Houston helps Houstonians unleash their inner artists through a variety of camps and workshops. Among the creative spirits visiting campus are  high school students who are participating in this year's Wonderworks programs. Coordinated by UH architecture professor Drexel Turner, Wonderworks camps introduce high school students to filmmaking, film appreciation, architecture and classic works of literature. This week, Wonderworks students are diligently designing conceptual pavilions in UH's Gerald D. Hines College of Architecture or sitting in classrooms discussing stories and books.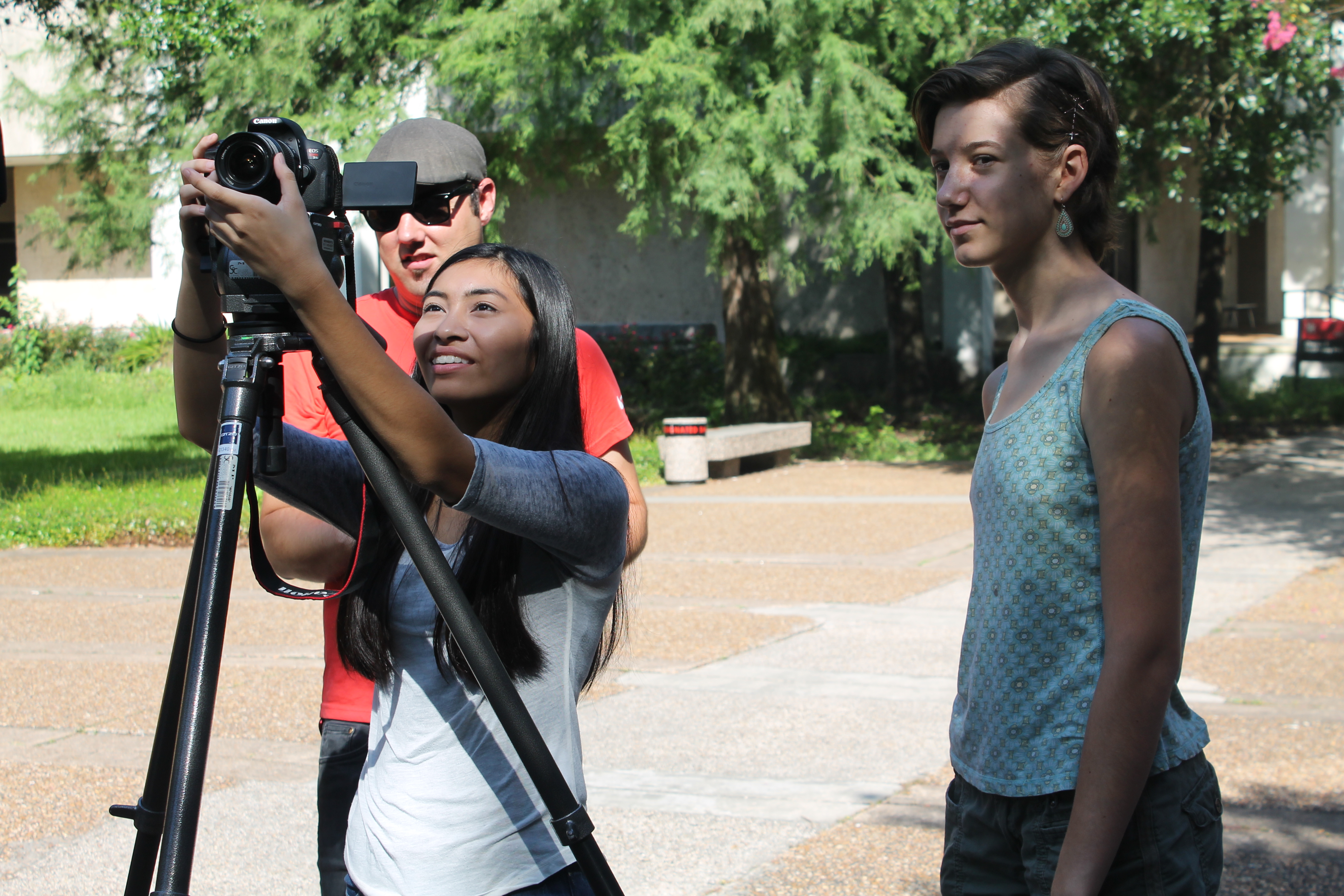 Other Wonderworkers can be found throughout campus with cameras and tripods, shooting film scenes for short movies. As part of Wonderworks' "Moving Pictures" camp, these students are learning the technical and aesthetic aspects movie making from Keith Houk, clinical assistant professor in UH's Jack J. Valenti School of Communication.
"All of our students are attending this camp because they want to be here," he said. "Instead of being dropped off at the theater and watching movies all day, they actually are making something … and having fun."
Victoria Ramirez' experience with "Moving Pictures" led her to enroll as a media production student at UH. This year, Ramirez – now, a senior at UH – is among the instructors guiding a new group of aspiring auteurs. The experience of learning alongside other high school students was fun, but it also offered her solid foundations in filmmaking and video production.
 "This workshop was one of my first experiences with filmmaking," she said. "If you pay attention during this program, you'll learn a lot. The things I learned as a high school student also were covered in my first production class at UH. I remember that everyone in that class was very nervous. The skills I learned during this summer program helped my confidence and motivated me to try new things without the fear of making mistakes or failing."
Pre-college experiences such as those offered by Wonderworks teach new topics (such as video production and architecture) to high schoolers and introduce them to a university environment, said UH architecture lecturer and Wonderworks instructor Anne Eamon.
Eamon (a UH alumna) is a longtime instructor for Wonderworks' architecture program "By Design" (which celebrates its 20th anniversary this year). While summertime is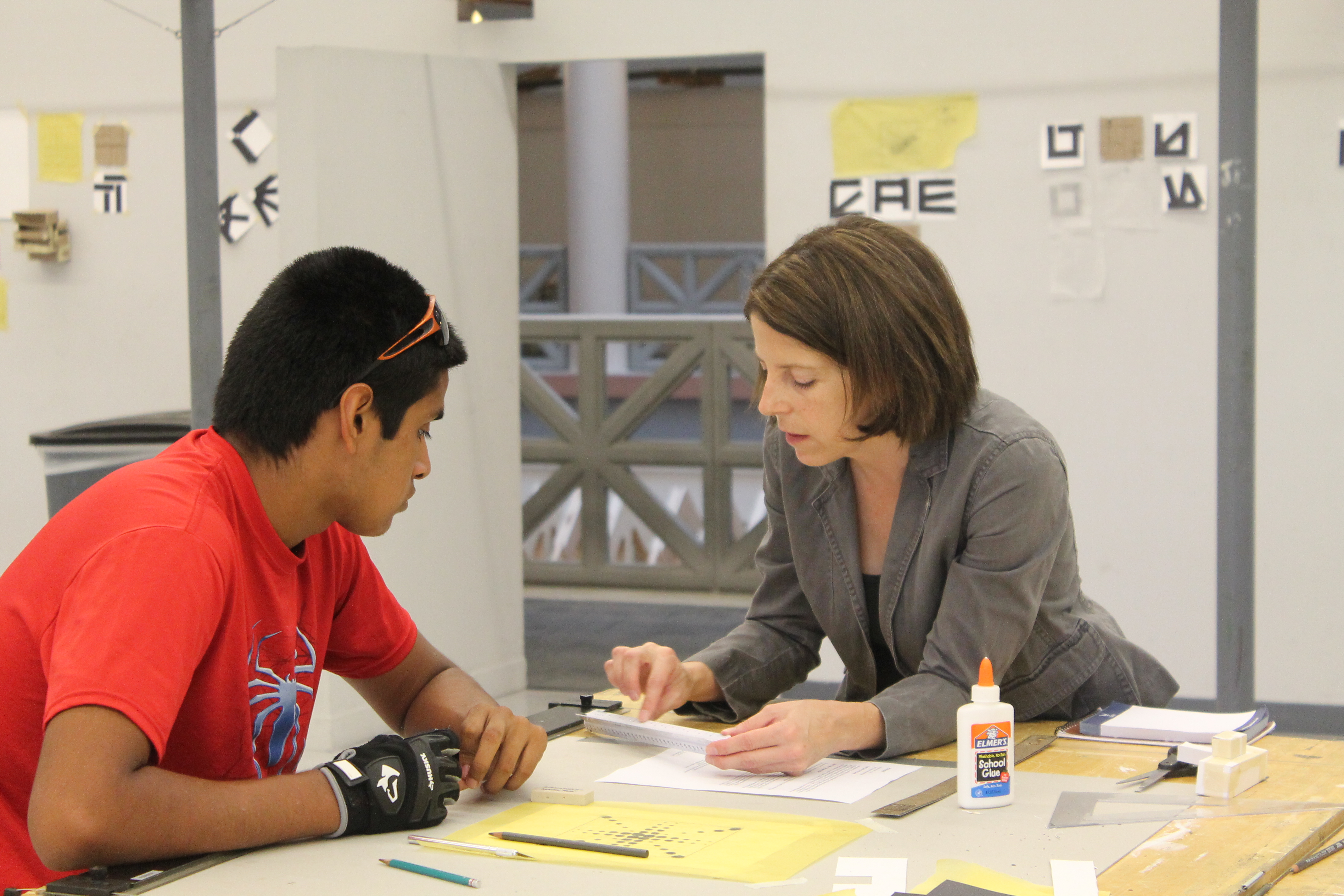 usually an opportunity for high school students to decompress, Eamon sees quite the opposite during the architecture workshop.
"As the program goes along, the students' focus levels intensify," she said. "Projects become more complex, and the studio becomes more quiet as students devote their full attention to their work."
While Eamon's group of young architects is hard at work, a younger group of students is experimenting with art next door at UH's Fine Arts Building. The Blaffer Arts Museum's Summer Arts Workshop is introducing children – ages 6 to 12 – to art. Students are creating fantasy landscapes, prints, portraits and collages under the guidance of Blaffer staff members. Projects are based on Blaffer exhibitions and the works of popular artists. While activities are certainly fun, they also are educational, said Katherine Veneman, Blaffer curator of education.
"They're getting out of the house and trying something different," she said. "They're having a great time with the lessons, but they're also learning advanced concepts that are applicable for different age levels."
Students aren't the only ones benefitting from the insights of UH's faculty and staff. Houston-area teachers soon will make their way to UH's Honors College for the 26th annual Common Ground Institute.  The program – supported by the John P. McGovern Foundation – engages educators through classic texts and discussions with peers and Honors professors. The institute also treats attendees to lunchtime readings from local authors.
"The hallmark of Common Ground is respect for teachers and teaching," said William Monroe, dean of the Honors College.  "All the participants love literature – that's a given – and we respect each other's work, whatever the grade level. We keep doing the institute because good teachers deserve to have intellectual excitement in their lives."
Wonderworks, the Summer Arts Workshop and Common Ground are just a sample of the summer offerings on campus. Other annual events aimed at bolstering Houstonians' artistic talents include the Texas Music Festival (which also attracts young musicians from around the globe) and the Houston Shakespeare Festival Conservatory.
Just as the University delivers a Tier One education to current students, it also provides future Coogs and community members with valuable learning experiences.
"UH is a great place to host these kinds of programs," said Turner. "With its studios and classrooms, the University is set up to accommodate different workshops, but UH also is a very welcoming and friendly place. It's where people come to learn, so everyone is comfortable and focused."
---