Ask any University of Houston student roaming the campus and he or she will tell you that UH is a great institution. The experts at the Princeton Review definitely agree and have listed UH among the top colleges in the United States.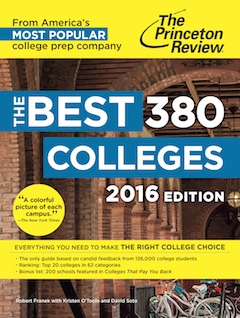 UH earned a place in the latest copy of the Princeton Review's roundup of outstanding universities, "The Best 380 Colleges: 2016 Edition" (Penguin Random House/Princeton Review Books).
"The University of Houston's outstanding academics are the chief reason we chose it for this book and we strongly recommend it to applicants," says Robert Franek, Princeton Review's senior vice president-publisher and author of "The Best 380 Colleges."
In its profile of UH, the Princeton Review also applauds student diversity and its residential campus among its strengths. Student feedback included praise for UH's Campus Wellness and Recreation Center, M.D. Anderson Library and its student organizations.
As indication of its diverse student body, UH ranked 19th in the book's "Lots of Class/Race Interaction" list. Students surveyed hailed the University as "the epitome of the grand melting pot" and offers "acceptance on all levels."
"Being named, once again, as one of the premier universities in the country for undergraduate education is something we can take great pride in," said UH President Renu Khator. 
UH's recent inclusion in the "The Best 380 Colleges" is just one of several Princeton Review rankings. UH earned the No. 2 spot in Princeton Review's "2015 Top Entrepreneurial Programs" (for the Cyvia and Melvyn Wolff Center for Entrepreneurship in the C.T. Bauer College of Business) and has been listed among the publication's "Best Western Colleges," "Colleges That Pay You Back," "Green Colleges" and "Public Schools."
"We make our selections primarily based on data we collect through our annual surveys of administrators at several hundred four-year colleges," Franek said. "Additionally, we give considerable weight to observations from our school visits, opinions of our staff and our 23-member National College Counselor Advisory Board, and an unparalleled amount of feedback we get from our surveys of students attending these schools. We also keep a wide representation of colleges in the book by region, size, selectivity and character."
The Princeton Review is an education services company known for its test-prep courses, tutoring, books, and other student resources. Headquartered in Framingham, MA, the company is not affiliated with Princeton University. For more details and to view the complete list of "Best 380 Best Colleges," visit the Princeton Review's website.
The Princeton Review's recognition of UH's in the area of diversity comes on the heels of several other national distinctions in this area. The University is among the best in the country for graduating and producing degrees among minority students according to 10 years worth of data compiled by Diverse: Issues in Higher Education and released in late July. UH was ranked in the Top 25 by the publication for conferring degrees to minority students in three separate categories:
No. 15 for bachelor degree conferrals to Hispanic students
No. 15 for professional doctoral degree conferrals to Hispanic students
No. 21 for professional doctorate degree conferrals to minority students
According to data collected from 2004 through 2013, UH conferred almost 11,000 bachelor degrees to Hispanic students, representing 22 percent of its total bachelor degree graduates during that period. UH awarded nearly 500 professional doctoral degrees to Hispanic students during that same time period. Overall, the publication ranked UH ranked No. 21 in the nation for conferring 1,939 professional doctorate degrees, or 36 percent of its total degrees in this category, to minorities over the 10-year period.
"These recent recognitions, which highlight our nationally competitive programs and student achievement over the long term, are particularly gratifying," said Khator. "Our continued commitment to creating an educational environment that ensures the success of our students is unwavering."
---