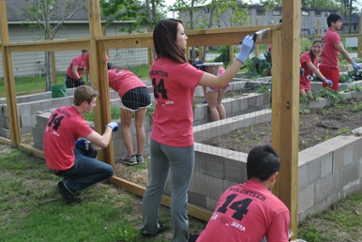 Hundreds of University of Houston (UH) student volunteers will fan out throughout the neighborhood surrounding the Agape Center (6401 Calhoun Street) as part of the "Rock the Block" community cleanup event starting at 9 a.m. and followed by a block party from noon to 3 p.m., Saturday, April 11. Festivities include a cookout, activities for kids and music.
"Last year, 150 UH students and 150 community volunteers joined in the cleanup and  participated in the 'Rock the Block' event," said Stephanie Schmidt, associate director for Leader and Civic Engagement in the Center for Student Involvement and advisor for the student organization Metropolitan Volunteer Program (MVP) at UH. "Together with our community partners, the Houston Public Works and Engineering Department, we reported 37,260 pounds of debris and 155 tires were removed."
UH's MVP will partner with Southeast Houston Transformation Alliance (SEHTA), GO Neighborhoods and Agape Development Ministries. The event is coordinated with Keep Houston Beautiful Day.
"The impact on our community is huge because we get a lot of work done and its work we don't always have the manpower to get done over the year," said David Hill, director of community relations for Agape Development Ministries. "It fosters what we try to develop which are partnerships with institutions and agencies that are in our neighborhood already. For kids to see other young adults and UH college students and interact with them is inspiring for them and gives them a model, something to aspire to be."
"The neighborhood of the Agape Center is primarily made up of senior citizens who are no longer able to do the community cleanup work and so the UH impact that we have young people come do the heavy lifting that cannot be done," said Gwen Fedrick community development coordinator for the Old Spanish Trail (OST) South Union, speaking on behalf of SEHTA/GO Neighborhood. "The neighborhood kids get to see young people from the University care about the neighborhood and that makes them care as well. We look forward to this happening every year and it makes a tremendous impact on the amount of work that can be accomplished. "
MPV was founded in 1989 and is a student run organization that provides ongoing and annual service opportunities for UH students. MVP's events provide students with the opportunity to make a positive impact on campus and in the community, to gain leadership skills, build relationships with fellow students, and gain experience in their field of interest. For more information about MVP, please visit www.uh.edu/mvp or email sschmidt@uh.edu Media attending this event should contact Schmidt at (803) 348-5208 for directions or to coordinate interviews with volunteers and community partners.
WHAT:                
"Rock the Block" Community Cleanup and Block Party
Cleanup starts at 9 a.m. followed by a block party from noon to 3 p.m., Saturday, April 11
Festivities include a cookout, activities for kids and music.
For more information, contact Stephanie Schmidt (cell) 803-348-5208
WHERE:             
Agape Center, 6401 Calhoun St., Houston, Texas  
WHO:                   
"Rock the Block" is presented by UH MVP, SEHTA, GO Neighborhoods, and Agape Development Ministries.
###
About the University of Houston
The University of Houston is a Carnegie-designated Tier One public research university recognized by The Princeton Review as one of the nation's best colleges for undergraduate education. UH serves the globally competitive Houston and Gulf Coast Region by providing world-class faculty, experiential learning and strategic industry partnerships. Located in the nation's fourth-largest city, UH serves more than 40,500 students in the most ethnically and culturally diverse region in the country.
---