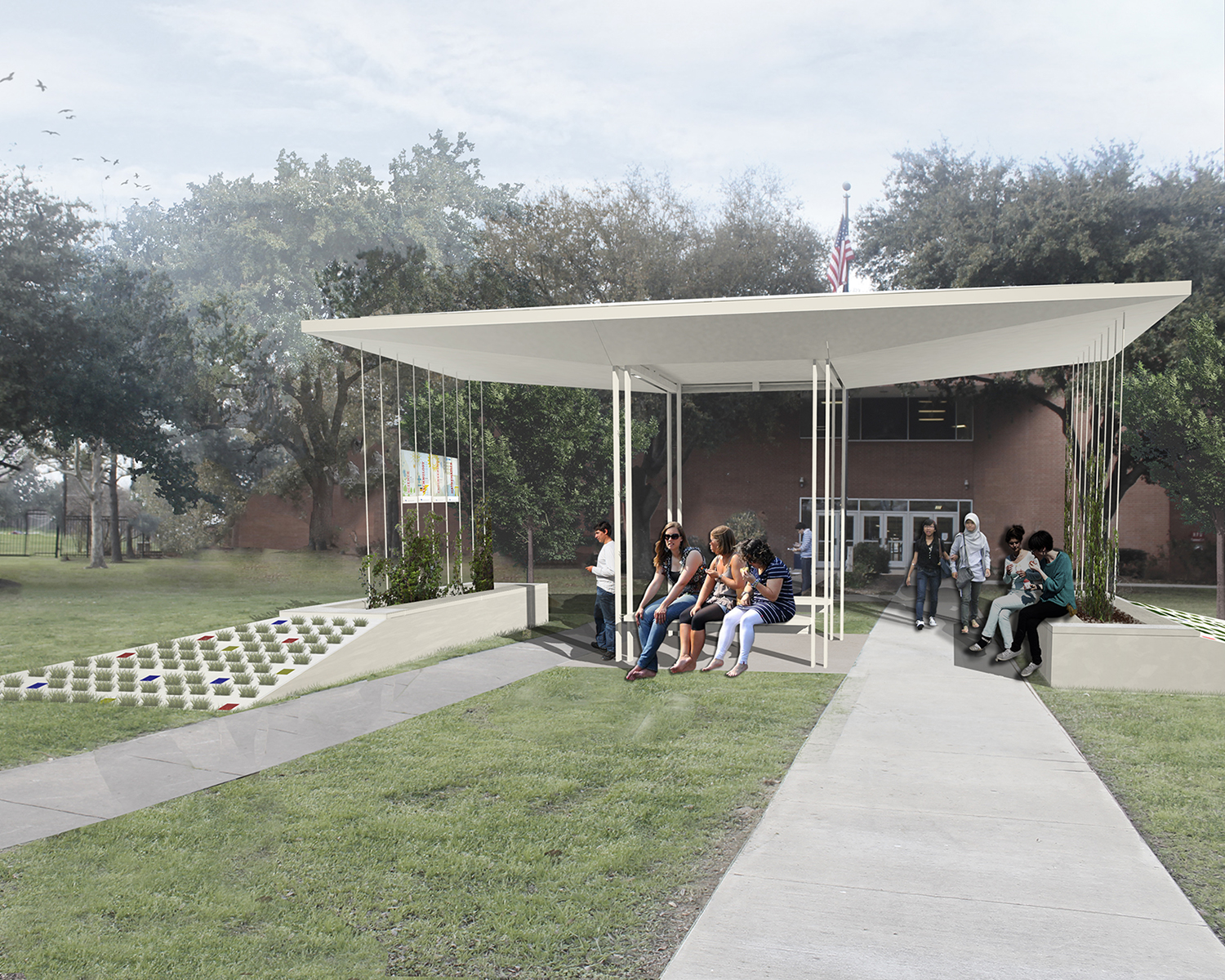 Houston's Paul Revere Middle School is known for its noted science, technology, engineering and mathematics (STEM) magnet program. At Paul Revere, students can participate in advanced coursework, extracurricular clubs and even earn high school credits. Tomorrow, they will have a new learning tool on campus designed and delivered by the creative minds at the University of Houston's Gerald D. Hines College of Architecture.
Cougar architects in UH's Graduate Design/Build Studio (GDBS) created an outdoor Education Portal for the middle school. The structure complements Paul Revere's STEM program with design elements that can be used for educational activities and lessons. It also will provide Paul Revere students with a covered space with benches for socializing, studying and awaiting rides from parents or public transportation.
At 2 p.m., Nov. 19, the school (located at 10502 Briar Forest Dr.) will officially welcome the Education Portal to its campus during a dedication ceremony. The event will be held in conjunction with SPARK Park week – celebrating new school parks in the community.
The Education Portal is literally as the name implies  -- a gateway to learning. With sidewalks extending through the structure, students can stroll through it to get to the school's front door.
Constructed from galvanized steel, the Portal stands 10 feet, 10 inches in height. Horizontally, the structure is 10 feet by 25 feet. Its various components reflect the school's commitment to STEM initiatives.
For science lessons, the Portal's rainwater catchment filters moisture onto steel cables (where it irrigates vines). Excess water is stored in a pair of detention troughs and flows to the surrounding landscape. Technology exercises can focus on the Portal's roof, which will contain two solar panels that power USB charging stations (for phones, tablets, devices) and its low-energy-use blue LED lighting system. Teachers and students also can analyze its structure –streamlined steel skin and frame – for engineering activities. And mathematics curriculum can focus on the seasonal geometry of the sun as it shines down on the portal. Panels with art and signage will offer educational facts related to the Portal's design and features.
Led by UH professor Patrick Peters, UH's Graduate Design/Build Studio assembles graduate architecture students with varying academic backgrounds. This year, Peters led students who are versed in finance, urban studies, liberal arts, landscape architecture and interior architecture. Through the studio, these students step out of their comfort zones and learn to weld, pour concrete, drive a forklift and operate heavy machinery.
Before enrolling in UH's graduate architecture program, Alex Pickard earned a bachelor's degree in hotel and restaurant management. He admitted to having "zero" experience with construction. Still, he was not intimidated and welcomed the opportunity to broaden his skills.
"I was accustomed to the design processes from previous classes," he said. "But learning about the construction side of the project was very enlightening because it opens your eyes to aspects of the design we hadn't taken into consideration."
In addition to the invaluable experience of learning design and construction, students also realize the importance of contributing to the community, Peters said.
"It's essential that they learn that their skills can make communities better," he said. "When they learn this at the early stages of their careers, they can continue to invest their talents in projects that enhance cities and neighborhoods."
The Education Portal recently was honored by Keep Houston Beautiful's Mayor's Proud Partner Award. It was among several UH projects earning kudos from Keep Houston Beautiful.
Donations from the SPARK School Park Program are funding the Education Portal's $13,000 budget. Additional in-kind support was provided by the following organizations: Morris Architects, United Galvanizing, Tolunay-Wong Engineers, Inc., Sun-Stop LLC, Shah Smith & Associates, Inc., TXRX Labs and Concrete Flooring Associates, LLC.
This Education Portal marks the 25th project for UH's Graduate Design/Build Studio. Each summer, the studio contributes amenities to Houston schools, parks and non-profit organizations. Recent projects include a Solar Shade Tree for McReynolds Middle School, an outdoor amphitheater for T.H. Rogers School, solar-powered outdoor classrooms for the Alief Community Garden and the Park at Palm Center and the ReFRAME x FRAME arts pavilion in Hermann Park. To learn more about GDBS, visit its website.
The studio is based within UH's Gerald D. Hines College of Architecture, which offers bachelor's and master's degrees in a variety of disciplines. These include industrial design, architecture, space architecture and interior architecture. Faculty members include esteemed professionals in the architectural community, as well as award-winning academic veterans. Facilities include studio spaces, the new Materials Research Collaborative, computer labs and the Burdette Keeland Jr. Design Exploration Center. To learn more about the college, visit http://www.arch.uh.edu/.
---