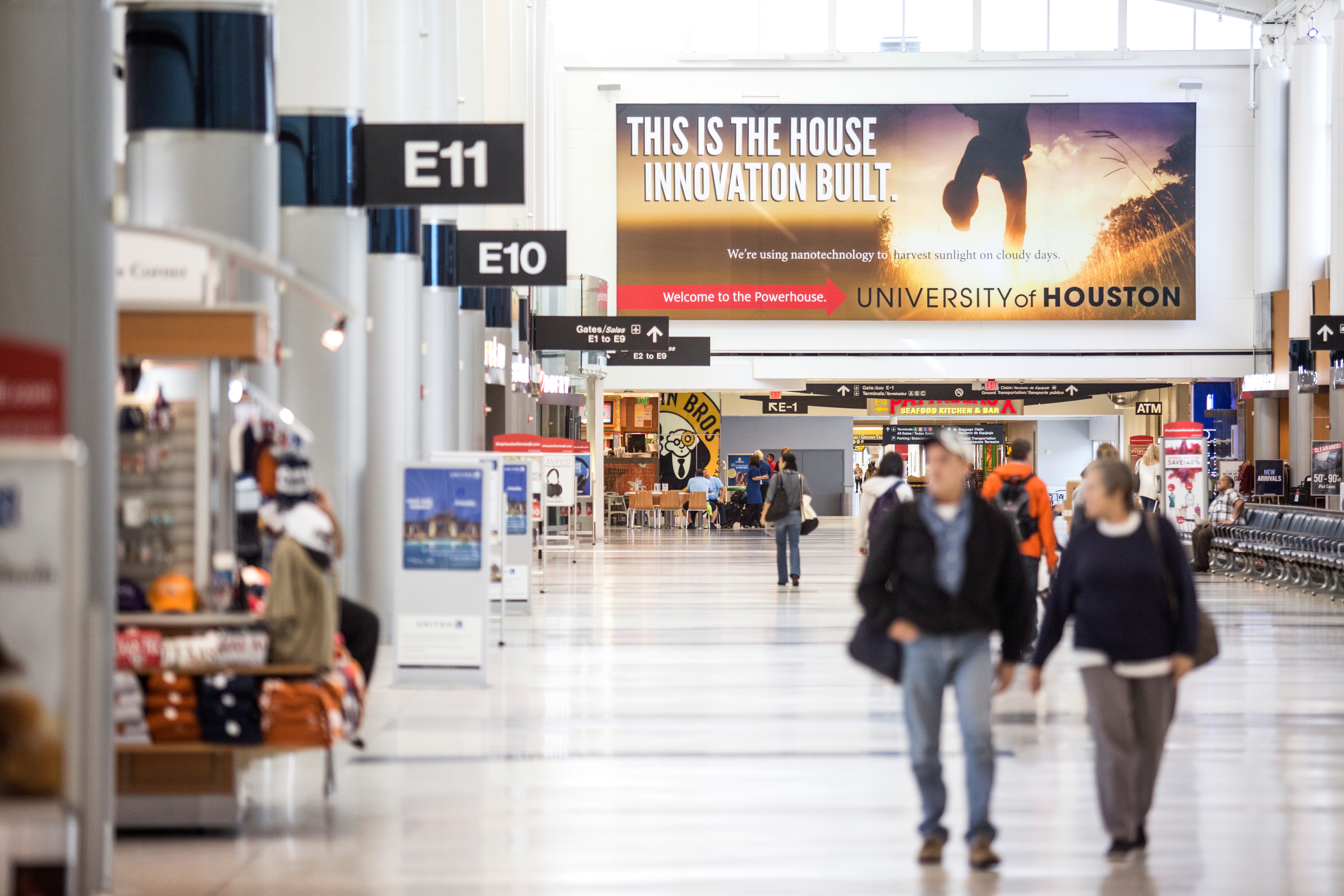 If Houstonians have not already gotten a glimpse of the University of Houston's bold new marketing campaign, they soon will. UH's Powerhouse campaign, which uses the slogans "Welcome to the Powerhouse" and "This is the House Innovation Built" and features high-impact photography and design, is expected to tally more than 65,000,000 impressions through print, online, video, billboards, digital elevator screens, signs and banners at Houston's airports, email and social media now through spring 2015.
"The campaign aims to elevate the University's reputation to match that of the intellectual and academic activity taking place at UH," said Richie Hunter, vice president for marketing, communication and media relations.  Hunter said that it has been almost four years since UH reached Tier One research designation by the Carnegie Foundation. This campaign, she says, focuses on all that's been done since then in areas of energy, health, the arts, athletics, student success and research.
"The University of Houston is a world-class institution with a growing international reputation for excellence. With this campaign, we're highlighting our achievements in a bold, direct way," Hunter said. "Innovation is what drives the entrepreneurial spirit of our campus; it powers the University's momentum as a leading education and research institution."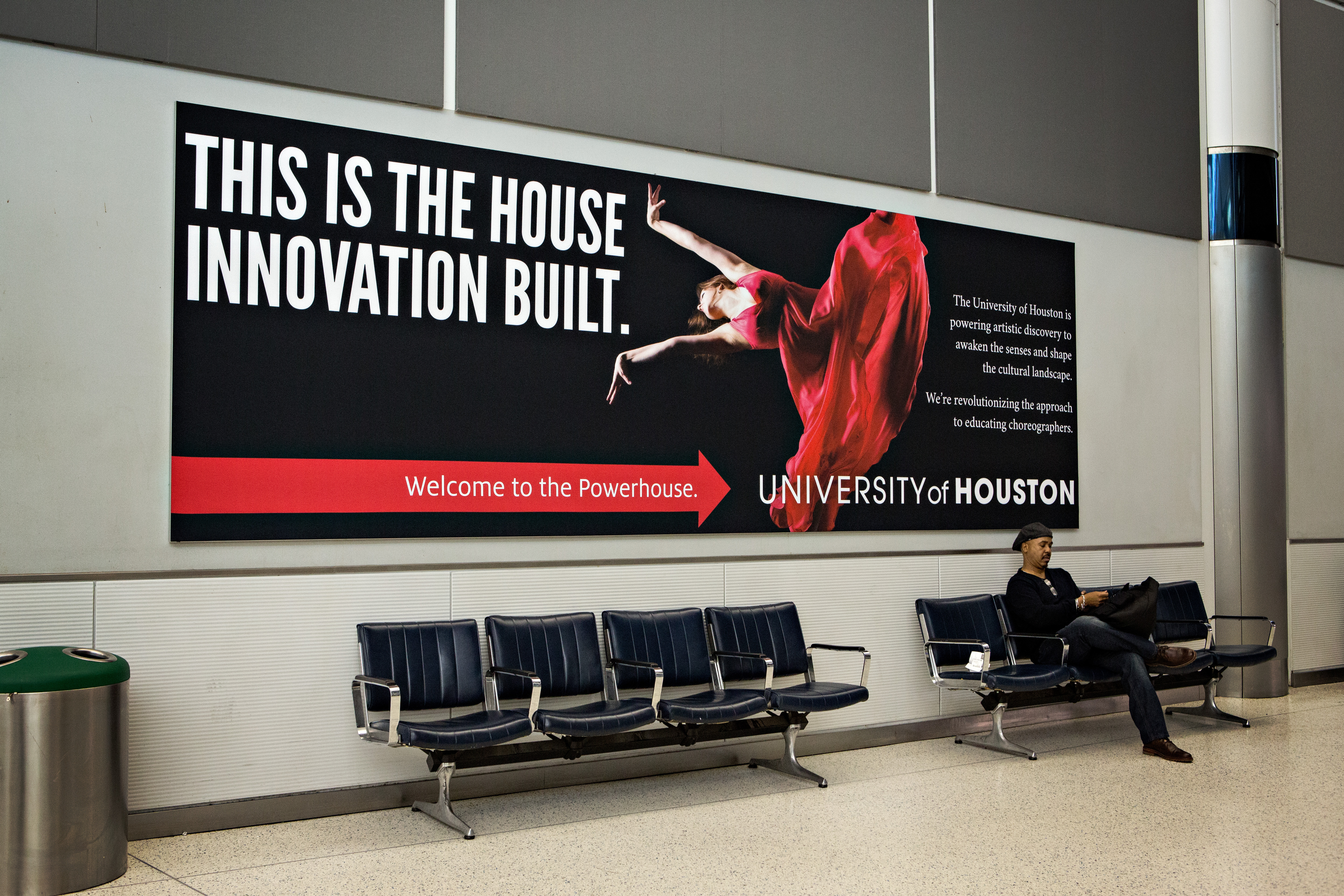 The campaign is designed to educate people about the University's value, engage Houstonians—both alumni and non-alums, and elevate the University's visibility among prospective students and their parents, the business community and visitors.
On Oct. 1, digital ads went live on more than 90 screens across campus and in approximately 600 elevator screens located in 52 Houston skyscrapers, including buildings downtown, the Galleria area and the Texas Medical Center. The ads will change weekly.  A commercial featuring the trademarked slogans also began airing this fall during football telecasts featuring the Houston Cougars.
In November, UH will have a significant presence at Bush Intercontinental Airport and Houston Hobby Airport with large-scale banners and signage on jet bridges, gate posters and movable walkways. This nontraditional approach will garner close to 14,000,000 impressions over the holiday travel season of November through January, and an additional 6,000,000 impressions into the spring. The campaign officially launched during UH President Renu Khator's annual Fall Address in October.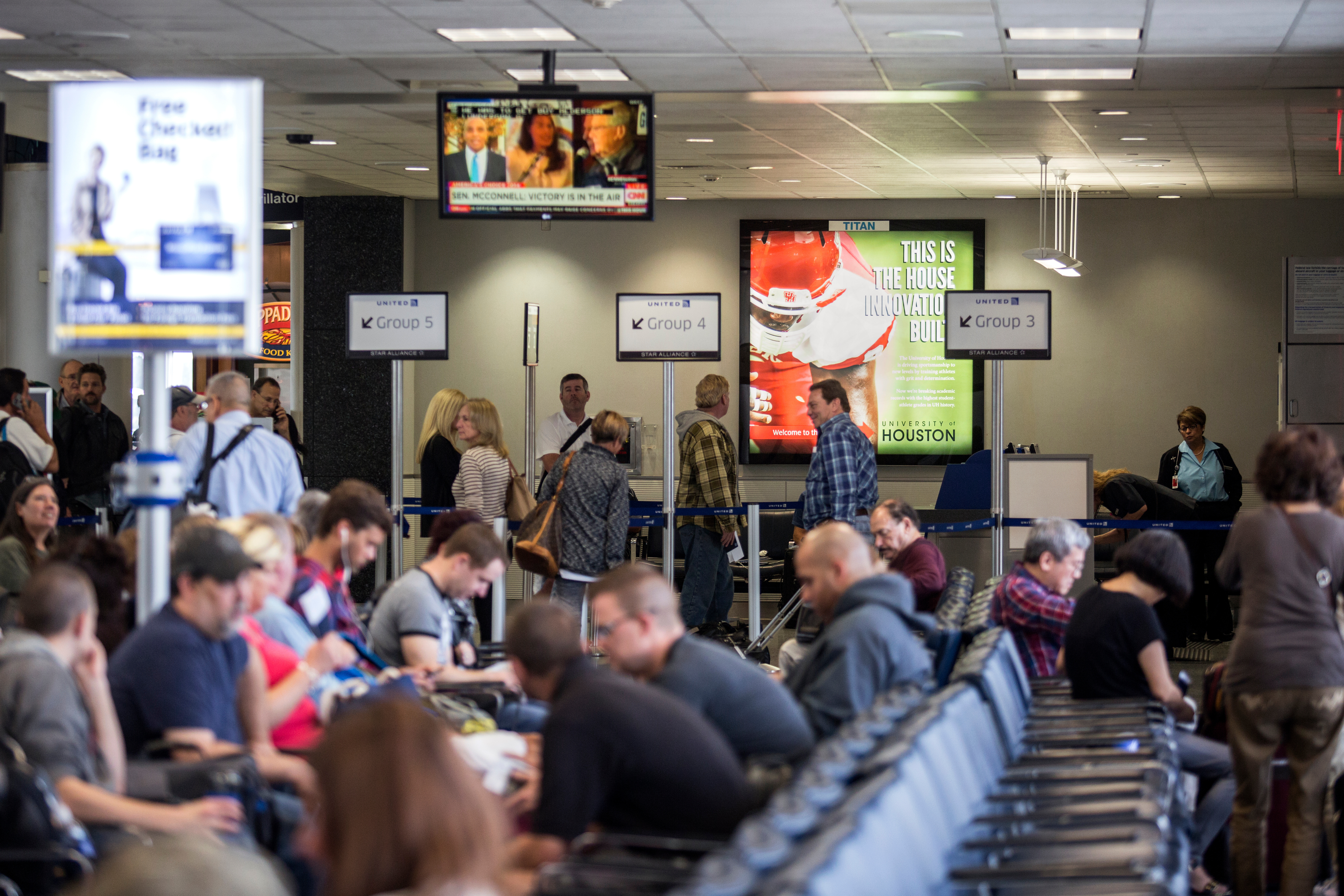 "So many people tell me that the University of Houston is better known outside the city than inside. No more!" Khator said.
The campaign was created in-house by the University's central marketing department. While traditional outlets such as print ads and billboards will be incorporated, the campaign is unique in its use of elevator screens and airport space, an economical way to reach targeted audiences when they are somewhat stationary. The campaign will also rely heavily on social media and grassroots efforts. To learn more about "Welcome to the Powerhouse," visit www.uh.edu/powerhouse.
---