University of Houston (UH) pharmacy students wrapped up the spring semester with a round of awards for excellence in leadership, professional service and clinical skills. Five students – three of whom graduated last week – earned kudos at the state level from the Texas Society of Health-System Pharmacists (TSHP).
"Experience at professional meetings like TSHP allows students to see firsthand the benefit in continued, lifelong learning even after licensure," said clinical assistant professor Matthew A. Wanat, adviser of the UH College of Pharmacy's Student Society of Health-System Pharmacists chapter.
Competing against 94 teams from across Texas, two UH teams won the second- and fourth-year Pharmacy Doctorate (Pharm.D.) student divisions in the clinical skills competition.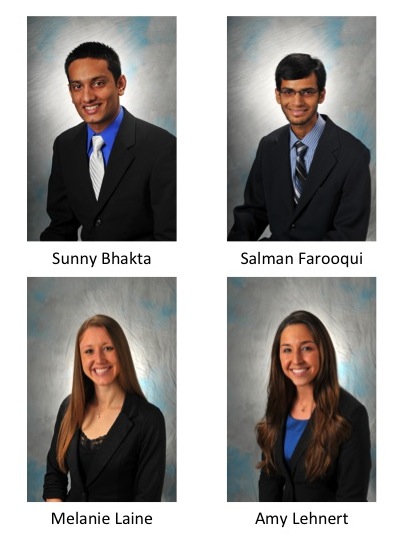 Now third-year Pharm.D. students, Sunny Bhakta and Salman Farooqui won the second-year award, while recent graduates Melanie Laine and Amy Lehnert won in the fourth-year category. Each winning team member received a $75 cash prize, plaque and complimentary registration to the 2015 TSHP Annual Seminar.
In this competition, the students demonstrated their abilities in patient consultation, based on typical information found in a patient chart. Working off patient history and physical exam documents, lab test results, X-rays, physician notes and orders, and medication profiles, the teams were tasked with reviewing the patient case and developing a therapeutic plan to identify problems, strategy and monitoring. The goal was to best identify and assess all acute and chronic medical issues, drug-related problems and health care needs of the patient.
The teams were given three minutes to present their assessment and recommendations to a panel of three judges. This was followed by a seven-minute question and answer session in which the teams explained their rationale and defended their assessments and recommendations. Specific questions about drugs, pharmacotherapy and disease states were asked to assess the depth of knowledge and understanding of clinical pharmacology, toxicology and therapeutics of the team members.
"Once again, our students have demonstrated their laudable commitment to learning and developing their clinical skills and knowledge as a fundamental mandate that will prepare them to enter our profession and provide exceptional patient care in Texas and beyond," said F. Lamar Pritchard, dean and professor of the UH College of Pharmacy.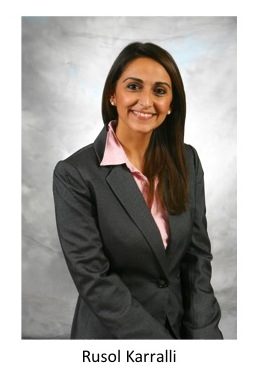 Also bringing home honors was graduate student and 2012 Pharm.D. alumna Rusol Karralli, who will complete the concurrent M.S./Residency program this summer at Memorial Hermann Healthcare System. Karralli was honored with the Leo F. Godley and Ann Godley Residency Fellowship Award.
"I have known Rusol throughout her Pharm.D. education and as a member of the Dean's Advisory Council, as well as watched her progress through the College of Pharmacy M.S./Residency program," Pritchard said. "I am continually amazed and extremely proud of Rusol's intelligence, tenacity, resourcefulness and leadership in tackling challenges head on and advocating for our profession and our patients."
The concurrent M.S./Residency program is designed to train the next generation of health-system pharmacy leaders in collaboration with six fellow Texas Medical Center health systems. Over a two-year period, participants must complete a post-graduate year pharmacy practice residency and a post-graduate year pharmacy administration residency at a participating health care institution, while also completing a master's degree in pharmaceutical health outcomes and policy. The overall goal of the program is to improve patient outcomes by combining intensive experiential training in a range of practice and administrative areas of health-system pharmacy, as well as extensive coursework and projects in the areas of biostatistical analysis, finance, marketing and management.
Receiving $500 and a plaque, Karralli's thesis project was to design an online tool for analyzing the savings, program costs, compliance and community benefit associated with an individual hospital's utilization of the 340B Drug Discount Program. This U.S. federal government program requires drug manufacturers to provide outpatient drugs to eligible health care organizations at significantly reduced prices. Called the "340B Drug Savings Program Effectiveness Dashboard," this tool Karralli developed could have national implications by demonstrating not only how the 340B program is being used, but also any societal benefit it provides. This could influence policymakers and lawmakers as they consider continuation of the program. Another factor in Karralli's nomination was her work in developing and gaining institutional approval for a new residency program in which three hospitals could combine clinical resources to offer three new residency positions that are in high demand and short supply across the nation.
"In addition to being one of the highest functioning residents I have had the privilege to precept and mentor, Rusol demonstrates far and above the most global perspective and realistic desire to make a significant impact on the profession at a high level," said her nominator and residency director Joyce Tipton.
###
About the University of Houston
The University of Houston is a Carnegie-designated Tier One public research university recognized by The Princeton Review as one of the nation's best colleges for undergraduate education. UH serves the globally competitive Houston and Gulf Coast Region by providing world-class faculty, experiential learning and strategic industry partnerships. Located in the nation's fourth-largest city, UH serves more than 39,500 students in the most ethnically and culturally diverse region in the country. For more information about UH, visit the university's
newsroom
.
About the UH College of Pharmacy
For more than 65 years, the University of Houston College of Pharmacy (UHCOP) has shaped aspiring pharmacists, scientists and researchers. The college offers graduate degrees in pharmacy administration, pharmacology and pharmaceutics, a professional pharmacy degree, combined professional/graduate degrees, and post-graduate residency and fellowship programs. With facilities on the UH campus and in the Texas Medical Center, the UHCOP is accredited by the Accreditation Council for Pharmacy Education.
To receive UH science news via email, sign up for
UH-SciNews
.
For additional news alerts about UH, follow us on
Facebook
and
Twitter
.
---