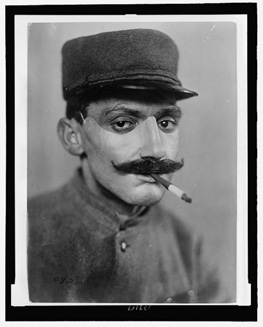 The College of Liberal Arts & Social Sciences at the University of Houston (UH) has invited distinguished visual scholar David M. Lubin, the Charlotte C. Weber Professor of Art at Wake Forest University, to deliver the lecture, "Behind the Mask: WWI, Plastic Surgery, and the Modern Beauty Revolution," at 4-5:30 p.m., Thursday, April 10. The event is free and open to the public.
"Behind the Mask" explores the development of reconstructive plastic surgery for disfigured soldiers during World War I and considers the impact of this surgery on changing norms of female beauty and modern aesthetics.
Lubin teaches courses in the history of art, film, and popular culture. As an undergraduate, he studied at the University of Southern California's School of Cinema while reviewing music for Rolling Stone. He went on to receive his Ph.D. in American Studies at Yale University. His books include, "Act of Portrayal", "Picturing a Nation" and "Titanic," a cultural studies analysis of the blockbuster film. His most recent book, "Shooting Kennedy," examines the photographic portrayal of Jack and Jackie Kennedy from their public courtship in 1953 to the events of Dallas 10 years later. In 2004, Lubin was awarded the Smithsonian Institution's Charles Eldredge Prize for "outstanding scholarship in American art." His book, "Flags and Faces: The Visual Culture of America's First World War," will be published by the University of California Press in 2014.
Lubin's appearance on the UH campus is sponsored by the German Program in the Department of Modern and Classical Languages, Department of History, and The El Paso Corporation Lecture Series.
WHAT:
"Behind the Mask: WWI, Plastic Surgery, and the Modern Beauty Revolution"
Lecture by David M. Lubin, Charlotte C. Weber Professor of Art, Wake Forest University
WHEN:
4-5:30 p.m. Thursday, April 10
WHO:
Free and open to the public.
For more information, contact 713-743-8350 or mcl@central.uh.edu
WHERE:

University of Houston
Science & Engineering Classroom Building (SEC), Room 105
http://www.uh.edu/maps/buildings/?short_name=SEC  
Public Parking is Available at the Stadium Parking Garage
http://www.uh.edu/maps/buildings/?short_name=SPG
###
---