This summer, a collection of visionary architectural works will be showcased during the 14th International Architecture Exhibition at the 2014 Venice Biennale. Only the best of the best are selected for this prestigious event, and among this year's highlights are works developed at the University of Houston's Gerald D. Hines College of Architecture.
For two years, UH architecture students developed visions for an enhanced Houston infrastructure, one that better serves its community and can withstand environmental, urban and industrial challenges. These projects were created as part of the groundbreaking "Three Continents Studio," an initiative that focused on challenges faced by coastal cities such as Houston. Now, they will receive an international spotlight as part of "Time Space Existence," a collateral event at the 2014 Venice Biennale's Architecture Exhibition. The exhibition
premieres June 7 and runs through Nov. 23 in Venice (at Palazzo Bembo and Palazzo Mora). UH's Gerald D. Hines College of Architecture is among 100 architects and institutions participating in this exclusive event.
Students Wells Barber, David Regone, Sam Goulas, Jackson Fox and Lacey Richter will travel to Venice to discuss their works with patrons. Patricia Oliver, dean of the Gerald D. Hines College of Architecture, will join them, as well as UH architecture professors Peter Jay Zweig and Thomas Colbert (who co-led the "Three Continents Studio). The school's namesake, Gerald D. Hines, and UH President Renu Khator also will be in attendance.
Zweig is curator and designer of the exhibition of student projects titled "Risky Habit [at]: Dynamic Living on the Buffalo Bayou." The exhibition spotlights works from UH students, as well projects from three partnering institutions.
The "Three Continents Studio" partnered UH with Tulane University, University of Buenos Aires and Technical University, Delft. Students, faculty and researchers from these respective institutions investigated architectural solutions for their respective coastal areas. Each of these regions faces threats from weather, urban and industrial growth, flooding and environmental factors. Noted architects Michael Rotundi and Kulapat Yantrasast served as visiting critics for this project.
"This accomplishment has been a two-year journey with the collaboration of four different international institutions across three different continents," Oliver said. "The College is taking a leadership role in tackling urban issues on a global scale."
UH students addressed issues relevant to the city of Houston. Projects addressed three scales within the city – 100 miles (along Buffalo Bayou), a two-mile stretch just east of downtown and a 20-foot scale (examining the facades of local buildings).
"Along Buffalo Bayou, there is the potential for natural and manmade events and problems," Zweig said. "The concept of the studio is for students to take these negatives and turn them into positives. It's about solving the urban industrialization problems faced by our city."
Examples of the works created during the "Three Continents Studio,"  which will be on view during the Venice Biennale include:
A redevelopment of the area surrounding Houston's Addicks and Barker Dams (at Interstate 10 and State Highway 6) in an effort to prevent the dams from collapsing.
 Concepts for a proposed multifunctional site (with hotels and retail outlets) adjacent to a cruise terminal  near the Port of Houston.
Rehabilitating abandoned offshore oil rigs for casinos, medical facilities and other uses.
New visions for Houston's East End including pedestrian-friendly bridges, new residential complexes, famer's markets and entertainment facilities.
An educational facility aimed at using the natural sounds of Buffalo Bayou to teach children with learning disabilities.
"There's innovation on all three scales," Zweig said. "What we're exploring in the 'Three Continents Studio' is how to design a sustainable city in the 21st century that is facing historically unprecedented urban problems. The student projects investigate how architecture can contribute to this changing environment and the ecosystem, rather than simply focusing on architecture as a beautiful object."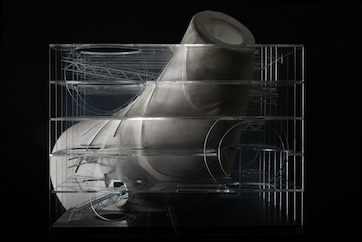 UH's Gerald D. Hines College of Architecture is the only Texas-based institution to participate in "Time Space Existence" at the Venice Biennale. This international event documents developments and concepts in contemporary architecture. Works presented highlight fundamental questions related to the concepts time, space and existence.
"Showing my work at the Venice Biennale is an amazing exclamation point for the end of my architecture education," said Barber, who graduated in May. "The Venice Biennale is where you see top level professional design. For this to be the first thing I do after graduating is a dream come true."
Since 1895, the city of Venice has hosted the annual Biennale dedicated to contemporary art from around the globe. As one of the world's major art and architecture events, the Biennale attracts more than 200,000 patrons. The architectural component of the Bienalle premiered in 1980. It is conducted during even years. This year's architecture event is curated by noted architect, architectural theorist and urbanist Rem Koolhaas.
The Gerald D. Hines College of Architecture offers bachelor's and master's degrees in a variety of disciplines including architecture, space architecture, interior architecture and industrial design. Faculty members include esteemed professionals in the architectural community, as well as award-winning academic veterans. Facilities include studio spaces, the new Materials Research Collaborative, computer labs and the Burdette Keeland Jr. Design Exploration Center. To learn more about the college, visit http://www.arch.uh.edu/.
Listen to recent coverage of UH's participation in the 2014 Venice Biennale from Houston Public Media's UH Moment.
---