The UH flag flew at half-staff last week in honor of William R. Baldwin, O.D., a longtime dean of the University of Houston College of Optometry. Serving as dean from 1979 to 1990, Baldwin died at the age of 87.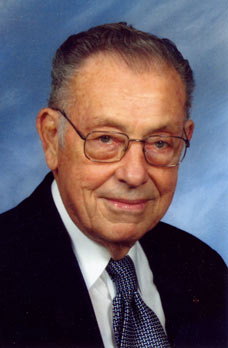 Among his many career accomplishments, Baldwin was a member of an elite group of optometrists inducted into the National Optometry Hall of Fame in 2011. The Hall of Fame is administered by Optometry Cares, a philanthropic and charitable organization committed to expanding eye health and vision care access to everyone in the United States to enhance human performance and quality of life.
Called "a consummate academic, a principled individual and a man of high ideals" by his colleagues, Baldwin made great strides during his tenure as optometry dean at UH. The college took critical steps toward becoming a recognized vision research center under Baldwin's leadership.
Prior to his tenure at UH, Baldwin served as dean of the Pacific University College of Optometry and president of the New England College of Optometry. He also served on the board of the Association of Schools and Colleges of Optometry and as its president from 1974 to 1976, as well as chairing various committees within the American Academy of Optometry and the American Optometric Association.
He attended Indiana University for one year before enlisting in the U.S. Navy to serve in World War II and concluded his undergraduate degree in 1948 at Butler University in Indianapolis. Baldwin went on to attend Pacific University School of Optometry in Oregon and earned his doctorate of optometry in 1950. He returned to Bloomington, Ind., to run his practice and teach at the Indiana University School of Optometry, where he received his M.S. and Ph.D. in physiology. Baldwin also was the recipient of four honorary degrees.
In addition to his academic contributions, Baldwin had been involved in international missions and education for much of his career, establishing optometry programs in developing countries. His optometric leadership took him to Africa to address the issues of river blindness. These experiences led to the establishment of the River Blindness Foundation in 1989, for which he served as executive director and, later, chairman for its board of directors. Baldwin was instrumental in forming optometry schools in Poland, Nigeria, Israel and Sri Lanka, as well. Optometry gained greater credibility while he served these causes.
Those wishing to make contribution in his honor, may do so to the Dr. William R. Baldwin Scholarship at the UH College of Optometry.
###
About the UH College of Optometry
Since 1952, the University of Houston College of Optometry (UHCO) has educated and trained optometrists to provide the highest quality vision care. One of only 22 optometry schools in the country, UHCO offers a variety of degree programs, including Doctor of Optometry (O.D.), a combined Doctor of Optometry/Doctor of Philosophy (O.D./Ph.D.), Master of Science (M.S.) and Doctor of Philosophy (Ph.D.). UHCO serves an average of 50,000 patients a year through The University Eye Institute and its external clinics located in the Houston and Dallas-Fort Worth regions.
---