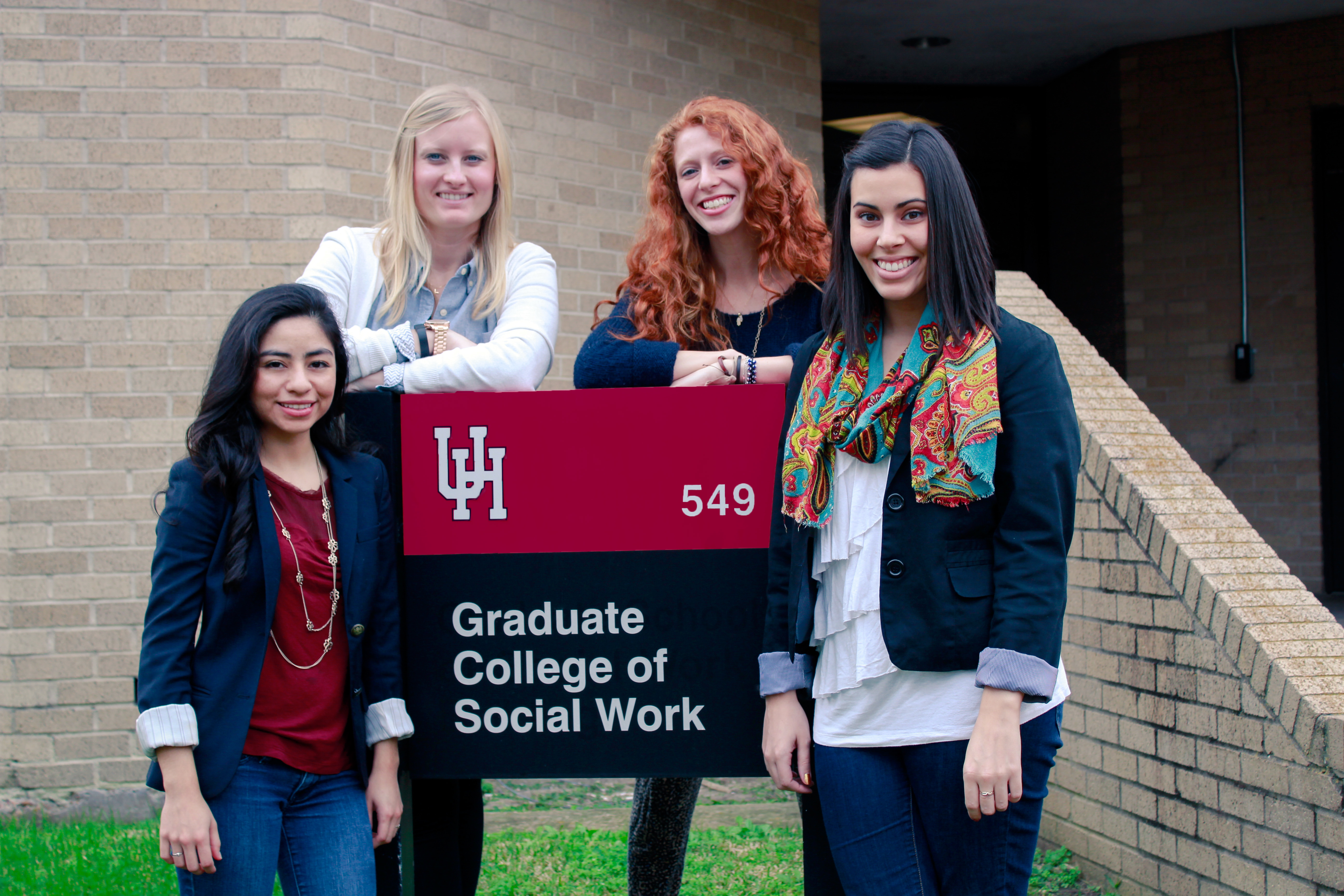 Four University of Houston (UH) Graduate College of Social Work (GCSW) students will be among a select group of 20 women chosen from across the country to serve as temporary delegates and participate in a practicum before the United Nations (U.N.) 58th session of the Commission on the Status of Women (CSW), March 8-15, at U.N. headquarters in New York.
UH GCSW students Jenna Cooper, Dixie Hairston, Ana Rodriguez and Arielle Stephens were selected by the Women's International League for Peace and Freedom, which is sponsoring the practicum with the National Women's Studies Association and the Center for Women's Health and Human Rights at Suffolk University in Boston. 
"The students' goals and motivation for pursuing this opportunity, as well as their commitment to expanding their knowledge of global issues, is a wonderful reflection of the GCSW's mission," said Ira Colby, dean of the UH GCSW. 
The students will observe how the U.N. addresses issues requiring multilateral engagement and coordinated action.  They will attend official and nongovernmental organization sessions, and contribute to the official meeting documentation.  
For all of the UH delegates, the conference complements their studies. Cooper is working on her master's degree in macro social work with a specialization in political justice and is president of the Student for the Advancement of International Social Work. Stephens is a founding member of the anti-human trafficking student organization Beyond the Shadows and serves as clinical officer in the UH GCSW Student Association. Hairston is a second-year student specializing in political social work, and Rodriguez is a Center for Mexican American Studies Graduate Fellow, also pursuing a specialization in political social work. 
 "The CSW brings together activists from all over the world to bring about change," said Stephens, who is also working on a clinical fellowship at the University of Texas M.D. Anderson Cancer Center.
The students will learn to network with nonprofits and humanitarian organizations, meet government officials and participate in turning specific proposals into documents that can by adopted by U.N. bodies.
"This empowers them to engage in successful civic campaigns in their home environments," said Laura Roskos, president of the Women's International League for Peace.
For two years, Cooper has dedicated her focus to human trafficking, working on policy and with victims.  
"The practicum will be a significant next step needed to advance my vocational journey. It will introduce me to like-minded people who yearn to deepen their understanding of international women's issues and strive to make an impact that will change countless lives around the world for the better," said Cooper.
An intern at The Council on Alcohol and Drugs Houston, Hairston serves as director of the Macro Social Work Student Network and is part of the Ambassador Program for the UH GCSW.
"I cannot imagine a better way to learn how to be an effective global justice advocate than to be surrounded by women working out in the field," added Hairston.
The CSW focuses on gender equality and the advancement of women, with the U.N. drawing representatives of governments to address the problems facing women around the world.  This year, more than 4,000 registered representatives from nonprofit and humanitarian organizations will lobby the delegates about current issues affecting women.
To attend the practicum, the UH delegation is currently working to raise $6,500 for conference tuition and expenses. They are raising funds through
Go Fund Me
, a crowdfunding website, and
Facebook
.
---