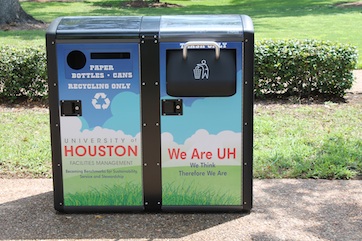 Each year, the University of Houston steps up its "green" game. UH consistently enhances its sustainability profile through initiatives, amenities and policies aimed at reducing the campus' carbon footprint.
The editorial staff at the Princeton Review has taken note of the University's earth-friendly efforts and included it in its 2014 "Guide to 332 Green Colleges." This is the fifth straight year UH has been recognized in this publication.
"This guide demonstrates the growing desire to incorporate sustainability and green living into every facet of our lives. Universities are strategically situated to enhance environmental and social efforts in our communities and to encourage students to address problems facing our future with an all-inclusive mindset," said Sarah Kelly, program manager for UH's Office of Sustainability.
An excerpt from UH's profile in the guide reads, "UH's efforts to become a sustainable community begin with promoting environmental literacy and sustainable behavior on campus, and coordination for sustainability research and campus operational progress."
The profile also lauds UH's Community Garden, the efforts of UH's Office of Sustainability, UH Dining Services' trayless dining and the green roof at the Burdette Keeland Jr. Design Exploration Center.
Over the past year, UH has expanded its sustainability efforts. Last fall, 86 dual recycling receptacles and solar-powered trash compactors were added to the campus. Also, 61 filtered water refill stations were installed on campus to reduce the use of plastic bottles. Recent data indicates that these stations helped prevent 500,000 bottles from reaching landfills.
"We are continually seeking new ways to improve campus sustainability," Kelly said. "Our efforts at the University are sparked by listening to the ideas of faculty, staff and our students. Houston may always be considered the energy capital of the world, but the University of Houston is doing more every year to be a frontrunner in sustainability."
Other green initiatives include the UH Central Plant's enhanced chillers, cooling towers and boilers that help deliver more efficient cooling and heating to University buildings. The Central Plant's offices are partially powered by a solar array, which was donated by Green Mountain Energy.
UH also boasts the Silver LEED certified Cougar Woods Dining Hall. The facility features daylight harvesting controls for light/electricity optimization and water conserving plumbing fixtures. It was strategically constructed and includes state-of-the-art HVAC equipment that helps yield 30 percent energy savings annually.
"To all students seeking to study and live at 'green' colleges we strongly recommend these schools," said Robert Franek, vice president and publisher of The Princeton Review.
The Princeton Review's Guide to 332 Green Colleges" profiles institutions of higher education in the United States and Canada that demonstrate a strong commitment to sustainability in academic offerings, campus infrastructure, activities and career preparation. The guide is the only free, comprehensive, annually updated guide to green colleges. The Princeton Review publishes this guide in collaboration with the U.S. Green Building Council (USGBC).
"Every year, millions of high school seniors must choose the college that's best for them," said Rachel Gutter, director of the Center for Green Schools at USGBC. "In collaborating with The Princeton Review on this annual guide, we have seen that sustainability on campuses continues to be an important deciding factor for today's four-year college bound students."
The complete Guide to "332 Green Colleges" can be viewed online here. 
---