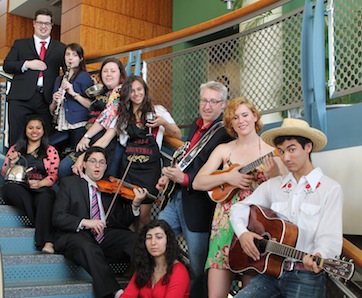 In Homer's epic "The Odyssey," Odysseus tells his Phaecian hosts "The best of all lives is at the banquet." The hero referenced the traditional gathering of friends, family members, musicians and bards.
The University of Houston's Center for Creative Work  (CCW) will honor these very words and celebrate the spirit of ancient banquets during Dionysia 2014: "A Gathering of All Good People." The center, based in UH's Honors College, will host a series of banquets featuring live music, storytelling and meals prepared and served by students. The event will serve up food and fun April 24 – 28 on campus and around Houston.
Dionysia is the center's annual salute to the Greek classics. Past events have featured performances and adaptations of classics such as "The Iliad," "The Frogs" and "Agamemnon," among others. This year, students (led by CCW director John Harvey) will pay tribute to the most popular Greek classic, "The Odyssey."
During the event, audiences are encouraged to partake in each night's feast and listen to live music and passages from "The Odyssey." Also, Honors College faculty and students will share stories with themes similar to those in Homer's epic.
 "Dionysia has grown in popularity each year due to the talents of our students," Harvey said. "It's also been particularly popular because it's an educational experience. We've been very creative in how we present our tributes to the classics. This year is no exception. We are honoring one of the great books with a very unique event that captures its spirit."
Dionysia 2014 banquets begin at 7 p.m. and will run April 24 – 27 in the UH Honors College Commons (second floor of M.D. Anderson Library). The event moves to Khon's Bar (2808 Milam Street) at 7 p.m., April 28 and concludes with a BBQ competition. Food at these banquets is free for audiences.
Student musicians and storytellers also will entertain patrons at food trucks on campus. Dionysia performers visit Bare Bowls on April 25 and then move to Happy Endings on April 26. Food truck performances begin at noon. Musicians and bards also will visit Urban Harvest Farmers Market (3000 Richmond Ave.) from 9 a.m. – noon on April 26.
"This event pays tribute to 'The Odyssey,' but also is very much about Houston," Harvey said. "It's about hospitality and stories from Houstonians. Our city becomes part of the Odysseyan world."
Dionysia 2014 will mark six years for this annual festival. In the past, the event has showcased dramatic works, bazaars, musical performances and live storytelling all centered on themes from Greek classics.
"Over the years, our audiences have been very moved by Dionysia," Harvey said. "We've been able to relate these classics to contemporary issues. These ancient texts offer a view of society that is still very relevant."
Dionysia is among the events hosted by UH's Center for Creative Work. As part of the Honors College, the center delivers coursework and academic programs focused on interdisciplinary arts. For more details on the center or Dionysia, visit the CCW website.
The Honors College at UH is a hub of excellence that serves the needs of gifted undergraduates in more than 100 fields of study and reflects the rich diversity of the University of Houston in its courses, faculty and students. For over 50 years, the Honors College has offered students the best of both worlds: the advantages of a small college together with the comprehensive resources and rich diversity of a large university. For more information about the Honors College, visit http://TheHonorsCollege.com. 
###
---