The University of Houston (UH) launched the graduate careers of five National Science Foundation (NSF) Graduate Research Fellows for 2011. Recognizing outstanding students pursuing research-based master's and doctoral degrees in NSF-supported science, technology, engineering and mathematics disciplines, the three-year fellowships cover tuition and include a $30,000 annual stipend.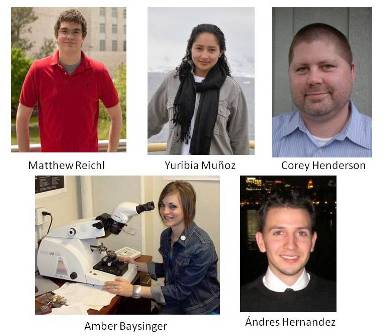 Pursuing advanced degrees from physics and geology to psychology and the life sciences, this year's UH alumni include students with their sights set on obtaining advanced degrees from UH, Yale, Cornell, Johns Hopkins and the University of Wisconsin-Madison. The NSF Graduate Research Fellowship Program (GRFP) awardees are:
Matthew Reichl, a physics and mathematics double major and also a member of The Honors College at UH, completed his honors thesis this spring and will begin pursuing a Ph.D. in physics at Cornell University in the fall. His plans are to conduct research in theoretical condensed-matter physics and eventually teach at the university level. Professors Kevin Bassler, John Miller and Donna Stokes were Reichl's three faculty mentors from the physics department while at UH, and he conducted research under the guidance of Bassler for several years. Reichl was additionally honored as a Goldwater Scholar in 2010. Matthew also participated in the Summer Undergraduate Research Fellowship and Provost's Undergraduate Research Scholarship (PURS) programs while at UH. 
Yuribia Munoz is a 2011 graduate in Earth and atmospheric sciences and member of The Honors College at UH. Her interest in issues related to global warming led to the topic of her senior honors thesis, conducted under the mentorship of professor Julia Wellner. Munoz's research has taken her to the Antarctic Peninsula, where she spent two months conducting research last year. She will continue her studies at UH as a graduate student in geology this fall. Her future plans include staying at UH for a Ph.D., as well, and pursuing a career in research. In addition to this NSF honor, she also was one of only 10 Merage American Dream Fellows for 2011.
Corey Henderson, who double-majored in physics and mathematics at UH and graduated in spring 2010, is currently a graduate student at the University of Wisconsin-Madison. At UH, Henderson conducted a senior honors thesis project under the mentorship of professor Edgar Bering of the physics department. His thesis topic, plasma physics, is an area of research that continues to interest Henderson, and his work on this subject also will be the focus of his project for NSF.
Amber Baysinger completed her undergraduate degree at UH in psychology in spring 2010 and is now a graduate student at Yale University, focusing on behavioral neuroscience. During her last semester at UH, Baysinger conducted research through the PURS program. Her thesis mentor was professor Adriana Alcantara, and she also worked in professor John Vincent's forensic psychology lab. 
Andrés Hernandez, who completed his undergraduate studies in biomedical engineering at UH in 2009, is now a graduate student at Johns Hopkins University, where he studies biomedical engineering. Hernandez conducted a senior honors thesis in 2008 under the mentorship of professor Ralph Metcalfe in the Cullen College of Engineering. The research he conducted at UH under the Rice-Houston Alliance for Graduate Education and the Professoriate, PURS and The Methodist Hospital's summer program resulted in two peer-reviewed publications.
In addition to the five fellows, six UH alumni received honorable mentions from the GRFP, including Austin Bigley, Matthew Dickenson, Aaron Damm, Joshua Kovitz, Kevin Rodriguez and Andrea Schlather. Bigley, who received his B.S. in biochemistry and biophysics at UH, is a graduate student in the UH department of health and human performance pursuing a Ph.D. in exercise immunology.
For a complete list of NSF Graduate Research Fellowship Program recipients and honorable mentions, visit
https://www.fastlane.nsf.gov/grfp/AwardeeList.do?method=loadAwardeeList
.      
###
Editor's Note: Photos of the five awardees are available to media by contacting Lisa Merkl.
About the University of Houston
The University of Houston is a Carnegie-designated Tier One public research university recognized by The Princeton Review as one of the nation's best colleges for undergraduate education. UH serves the globally competitive Houston and Gulf Coast Region by providing world-class faculty, experiential learning and strategic industry partnerships. Located in the nation's fourth-largest city, UH serves more than 38,500 students in the most ethnically and culturally diverse region in the country.
For more information about UH, visit the university's
Newsroom
. 
To receive UH science news via e-mail, sign up for
UH-SciNews
. 
For additional news alerts about UH, follow us on
Facebook
and
Twitter
. 
---