University of Houston System Chancellor and UH President Renu Khator has named Rathindra N. Bose, a distinguished scholar and professor, an experienced administrator and a prolific researcher at Ohio University, as the new vice chancellor/vice president for research and technology transfer at UH.
Bose, who was vice president for research and dean of the Graduate College at Ohio University, begins his new duties Aug. 1. He replaces Stuart Long, who served in an interim capacity and will resume his teaching and research responsibilities as part of the Cullen College of Engineering faculty.
"Dr. Bose has an exemplary record in administrative and academic roles, but his achievements as a researcher are particularly noteworthy," Khator said. "I commend the search committee chaired by Provost John Antel, and I am excited to welcome Dr. Bose to campus. I also commend Dr. Long for his fine work and leadership in the interim position." 
At Ohio University, Bose's major responsibilities included overseeing the Graduate College, which enrolls 3,500 graduate students with a budget of more than $35 million; Research and Sponsored Programs, with annual funding of $68 million; the Technology Transfer Office, with annual royalty income of more than $8 million; the Innovation Center, which houses 16 start-up companies; the Edison Biotechnology Institute and three other multidisciplinary research institutes.  He worked collaboratively with colleges to create two multidisciplinary centers of excellence in Energy and Environment and Health and Wellness.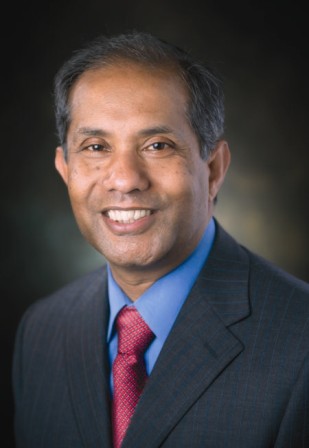 In addition, Bose managed an active research laboratory. He held a joint tenured faculty appointment in the department of chemistry and biochemistry in the College of Arts and Sciences and the department of biomedical sciences in the College of Osteopathic Medicine. His research interests and activities cover a wide range of multidisciplinary and interdisciplinary areas, including metals in medicine, gene markers for different cancers and new catalysts for fuel cells.
"I am pursuing this new opportunity at the University of Houston to work with its distinguished faculty and staff to create and implement a research agenda vital for the nation to keep us globally competitive," Bose said.
"As a Tier One research institution, the University of Houston offers an enormous opportunity to fulfill my dream due its depth and breadth of faculty expertise, outstanding academic programs across the disciplines, state-of-the-art research infrastructures, its location, and more importantly,  its strategic plan to expand the research and economic development enterprise." 
Bose has published more than 90 refereed articles and 73 abstracts and proceedings and has presented numerous lectures in national and international conferences and academic institutions. Bose has one issued patent and three patent applications on cancer drugs and fuel cell electrocatalysts pending at the United States Patent and Trademark office. His research has been supported through several grants from the National Science Foundation, National Institutes of Health, Ohio Board of Regents and the U.S. Department of Education.
He has received four distinguished teaching awards and a distinguished scholar award, has served as an editorial board member for three journals and continues to serve as a reviewer for numerous journals and funding agencies.
Bose received his Ph.D. degree in chemistry from Georgetown University, Washington, D.C., in 1982. He received a master's degree in chemistry from the Rajshahi University in Bangladesh in 1975 and a bachelor's degree in chemistry with honors from the institution in 1973. 

ABOUT THE UNIVERSITY OF HOUSTON SYSTEM
The University of Houston System is the state's only metropolitan higher education system, encompassing four universities and two multi-institution teaching centers.  The universities are the University of Houston, a nationally recognized doctoral degree-granting, comprehensive research university; the University of Houston-Downtown, a four-year undergraduate university beginning limited expansion into graduate programs; and the University of Houston-Clear Lake and the University of Houston-Victoria, both upper division and master's-level institutions.  The centers are the UH System at Sugar Land in Fort Bend and the UH System at Cinco Ranch.  In addition, the UH System includes KUHF-FM, Houston's National Public Radio and classical radio station, and KUHT-TV, the nation's first educational television station. To learn more about the UH System, visit http://www.uhsa.uh.edu/
---