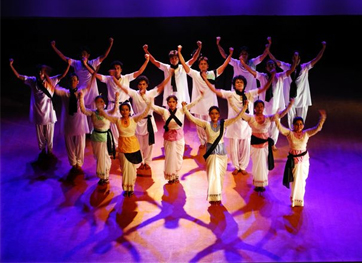 The University of Houston (UH) is a melting pot of cultures, nationalities and ethnicities – spanning from its leadership to its faculty, staff and students.  Later this month, UH System Chancellor and President Renu Khator will join international students and faculty from India in sharing a piece of India's culture with the rest of the campus community. The Indian Council for Cultural Relations (ICCR) and the Consulate General of India, Houston, bring the work of internationally acclaimed dancer and choreographer Tanusree Shankar to UH. The free show is at 8 p.m., March 18 at Cullen Performance Hall and is open to the public. General seating is available on a first-come,first-serve basis. Attendees are requested to bring photo identification.
Shankar is recognized for her work that creates original contemporary performances that maintain the grace of traditional Indian dance. Shankar and her Company are visiting the United States for 'maximum INDIA' festival currently playing to audiences at the Kennedy Center for Performing Arts in Washington, D.C.
According to a press release issued by Consulate General of India, Houston, "the Consulate deeply appreciates the support of Chancellor and President Renu Khator and her colleagues, and volunteers of the Graduate Indian Students' Organisation (GISO) at UH in organizing this performance."
Khator, a member of Prime Minister Manmohan Singh's Global Advisory Council on Overseas Indians, will serve as the guest of honor for the performance. UH students from the GISO, a student group created to help Indian students attending UH, are volunteering to make the night a success. GISO began with only 20 members and has grown to more than 1,300. 
"This shows the growth of Indian student population at UH," said Avinash Ranganath, "Today we celebrate almost all Indian festivals on campus, organize many Indian cultural events, and I am happy to say that UH has given everything we need."
Sanjiv Arora, Consul General of India and his team have been actively engaged with UH administrators and faculty, with a view to further expand UH's collaborations with counterpart institutions in India.  They also have an active interaction and cooperation with GISO.
Recognized as the second-most ethnically diverse major research university in the United States, UH's Indian population has grown by more than 50 percent during the past five years. India was the top nation of origin among UH's international students in fall 2010. The 797 students made up 24 percent of the UH international student population – which hail from 126 countries – and 2 percent of all students. More than 1,300 students from India are enrolled at the University of Houston system's four universities.
"I came to Houston in August 2009, and I have had a wonderful experience," said Avinash Ranganath. "A few months from now I will be graduating, and that will be the proudest moment of my life; however, I will really miss the two years I have spent here."
In his final semester abroad, Avinash said he is excited to share a bit of culture from half a world away with his fellow Cougars. He said he hopes the entire campus will take the opportunity to experience the Tanusree Shankar Dance Company.
"As the president of an Indian student organization, I have had the chance to interact with other student organization from different countries. This is when we understand how UH has given the opportunity to all communities to express themselves."
According to the press release of Consulate General of India, Houston, bringing the Tanusree Shankar Dance Company to Houston will "further enrich the cultural diversity of the city of Houston and further strengthen India-US friendship."
The group's travel to Houston is being facilitated through Consulate General of India, Houston.
What:
Tansusree Shankar Dance Company Performance
Who:

Free Performance, Open to the Public

Hosted by ICCR and Consulate General of India, Houston

When:
Friday, March 18, 8 p.m.
Where:

University of Houston Cullen Performance Hall, Take Entrance 1 off Calhoun Rd. and University Dr.,

Parking is available at the Welcome Center & Parking Garage, Located at the corner of Calhoun Rd. and University Dr.
About the University of Houston
                The University of Houston is a comprehensive national research institution serving the globally competitive Houston and Gulf Coast Region by providing world-class faculty, experiential learning and strategic industry partnerships.  UH serves more than 38,500 students in the nation's fourth-largest city, located in the most ethnically and culturally diverse region of the country. 
For more information about UH 
visit the university's Newsroom at 
www.uh.edu/admin/media/newsroom
---