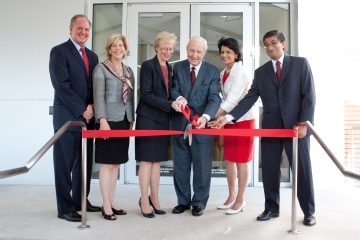 ConocoPhillips is donating $1 million to the University of Houston and the emerging UH Energy Research Park, a collection of the university's preeminent energy research and education programs.
The gift demonstrates ConocoPhillips' commitment to UH and President Renu Khator's vision of the Energy Research Park as a comprehensive research and education facility for the energy industry. ConocoPhillips is giving UH $1 million this year and intends to follow up with proposed future gifts of $1 million each year in 2012 and 2013.
In recognition of the donation, the building formerly known as Building 9A in the UH Energy Research Park will be renamed the ConocoPhillips Petroleum Engineering Building. The building, which opened to students this semester, is the new home for UH's petroleum engineering program. It houses three teaching laboratories, three classrooms, a computer lab, faculty offices and a student lounge.
"We are extremely proud to make this gift in support of the University of Houston's new home for petroleum engineering study and research. We are excited to be able to contribute to the university's vision for a world -class petroleum engineering department as a cornerstone in its focus on energy," said Carin S. Knickel, vice president of human resources for ConocoPhillips. "We view the new undergraduate engineering program as an excellent opportunity to expand the pool of top quality and diverse engineering graduates in support of our industry's needs for the future."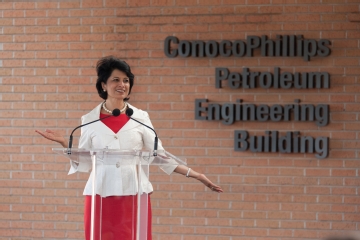 The petroleum engineering program, which launched a bachelor's degree option in fall 2009 along with the existing master's degree, is designed to fill gaps in the industry's aging workforce and give graduates the skills they need in the evolving energy world. The undergraduate program already has grown to 100 students, the first of whom are expected to graduate in the spring of 2013.
In recent years, UH has identified energy as a key strategic focus for faculty research and teaching. Top UH researchers from engineering, law, business, geosciences, technology and research have gathered under the Energy Research Park (ERP) umbrella to provide a unique environment for students and faculty to exchange ideas and work in partnership with industry, researchers, organizations and the community.
"This is a vote of confidence in the Energy Research Park's plans to transform itself into a pioneering research facility where the best minds will help shape energy policy and forge new business approaches to the way energy is created, delivered, used and shared," said Ryan Lance, senior vice president of international exploration and production for ConocoPhillips and a member of the UH Energy Advisory Board. "We are honored to help the university and we hope our gift will motivate others to contribute to this important mission."
UH President Renu Khator called ConocoPhillips' donation "a cornerstone gift in our push to become a full Tier One institution."
"I have said all along that to reach the top in academic excellence, the University of Houston must focus on and improve our energy-related programs," Khator said. "Our petroleum engineering program is absolutely essential in that regard. We must have a world-class petroleum engineering program to become the 'energy university.'"
Tom Holley, director of the Petroleum Engineering Program in the UH Cullen College of Engineering, thanked ConocoPhillips for its support and leadership.
"ConocoPhillips has made an important investment in UH's future," Holley said. "I'm excited about the growth of the research park and especially the students who will earn their undergraduate and graduate degrees in the ConocoPhillips Petroleum Engineering Building."
---