Campers will be given the opportunity to meet an astronaut and become space suit engineers for a day at the ExxonMobil Bernard Harris Summer Science Camp at the University of Houston this month.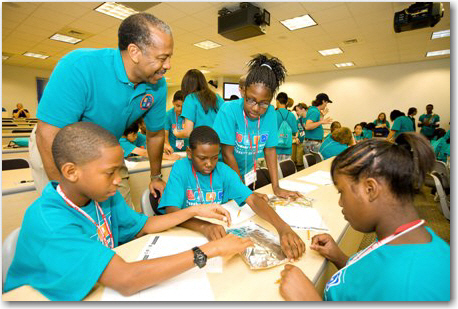 Showcasing their skills to a media audience Tuesday, June 21, campers will be tasked with designing and creating a space suit swatch capable of absorbing the impact of space debris. Using household items to mimic essential protective materials, students will assemble a test sample to submit for competition. The durability of their samples will be subjected to an "impact tester" to imitate the rigors faced during spacewalks.

During this competition, groups of students will be challenged to manage their money while testing their science skills learned at camp. Each team will have 20 minutes to choose and purchase materials ranging from Styrofoam and aluminum foil to wax paper and duct tape for constructing a 14-layer space suit capable of standing up to the hazards of the micrometeoroids that astronauts often encounter in space. These particles typically travel at speeds 150 times faster than a typical passenger jet plane.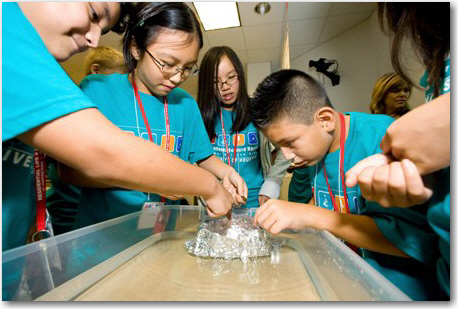 This is just one of many hands-on experiments and interactive demonstrations that take place during this camp. Throughout the two-week period at UH, these middle-school students have an opportunity to work side by side with ExxonMobil engineers and scientists, as well as UH faculty and teachers from the greater Houston area.

The camp has transformed the summer vacations of local middle school students for 11 years in Houston by giving students the opportunity to get ahead in the STEM disciplines of science, technology, engineering and math, meet inspiring role models and experience college life at UH. Offered free of charge to academically qualified students entering sixth, seventh and eighth grades, the two-week camp was started at UH in 1999 by former NASA Astronaut Dr. Bernard Harris Jr., a UH alumnus and the first African American to walk in space. Harris will be on hand to work with the students during the space suit competition this year.

The Harris Foundation is a 501(c)(3), non-profit organization that supports programs empowering individuals – in particular minorities and the economically or socially disadvantaged – to recognize their potential and pursue their dreams. In collaboration with Harris, the ExxonMobil Foundation awarded UH an $80,000 grant to provide funding for this year's camp.
WHO:
Houston-area middle school students building space suits
Bernard Harris, the first African American to walk in space
WHAT:
ExxonMobil Bernard Harris Summer Science Camp at UH
WHEN:
9 to 11 a.m., Tuesday, June 21
WHERE:
University of Houston
Philip Guthrie Hoffman Hall (PGH), Room 232
(map: http://www.uh.edu/campus_map/buildings/PGH.php)
Off Cullen Boulevard, Entrance 14
###
For more information about UH, visit the university's Newsroom.

To receive UH science news via e-mail, sign up for UH-SciNews.

For additional news alerts about UH, follow us on Facebook and Twitter.
---