Chemistry Professor Mamie Moy is on a career-long mission to make science fun, and throughout her 56 years at the University of Houston (UH), her determination to encourage students to pursue careers in the physical sciences has never diminished. Her dedication was recently recognized by the American Chemical Society (ACS), the world's largest scientific society.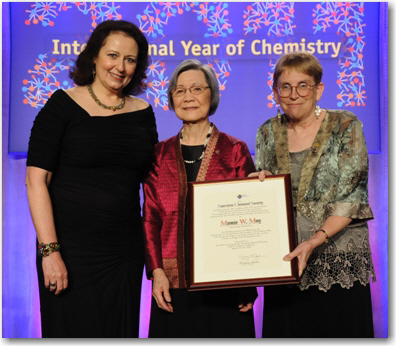 Moy received the ACS Award for Encouraging Women into Careers in the Chemical Sciences during the organization's annual meeting. The award plaque singled out Moy "for limitless passion and dedication for sharing the art of chemistry with teachers and students alike, for always striving to encourage women in the sciences and for courage in promoting diversity."

The award, sponsored by the Camille and Henry Dreyfus Foundation, includes a $10,000 grant. Moy plans to use the money to hold a mini-conference for girls in grades K-12, as well as female undergraduate, graduate and postdoctoral students.

Always in search of better ways for students to learn about the physical sciences, Moy's passion for engaging students of all ages has led to numerous innovative science outreach programs over the years. She founded the Science & Mathematics Applied Resources for Teachers Center to train pre-college math and science teachers. As a regional director of the Associated Chemistry Teachers of Texas, she works to improve the quality of chemical education and to help teachers accumulate an arsenal of creative and effective teaching activities. Additionally, her ongoing involvement with the Robert Welch Foundation Summer Scholars program brings bright high school students to UH for hands-on research experiences, and she also finds time to mentor local high school girls through a program sponsored by Texas Executive Women.

Knowing that it's never too early to engage a student's interest in science, Moy also looks for opportunities to impact elementary education, saying that "kids are like sponges – they have fun, they ask questions and you let them find out the answers. It's all about inquiry and discovery." With one of the early programs she orchestrated, "3..2..1...Blastoff," bringing 500 elementary school students to UH, she "focused on underserved communities that had little or no access to science as a whole."

Among her lifetime of honors, Moy earned national recognition for her outstanding contributions to science and the chemistry profession as part of the 2010 class of ACS fellows, one of the field's highest distinctions. In 2008, she was named a "Texas Woman of Distinction" by the American Association of University Women of Texas for work as an advocate and trailblazer for women scientists. In 2003, she received the National Science Teachers Association Distinguished Service to Science Education Award.
      ###
Editorial Note: High-resolution photos of Mamie Moy are available to media by contacting Lisa Merkl.

About the University of Houston
The University of Houston is a Carnegie-designated Tier One public research university recognized by The Princeton Review as one of the nation's best colleges for undergraduate education. UH serves the globally competitive Houston and Gulf Coast Region by providing world-class faculty, experiential learning and strategic industry partnerships. Located in the nation's fourth-largest city, UH serves more than 38,500 students in the most ethnically and culturally diverse region in the country.

About the College of Natural Sciences and Mathematics
The UH College of Natural Sciences and Mathematics, with 181 ranked faculty and approximately 4,500 students, offers bachelor's, master's and doctoral degrees in the natural sciences, computational sciences and mathematics.  Faculty members in the departments of biology and biochemistry, chemistry, computer science, earth and atmospheric sciences, mathematics and physics conduct internationally recognized research in collaboration with industry, Texas Medical Center institutions, NASA and others worldwide.

For more information about UH, visit the university's Newsroom.

To receive UH science news via e-mail, sign up for UH-SciNews.

For additional news alerts about UH, follow us on Facebook and Twitter.




---