As a coastal city, Houston remains in constant preparation mode for possible severe weather emergencies. To be ready for storms or other crises, city officials are tapping into the talents of University of Houston Green Building Components (UHGBC) applied research program in the Gerald D. Hines College of Architecture for disaster relief solutions.
Through a new partnership with the city, a UHGBC-supported team of faculty researchers and industry partners will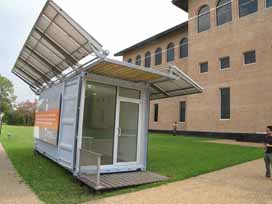 provide city parks, schools, fire stations and other locations with 17 of its Solar Powered Adaptive Containers for Everyone (SPACE). The city recently awarded a $1.35 million contract (funded by a grant to the city from the State Energy Conservation Office) to UHGBC to construct these SPACE stations. The units are scheduled to be constructed and completely in place for the 2011 hurricane season.
SPACE units are recycled shipping containers equipped with solar generators. They are rated to withstand hurricane force winds and can be quickly deployed using helicopters or flatbed trailers. Two people can put a single unit into service in approximately 30 minutes.
A SPACE unit will be on view for invited dignitaries and community leaders during the Mayor's Earth Day Breakfast at 7:30 a.m., April 18 at Hermann Square (in front of City Hall - 901 Bagby St.). Following this event, the public can view SPACE at City Hall through Wednesday, April 20. It also will be on display with another UHGBC product, the gro-POD (a modular gardening system) on April 23 during the Earth Day Festival at Discovery Green (1500 McKinney St.). 
"The top priority for these SPACE units will be to power critical devices," said Joe Meppelink, director of UHGBC and professor in the university's Gerald D. Hines College of Architecture. "Following Hurricane Ike, medicines required refrigeration and crucial medical devices could not be recharged.  SPACE units will be used to accommodate these kinds of needs."
When not used during emergency situations, the SPACE units will serve community outreach and educational functions on a day to day basis.
Each SPACE unit contains 20 solar panels that generate 3.5 kilowatts. This is enough power to concurrently run an air conditioner, three small refrigerators, a few computers, communication devices and lighting.
"The city of Houston values its new partnership with the University of Houston and is excited to be utilizing state-of-the-art unique solar technology, to not only help Houstonians during an emergency, but to provide, in non-emergency times, spaces for offices, direct services, storage, first aid stations or cooling locations during special events...all off the grid," said Laura Spanjian, director of the city's Office of Sustainability.
SPACE was developed in 2009 as a collaboration between UHGBC, Metalab, Harvest Moon Development and ttweak. In 2010, the SPACE team partnered with Ameresco Solar Solutions to respond to the city's request for proposals (RFP) to construct mobile solar generators. Of the proposals submitted for this RFP, UHGBC emerged as the lead vendor and was awarded the contract.
Space has been featured in the Houston Chronicle and on television news outlets. It's also been exhibited at local events such as the Life is Living festival, Freedom Over Texas' Red, White and Green Zone, and the annual UH Green Building Components Expo at the College of Architecture.
UH Green Building Components is the Gerald D. Hines College of Architecture's applied research initiative to design, develop and commercialize sustainable building components and technologies across the architecture, engineering and construction industries. This effort is funded by nearly $1.4 million in grants from Houston Endowment and the Meadows Foundation. 
---