Mexican artist Emilio Said presents a unique view of the modern-day metropolis in the exhibition "Unreal Cities: Informal Architecture Zone." Using paintings, photographs, maps, blueprints and sculpture, he delivers abstract imagery illustrating cityscapes and urban spaces.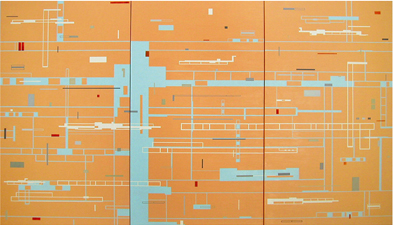 "Unreal Cities: Informal Architecture Zone" will run Oct. 7 - Nov. 20 in the main gallery of the University of Houston's Gerald D. Hines College of Architecture. The exhibition is supported by Mexico's Ministry of Foreign Affairs and Bank of America. It is among the Houston events celebrating the centennial of the Mexican Revolution and the bicentennial of Mexico's independence.
An opening reception will kick off the exhibition at 6:30 p.m., Oct. 7. Said will attend this event and deliver a lecture from 6:30 - 7:30 p.m. This event is free and open to the public.
"Unreal Cities alters the perception that we have about the space, when it becomes a representation of it, creates meanings that allows to see the city as a container and contents, given place to an hybrid piece that goes between the public and the private," wrote Said in his artist statement. "The city is the imaginary where our realities take place."
WHAT:
"Unreal Cities: Informal Architecture Zone"
WHEN:
Exhibition runs Oct. 7 - Nov. 20
(Gallery is open 10 a.m. - 5 p.m., Monday - Friday)
Opening reception: 6:30 p.m., Oct. 7
WHERE:
Gerald D. Hines College of Architecture - Gallery
University of Houston
Entrance 16 off of Cullen Boulevard
Houston, Texas 77204
WHO:
Gerald D. Hines College of Architecture with support from Mexico's Ministry of Foreign Affairs and Bank of America
---