When Jacques Offenbach's "La Vie Parisienne" premiered in 1866, Paris was known for its merry social scene and romantic ambience. Not much has changed since then, so it makes perfect sense that the University of Houston's Moores Opera Center would transplant this festive production into the 21st century.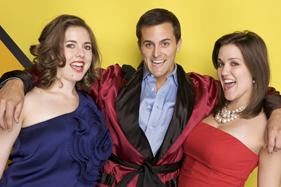 "La Vie Parisienne" will run Oct. 22 - 25 in the Moores Opera House. Offenbach's operetta follows the exploits of tourists caught up in an elaborate hoax in the "city of love." Regardless of any trickery, passions flow - as does wine - and everyone experiences a slice of Parisian life.
"This opera works very well in a contemporary setting," said Buck Ross, director of the Moores Opera Center. "The opera was originally focused on tourists coming to Paris for the Exposition Universelle in the 1860s. Paris was a big tourist town then as it is now. The opera focuses on the trouble that these tourists get into once they're there. It's also about the most chic and fashionable people in town and how they're dealing with their own lives."
The fast-paced Paris vibe will be enhanced by a billboard that rotates constantly with vibrant scene backgrounds. For the finale, the stage will be transformed into a stylish nightclub pulsating with lights and effects.
Light in tone with energetic numbers, "La Vie Parisienne" remains one of Offenbach's most popular operettas. It  made its debut in 1866 at Paris' Palais Royal. In 1876, New York's Booth Theatre hosted the American premiere.
This will be the first time the Moores Opera Center has performed "La Vie Parisienne." It will be sung in English with English surtitles.
Tickets are $15 and $10 for students and seniors. For additional details on tickets, call the Moores box office at 713-743-3313 or visit http://www.music.uh.edu/opera/boxoffice.asp.
WHAT:
"La Vie Parisienne"
WHEN:
7:30 p.m., Oct. 22, 23, 25
2 p.m., Oct. 24
WHERE:
Moores Opera House
WHO:
UH Moores Opera Center
---