The Jack J. Valenti School of Communication (JJVSoC) will host alumni and friends of the school from 3-5 p.m., Oct. 10 for "A Groundbreaking Afternoon" to celebrate its new facilities on the University of Houston campus.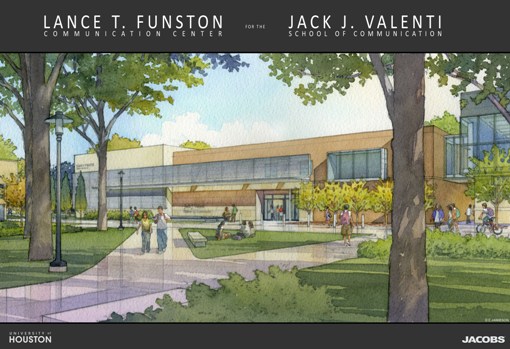 The event will begin with a reception in O'Quinn Great Hall in the Athletics/Alumni Center on Cullen Boulevard.  A ceremonial groundbreaking at the communication building will follow, weather permitting.
The $3.6 million project was funded in part by a $1.5 million, 2-to-1 matching contribution from Lance Funston, a 1967 graduate and chairman and chief executive officer of Telamerica Media, a media aggregator that represents more than 90 percent of the cable television industry. Funston challenged the university to raise additional private funds to match his gift.
"The Valenti School of Communication has a very important spot in my heart, not just because of the legacy Jack Valenti, but because I feel like it was here I got the tools and the skills that really helped me be successful in my career, and I'm delighted to be able to help out in any way that I can," said Funston. "I believe my gift will give the school a chance to achieve some well-deserved growth and opportunity to expand its offering."
The construction, scheduled to be completed by fall 2011, will include the new Lance T. Funston Communication Center. It features a two-story video production studio, the building's first formal entrance and renovated faculty/staff offices and classrooms. The project will comprise of approximately 4,363 square feet of new construction and 15,500 square feet of renovated existing space.
"As of fall 2010, the Valenti School more than 1,600 communication majors, making it one of UH's largest academic units. The renovation and expansion of the school will help better accommodate the schools growing enrollment," said Beth Olson, director of the JJVSoC. "This groundbreaking event is a great opportunity for alumni and friends to reconnect and celebrate building the future of the Jack J. Valenti School of Communication."
Members of groundbreaking host committee include: Robert L. Arnold, Mark Berman, Cheyenna Brehm, Lisa Chmiola Burns and Adam Burns, Katie and Jai Daggett, Amy Davis Eisenbaum, Julie B. Fix, Kelly M. George, Kim Maraldo, Katie Moyer, David Norton, Dominique Sachse, Brenda Beust Smith, Gale and Kese Smith, Tempest Solich, Susan and Ted Stanton, and Mike Weingart.
WHAT:  

"A Groundbreaking Afternoon," for the University of Houston

Jack J. Valenti School of Communication for alumni and friends

WHEN:  

3- 5 p.m., Oct. 10    The festivities will start with drinks and appetizers at 3 p.m. in the Alumni/Athletic Center on Cullen Boulevard. Around 4:00 p.m. participants will walk to a special groundbreaking ceremony at the Jack J. Valenti School of Communication. Individual tickets are $25. To RSVP, call 713-743-9429.  

WHERE: 

O'Quinn Great Hall, Athletics/Alumni Center, University of Houston http://www.uh.edu/campus_map/buildings/AAF.php

Jack J. Valenti School of Communication http://www.uh.edu/campus_map/buildings/COM.php
# # #
---