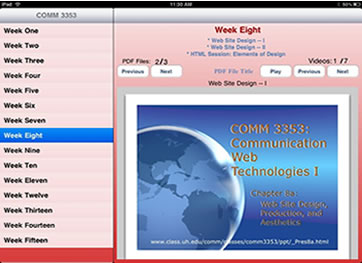 This fall, a team of University of Houston professors is researching mobile-learning in a cutting-edge pilot program to use iPads equipped with course materials. The iPad application, COMM 3353 iApp, is the university's first iTunes application developed strictly for academic instruction. Thirty Jack J. Valenti School of Communication students are participating in the UH iPad Mobile-Learning Pilot Program and Research Study and will be evaluated at the conclusion of the fall semester.

This joint project between the Jack J. Valenti School of Communication and Education Technology & University Outreach will examine the impact of "anytime, anywhere" learning over the final eight weeks of this semester. Each iPad is preloaded with learning modules containing video lectures, textbook material, presentations, tutorials and simulations for the Information and Communication Technologies course (COMM 3353).
"Today's students have vast amounts of information at their fingertips, and that's a trend we want to leverage when introducing concepts in the classroom," said communication professor Shawn McCombs, a member of the pilot program research team. "We're incredibly fortunate to spearhead this program and examine the impact of on-demand studying."
McCombs also serves as an instructor for the course-by-committee, alongside professors Youmei Liu, Dung Huynh and Antonio Farias.
The iPad app was specifically built for the pilot program and research study, intended to provide feedback for the university's M-Learning mission. The survey will examine how the students use the devices throughout the last half of the semester. Additionally, researchers are also interested in any impact the touch screen interaction will have on the learning process.
In 2004, School of Communication professors were among the first in the U.S. to incorporate iPods and podcasting into course curriculum. The COMM 3353 research venture is a collaboration between School of Communication and College of Education faculty.
###
About the University of Houston
The University of Houston is a comprehensive national research institution serving the globally competitive Houston and Gulf Coast Region by providing world-class faculty, experiential learning and strategic industry partnerships. UH serves more than 38,500 students in the nation's fourth-largest city, located in the most ethnically and culturally diverse region of the country. 
For more information about UH, visit the university's Newsroom at http://www.uh.edu/news-events/.  
For additional news alerts about UH, follow us on Facebook at http://www.facebook.com/UHNewsEvents and Twitter at http://twitter.com/UH_News. 
---