With antibiotic resistance on the rise worldwide, health care professionals are continually seeking to optimize how they combat drug-resistant infections.
As a result, antimicrobial stewardship programs are more important than ever in ensuring the continued efficacy of available antimicrobial drugs, which are designed to kill or prevent the growth of microorganisms such as bacteria, fungi and viruses. A collaborative effort between the University of Houston College of Pharmacy (UHCOP) and the St. Luke's Episcopal Hospital (SLEH) pharmacy department is addressing this all-too-important issue with a program consisting of a team that includes infectious disease pharmacists and physicians.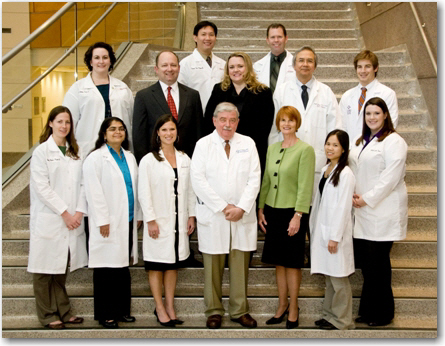 Directed by the hospital's Center for Antimicrobial Stewardship and Epidemiology (CASE), the program received recognition from the American Society of Health-System Pharmacists (ASHP) for its best practices. The group was among five other programs recognized nationally at the 45th ASHP Midyear Clinical Meeting and Exhibition in Anaheim, Calif., Dec. 5.
CASE was formed in 2008 with the purpose of improving the quality of care for patients as it relates to antimicrobial therapy, as well as furthering clinical research and training the next generation of clinical infectious diseases pharmacists. With antimicrobial resistance and the cost of antibiotics skyrocketing, the members of CASE say the group was developed as a collaborative approach with leadership from pharmacy, infectious diseases physicians, infection control, microbiology and nursing interventions. Their goal is to detect the inappropriate use of antibiotics, screen patients and initiate antifungal therapy to those at high risk of dying, and otherwise assess disease severity to guide drug therapy.
"The goal is to optimize the use of antimicrobials, eliminate the overuse of inappropriate drugs and limit antibiotic selection pressure," said Angela A. Shippy, M.D., vice president of medical affairs at SLEH. "This prestigious recognition is a testament to the St. Luke's pharmacy team's dedication in achieving excellence in all that they do for our patients and their families."
Kimberly Putney, a clinical manager at SLEH, adds, "Our CASE team has demonstrated the valuable contribution they have made for patient care through their commitment to clinical service, research and fostering the training of future pharmacists."
Clinically based research initiatives performed by the CASE team have been published in leading infectious diseases journals, as well as having resulted in changes to local and nationally recognized standards for antimicrobial use that could potentially save lives and prevent the rise of drug-resistant infections.
"The fact that a collaborative program such as CASE can progress from start-up to being a nationally recognized 'Best Practice' in only two years is an overwhelming affirmation of the synergy between the clinical expertise at St. Luke's and the research expertise at our College of Pharmacy," said Lamar Pritchard, dean of UHCOP. "Not only does St. Luke's serve as a clinical site for our faculty, but CASE and our other collaborations also encompass jointly supported infectious diseases pharmacy residents and fellows, experiential training sites for our students and professional practice sites for many of our alumni."
One CASE team member, Kevin Garey, who also is an associate professor at UHCOP and clinical specialist at SLEH, said health care institutions across the globe walk a fine line in how to best treat patients with a limited arsenal of antimicrobial drugs and avoid the development of resistance by bacterial and fungal pathogens.
"With the slow pace of new antimicrobial drugs being approved and introduced, it's imperative that we make the most logical, scientifically backed decisions about when, how and how much we use what's available today," Garey said.
###
Editor's note: A high-resolution photo of the team is available to media by contacting Lisa Merkl. An abstract of the award paper is available at http://www.ashpadvantage.com/bestpractices/2010_papers/Garey.htm.
About the University of Houston
The University of Houston is a comprehensive national research institution serving the globally competitive Houston and Gulf Coast Region by providing world-class faculty, experiential learning and strategic industry partnerships. UH serves more than 38,500 students in the nation's fourth-largest city, located in the most ethnically and culturally diverse region of the country.
About the UH College of Pharmacy
For more than 60 years, the University of Houston College of Pharmacy has shaped aspiring pharmacists, scientists and researchers.  The college offers graduate degrees in pharmacy administration, pharmacology and pharmaceutics, a professional pharmacy degree and combined professional/graduate degrees.  With facilities on the UH campus and in the Texas Medical Center, the UH College of Pharmacy is accredited by the Accreditation Council for Pharmacy Education. 
About St. Luke's Episcopal Health System
St. Luke's Episcopal Health System (
http://www.stlukestexas.com/
) includes St. Luke's Episcopal Hospital in the Texas Medical Center, founded in 1954 by the Episcopal Diocese of Texas; St. Luke's The Woodlands Hospital; St. Luke's Sugar Land Hospital; St. Luke's Lakeside Hospital; St. Luke's Patients Medical Center, St. Luke's Hospital at The Vintage, and St. Luke's Episcopal Health Charities, a charity devoted to assessing and enhancing community health, especially among the underserved. St. Luke's Episcopal Hospital is home to the Texas Heart® Institute, which was founded in 1962 by Denton A. Cooley, MD, and is consistently ranked among the top 10 cardiology and heart surgery centers in the country by U.S. News & World Report. Affiliated with several nursing schools and three medical schools, St. Luke's Episcopal Hospital was the first hospital in Texas named a Magnet hospital for nursing excellence, receiving the award three times.
For more information about UH, visit the university's Newsroom at
http://www.uh.edu/news-events/
. 
To receive UH science news via e-mail, visit
http://www.uh.edu/news-events/mailing-lists/sciencelistserv/index.php
. 
For additional news alerts about UH, follow us on
Facebook
and
Twitter
. 
---