For 36 years, University of Houston professor emeritus Sidney Berger has been a driving force behind the Houston Shakespeare Festival. Each summer, the event provides Houstonians an opportunity to celebrate the Bard's work during performances at Miller Outdoor Theatre.
Now, the city is preparing to celebrate Berger's contributions to its cultural landscape as Houston Mayor Parker has proclaimed Aug. 6 as "Dr. Sidney Berger Day."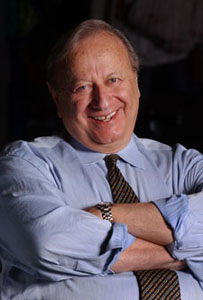 The official proclamation states: "Whereas, Dr. Sidney Berger grew the small drama department into a nationally recognized theater program with celebrity faculty and some soon-to-be celebrity students. The city of Houston commends Dr. Sidney Berger for his commitment to theatrical arts and the Houston community and extends best wishes for continued success."
Following his first few visits to Miller Outdoor Theatre in the early 1970s, Berger noticed that plays were noticeably absent from the venue's performance schedule. This inspired him to help start the Houston Shakespeare Festival in 1975. The annual event is a collaboration between UH and the city of Houston. It remains among the city's most popular summer traditions.
This year's event showcases "Much Ado About Nothing" directed by Berger (Aug. 6, 8) and "A Midsummer Night's Dream" directed by Carolyn Houston Boone (Aug. 7). For additional details on the festival, visit http://www.houstonfestivalscompany.com/.
Berger has groomed many stage professionals for success and stardom including Hollywood actors Dennis Quaid and Jim Parsons (CBS' "Big Bang Theory"). Berger also lured theater legends such as Jose Quintero, Edward Albee and Sir Peter Hall to UH to impart their wisdom on students.
He is a past recipient of the Ruth Denney Award from Houston's Theater Under the Stars, which honors stage professionals who shape young artists' lives. In 2007, Berger  was honored by U.S. Rep. Gene Green with a Congressional Record Plaque.
"To quote Shakespeare, 'This is our time to cry. Good joy. Good joy,'" he said. "Really, I am honored and grateful to this wonderful city for bestowing this honor upon me."
For more information about UH visit the university's Newsroom at www.uh.edu/newsroom

###
---