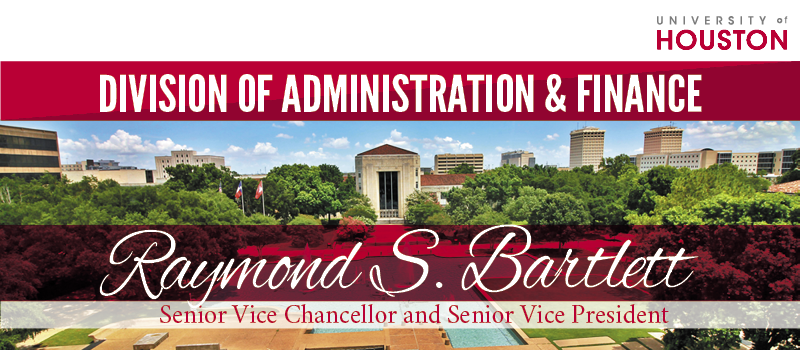 Comprised of Division features, accolades and achievements, as well as valuable "In Case You Missed It (ICYMI)" news you can use, each edition of the newsletter highlights key information and resources across the Division's departmental, operational and service unit areas. To subscribe to this listserv, click HERE.

Dear Colleagues:
This month, we mark the start of spring with Daylight Savings Time, Spring Break, and the university's major spring tradition - Frontier Fiesta. University staff and their families are invited to Frontier Fiesta's Family Day on Saturday, March 26, located in Parking Zone B by the TDECU Stadium. Beginning at noon, there will be carnival rides, food, and activities for all ages. I hope you can participate and support our campus student organizations!
Across the division in March, departments have been recognizing Women's History Month, a month designated by Congress and U.S. Presidents since 1987, focusing on the vital role of women in American history. Highlights of divisional activities to commemorate this month include:
Facilities/Construction Management's celebration of Women in Construction week with a special luncheon for employees on March 10.
Houston Public Media's website for Women's History Month, a compilation of documentaries and stories that center on women's experiences in history — and the present day.
University Information Technology spotlights Grace Hopper, a pioneering computer scientist who helped create the field of computer programming.
Historically Underutilized Business (HUB) Operations highlights one of UH's women-owned business partners and provides departmental updates and reminders.
Public Art of the University of Houston System features its special tour of Dorothy Hood: The Edge of Being at noon on March 23 led by Lauren Cross, Education and Public Programs Manager.
UH Dining Services recognizes one of their women-owned food trucks, which is also a fan favorite at the TDECU football stadium, Miss Patty's Wagon.
Additionally, there are several important highlights for March from across the division, including:
Recognition for Ginger Walker, Director of Emergency Management, who was named a finalist for Campus Safety Director of the Year.
An update from UH Facilities on the expansion of services to Technology Bridge and UH at Sugar Land and UH at Katy.
A feature on Coogs on Alternative and Sustainable Transportation (COAST) and how to learn more about this money-saving transportation service, provided by Parking and Transportation.
A reminder from Occupational Health Services that March is Colorectal Cancer (CRC) Awareness Month, including the importance of awareness of risk factors, symptoms, and preventative steps.
"Save the Date" reminders of upcoming events, including Staff Council's Spring Egg Hunt, the A&F Committee Advisory Reception, Behind the Badge, Administrative Professional's Day, National Student Employment Week, and Coca-Cola Sampling Events.
I hope our updates help you stay informed about key divisional activities and events. I welcome your feedback on the divisional communication tools and hope you will take the brief survey to share your input.
Thank you so much for all you do to support our community. I appreciate each of you. You make the division of Administration and Finance the success that it is.
Highlights & Features
Public Art Highlights Alyson Shotz, A Moment in Time

One way to celebrate Women's History Month is to take an art walk on campus to visit one of our significant artworks by a female artist. One notable artwork piece, A Moment in Time, by artist Alyson Shotz, is installed at the Wortham Theater Building. This work recreates imagined raindrops frozen in time. You can also listen to a recorded conversation with Alyson and Public Art UHS Director and Chief Curator Dr. Maria Gaztambide to learn more about this work and Alyson's current art practice here.

Historically Underutilized Business (HUB) Highlights Women Entrepreneurs

Products Unlimited Inc. is one of the many companies doing business with the University of Houston through the Historically Underutilized Businesses (HUB) program.

The woman-owned small business, which was founded in 1992 and is based in Plano, provides product sourcing for medical, lab, safety, and industrial products and equipment.

"As a business woman, I understand the immense value of education and I constantly strive to learn new skills and stay updated with current business affairs," Raithel said. "Our company supports higher education and offers financial assistance to any employee who wishes to continue their education." Read more on Products Unlimited Inc.

University Information Technology (UIT) Honors Grace Hopper, Computer Scientist

Grace Hopper was a pioneering computer scientist who helped create the field of computer programming. She was a great contributor in the STEM fields -- science, technology, engineering, and mathematics -- made by women throughout history.

Hopper was one of the first computer programmers to work on the Harvard Mark I. She was also a United States Navy rear admiral and helped develop COBOL -- one of the first high-level programming languages -- and invented the first compiler, a program that translates programming code to machine language. Read more.

Houston Public Media Celebrates Women's History Month

Every March since 1987, Congress and U.S. Presidents have designated the month of March as Women's History Month. Houston Public Media is proud to celebrate the accomplishments and vital contributions of women in history with documentaries and stories that center women's experiences in history — and the present day. Visit the Women's History Month site to view programming and content that captures women's unique perspectives.

Equal Opportunity Services Prepares for the 50th Anniversary of Title IX

This March, the Equal Opportunity Services (EOS) team will celebrate Women's History Month and prepare for the upcoming 50th anniversary of Title IX later this year. Title IX, a federal civil rights law, was passed in 1972 to ensure that students and employees are protected from sex-based discrimination in all educational programs and activities that receive federal funding. 50 years later, Title IX continues to advance opportunity through equity in education. Please visit the EOS website to learn more about Title IX!

UH Dining Services Highlights Woman-Owned Food Truck

Led by founder and CEO Patricia Jackson, known locally as Miss Patty, Miss Patty's Wagon is not only a UH staple but a Houston essential. Miss Patty's love and passion for the kitchen started in Chicago, learning the restaurant business at an early age. Before bringing her gourmet mobile food truck to the UH and UH Sugarland campuses, she lived and worked in Chicago. Miss Patty combined her Southern and Chicago roots to open her brick & mortar location, Miss Patty's Southern Soul & Seafood Kitchen, along with two gourmet food trucks in Houston. Miss Patty's dedication and love for her customers is displayed not only in her food but through her customer service and authentic dining experience.

Try Miss Patty's Wagon if you're on the lookout for soulful comfort food. They are best known for their cajun-style cheeseburgers, po-boys, shrimp and catfish. Check out the UH Dining food truck schedule here.

Colorectal Cancer Awareness Month

A reminder from UH Occupational Health Services: March is Colorectal Cancer (CRC) Awareness Month. CRC is a disease of the digestive system and is caused by abnormal growths (polyps) that form in the colon or rectum. It is the third most commonly diagnosed cancer and the second leading cause of cancer death of men and women in the U.S. Unlike most cancers, CRC may be prevented with routine screening and is highly treatable with early detection.

To learn more about the risk factors, symptoms of CRC, please visit the CDC.

Administration and Finance Communications Survey

Please share your feedback in the Administration and Finance Communications Survey. Your feedback is critical to ensure that content remains relevant, highlights accomplishments, and provides information across the division. The survey takes approximately 5 minutes to complete. Click here to participate.
UH Facilities Celebrates Women In Construction Week

Staff Spotlight
Campus Safety Magazine Recognizes Ginger Walker, UH Director of Emergency Management

Congratulations! Campus Safety Magazine announces Ginger Walker is a finalist for the Campus Safety Director of the Year Award. Ginger's knowledge and experience have been vital in the University's response to Winter Storm Uri, Hurricane Nicholas, and the ongoing global COVID-19 pandemic. The winner of the Campus Safety Director of the Year Award will be announced at the Campus Safety East Conference this summer. Read more about Ginger's top accomplishments in Campus Safety Magazine's spotlight article.
ICYMI: News You Can Use
UH Police Department Swears in DJ Daniel

On March 4, the UH Police Department led a ceremonial swearing-in for DJ Daniel to become an honorary police officer. The police chiefs from UH, UH-Clear Lake, and UH-Downtown presented DJ Daniel with memorabilia and departmental patches. Learn more about DJ Daniel's story and the important role that law enforcement is serving in his life.

COAST Program Marks Sixth Year of Serving UH Community

In an effort to better serve UH's ever-growing campus and community, Parking and Transportation Services launched the Coogs on Alternate and Sustainable Transportation (COAST) program back in 2016.

Six years later, the program is still offering eligible students, faculty and staff incentives program to carpool or utilize alternative and sustainable options to get to campus. Following a downward trend in the number of people participating in the program as a result of the Covid-19 pandemic, the program is once again seeing those numbers rise.

As of February, COAST had a total of 4,027 participants. Of those, 2,914 were students. The program had seen its numbers drop to 2,775 in December 2020 during the height of the pandemic, when campus was closed and classes were held virtually. In February 2020 – right before the pandemic struck – COAST had, 4,431 participants. Learn more.

Facilities Services Expands to UH Instructional Sites

UH Facilities/Construction Management expands its services to UH at Sugar Land, UH at Katy, and Technology Bridge with the addition of Willard Brewster and Michael Knight as the Facilities Instructional Site Directors. Services offered at the instructional sites include facilities oversight and customer service requests. Learn more about the UH Facilities/Construction Management's plan to build futures and maintain excellence at the university's instructional sites.

Continuity of Operations Planning FY22

The Office of Emergency Management (OEM) kicked off the Continuity of Operations Planning Program for 2022 in March with the annual training and presentation to the Continuity of Operations Planning Liaisons. Ensuring the campus is prepared for the upcoming hurricane season, all departments, colleges, and divisions are required to assess and update continuity plans annually.

The COVID-19 pandemic has taught us that continuity planning is key to ensuring essential functions continue during various disruptions. More information regarding the Continuity of Operations Planning Program can be found on the UH OEM website. Ginger Walker, Director of Emergency Management, will be serving as the liaison for Administration & Finance this year. Please contact Ginger Walker if you have any questions.

UH Gets Its First Visit From the Coca-Cola Rodeo Caravan

The Coca-Cola caravan arrived on campus bringing excitement and promotional items for the campus community. Auxiliary Services in partnership with Coca-Cola provided the UH campus community with personalized and branded cozies and swag. Please remain vigilant for future Coca-Cola samplings on campus. Click here to view photos from the Coca-Cola Rodeo Caravan.

Employee Appreciation Activities Across Administration & Finance

Employees are critical to our success as a division. On March 4, departments across the Division of Administration and Finance celebrated Employee Appreciation Day through a variety of activities. Thanks to all staff for their continued dedication. Click here to view photos from several departments.

Houston Public Media - 100 Years

The History of Houston encompasses major events with people and organizations that have worked for positive change in our community and abroad. 100 Years of Houston recounts important milestones and shares the personal stories of our city's trailblazers and their local connection. These stories are framed by the themes of Inclusion & Diversity, Innovation and Health. Read more.
Events & Reminders
Staff Council Spring Egg Hunt Returns on April 9

Save the date for the annual Staff Council Spring Egg Hunt returning Saturday, April 9 at the Ezekiel Cullen Circle Drive. Volunteers will hand out goodie bags with toys and treats for children, and Mr. and Mrs. Bunny will make a special appearance. The Spring Egg Drive is open to all children of University of Houston staff, faculty, students, and families in the neighboring community. Visit the Staff Council Egg Drive site to learn more.

Public Art of the UH System Presents the Dorothy Hood Exhibition Tour

Join Public Art UHS on March 23rd from 12 pm - 1 pm for a special tour of Dorothy Hood: The Edge of Being in celebration of Women's History Month. The exhibition is on view across the University of Houston and the University of Houston-Clear Lake until March 2023. This tour will focus on the UH locations.

Tours are always free and open to the public! RSVP today.

Upcoming Coca-Cola Ambassador Sampling Events

Auxiliary Services in partnership with Coca-Cola is hosting several sampling events in coming weeks at the Student Center South, Food Court Tables. Events include:

National Vitamin C Day, April 4, 10 am - 3 pm, (Minute Maid & Aguas Frescas) Food Court Table 1
Fanta Finals, April 27, 10 am - 3 pm, (Fanta) Food Court Table

Visit the Auxiliary Services website for more information on upcoming events.

HUB Virtual Spot Bid Fair

The HUB program is participating in the HUB Virtual Spot Bid Fair, hosted by Texas State Senator Royce West, which is scheduled for May 2-3, 2022. Each college or division is asked to provide five HUB-eligible opportunities. Requisitions can be submitted through 5 p.m. Tuesday, April 8.

"Please continue to be actively engaged in supporting equity, inclusion and community economic growth – consider a HUB for all procurement needs – all UH personnel with a CougarNet login may search for HUBs using the UH HUB database," Dr. Clark said.

A&F Advisory Committee Reception Returns April 2022

Administration and Finance Advisory Committees play a critical role in support of the university's shared governance approach and achieving our goal as a university to become a Top 50 institution. The Division will honor A&F Advisory Committee representatives in an in-person event on Thursday, April 21. Learn more about A&F Advisory Committees.
A&F Resources