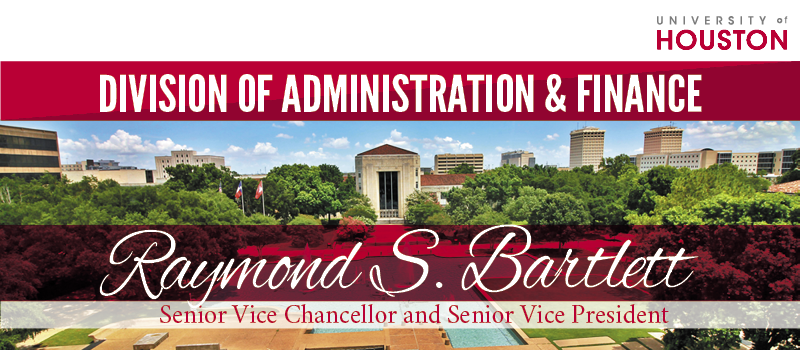 Comprised of Division features, accolades and achievements, as well as valuable "In Case You Missed It (ICYMI)" news you can use, each edition of the newsletter highlights key information and resources across the Division's departmental, operational and service unit areas. To subscribe to this listserv, click HERE.
Leadership Message from the Chief Financial Officer
October ushers in cooler weather to Houston and prepares us for homecoming festivities and football. I am delighted that the Division of Administration and Finance will host our Staff Tailgate at the homecoming football game. This year's tailgate, centered on the theme "Welcome Back," includes food, giveaways, games, music, and more. The A&F SPIRIT will be present as we return to safely gathering with each other in person for an afternoon of festivities and fun.

In this month's newsletter, I hope you enjoy reading about highlights and achievements from across the division, including:

The impactful 2021 UH National Night Out event held with a record-setting 400+ participants who gathered outdoors for this year's four-stop "snow-cone tour." Students, faculty, and staff participated in the terrific opportunity to "chill" with the UHPD's finest.
Several new offerings from our UH Dining "bots" that are ready to serve you for a quick and delicious meal or snack. From Sally the Salad Bot and the Kellogg's Cereal Bot, each uses the latest technology, fresh farm ingredients and much more—all from a bot!
Houston Public Media's "Building Blocks" award-winning programming brings awareness to these complex issues of poverty and explores the challenges facing Harris County's youngest and most vulnerable residents — our children.
A reminder from UH Occupational Health Services that October is Breast Cancer Awareness Month. Human Resources' partnership with The Rose led to 56 screenings this fall as part of Mobile Mammograms.
An update from Facilities/Construction Management about their recent staff appreciation event and their departmental excellence award winners.

As always, stay safe and thank you for all you do in service to the UH community.
Highlights & Features
UH National Night Out "Snow Cone Tour" Sets Record Attendance

More than 400 students celebrated the 2021 UH National Night Out hosted by UHPD on a picture-perfect afternoon as part of this year's free snow-cone tour! Video highlights featured the opportunity to "chill" with UHPD's finest beginning at the Student Center South Circle Drive, then Cougar Village 1 and 2, and ending in the Quad. Click here for more information about UHPD events and follow UHPD's finest @UofHPolice.

Traditional measures of poverty do not capture the magnitude of people who are struggling financially. Reality Check is a series that makes the invisible visible by shining a light on the true number of families struggling in Harris County and across the United States. It is crucial to expose children to new experiences and ideas early on, because 90% of a child's brain is developed by the age of 5.

The data clearly shows that children who receive early, quality education outperform those who do not. Yet access to affordable childcare is a challenge for many, especially those who live paycheck to paycheck.

Episode 3 of Reality Check explores what quality childcare is all about, and what parents can do to help ensure that their child develops a healthy love of the classroom.

Go Pink! October is Breast Cancer Awareness Month

A reminder from UH Occupational Health Services: breast cancer is one of the most common forms of cancer in the U.S. and the second-leading cause of death in women, but men can get breast cancer too. For risk factors, self-examination, prevention and more information, visit the American Cancer Society.

Office of Emergency Management "Sounds the Alarm"

The University of Houston Outdoor Warning Siren System is designed to alert students, faculty, staff and visitors in the event of a shelter-in-place emergency where it is unsafe to be outdoors. The siren is activated by the University and provides a quick method of notifying the campus with an audible tone that can be heard outdoors. It is meant to alert everyone to seek shelter indoors. 

During an emergency, the siren system is used in conjunction with the UH ALERT emergency notification system, which includes other communication channels like text message, email, the UH ALERT website, social media channels, digital signage and the UH Go mobile app. 

 If you hear the siren, remember to: 

Seek shelter indoors

Check your email or text messages 

View the UH ALERT website.

For more information and to view FAQs, visit the UH Outdoor Warning Siren System website, post the Siren Awareness poster in your work area. For general information about the UH ALERT System, click here.  

Explore Challenges and Solutions with Houston Public Media "Building Blocks" Partnership Programming

Research has shown the importance of early childhood education and development from birth to age five. In order to shine a light on the challenges facing Harris County's youngest and most vulnerable residents — our children — we will look at the factors that put some behind the curve, what quality early learning looks like and how to improve it. We will see how parents, educators and local leaders can make sure children are ready to succeed in the long term.

Join Houston Public Media in partnership with Collaborative for Children to explore the challenges and the solutions in Building Blocks.

Inclusive Vision: UH 'FIXIT Call Center' Now Staffed by Blind and Low-Vision Operators

Through WorkQuest, a private nonprofit corporation that links Texans with disabilities to employment opportunities, The Lighthouse of Houston was chosen to train and provide the new operators for UH's FIXIT call center. The Lighthouse of Houston is a nonprofit education and service center committed to assisting blind and low-vision people to live independently. To read the UH feature story, click here.

October is Cybersecurity Awareness Month

UIT wants to raise awareness about the importance
of cybersecurity and ensure that everyone has the
information and tools they need to be safer online.

To learn more about spotting phishing emails, click here.

Don't hesitate to report phishing!
Email: security@UH.edu or call 832-842-4695.
Staff Spotlight
During the F/CM 2021 Kick-Off & Appreciation event in September, Associate Vice Chancellor/Associate Vice President David Oliver announced the four award winners. Click here to read more about this exciting virtual event to recognize fellow staff members nominated by their peers who they felt exceeded in their work this year.

Congrats to A&F Cougar Cudos Honorees!

Cougar Cudos goes to Steven Burns and Sharon Pellas who were honored by Staff Council for exceptional service to the University in October.

To nominate a fellow Staff member and learn more, click here.
ICYMI: News You Can Use
UH Campus Store Renovations Complete

Must see! Shasta and a lucky Coog on a $200 shopping spree checking out the renovated store and grand opening held Oct. 11-13. Be sure to shop online or on site to see the latest Cougar Red items and more.

Bots are Back! Sally Returns and Kellogg's Bowl Bot Begins

Sally the Salad Robot is back on campus and located at M.D Anderson Library! Create your own customized salad with the touch of a button. This robot is filled daily with 22 farm fresh ingredients and can craft 8-component meals in just 90 seconds. Sally the Salad Robot is available during regular building hours. To learn more about Sally, visit https://www.chowbotics.com/.

Cereal is an acceptable meal at any time of the day! The Kellogg's Bowl Bot is an extension of Sally the Salad Robot from Chowbotics and will be available at Cougar Village 1 in early October. Choose from dairy bases such as milk and yogurt or select a dairy alternative. Next, choose cereal or granola and add toppings like fresh fruit and chocolate chips. Follow @uhfoodie for details on how you can receive a 20% off coupon to use toward your first Bowl Bot purchase.

Coffee Call: BrewBar and Coffee Crawl

Now on tap, the Brew Bar campus coffee concept is a student-run and aimed at empowering the next generation of leaders through entrepreneurial experience. Brew Bar offers a variety of flavored cold brews, drip coffee, and fresh pastries. To learn more about Brew Bar, visit https://www.brewbike.com/.

Join the third annual on-campus Coffee Crawl, four locations, six cups! This is a fun-filled event for coffee lovers. Complete our coffee crawl and get a commemorative mug! More details on how to participate can be found on Instagram@uhfoodie. Participating locations include Starbucks, Einstein Bros Bagels, Market at SCS, and Market at Cougar Village.

COVID-19 Supply Chain and Economic Impact to Auxiliary & Service Departments

The ongoing pandemic has resulted in nationwide supply chain impacts to the food services and hospitality industries, among others. Click here to learn more about how these shortages may impact the UH System community.
Events
New Artist Exhibition Through March 2023

Dorothy Hood: The Edge of Being is organized by Public Art of the University of Houston System in collaboration with the Art Museum of South Texas (AMST) and UH Libraries Special Collections. The exhibition features artworks from several collections including those of Public Art UHS and the AMST as well as objects drawn from the Dorothy Hood Papers, a collection of the Art Museum of South Texas and the University of Houston Libraries. Click here for more details.

FY 2022 Mandatory Training Begins

The Fiscal Year 2022 Mandatory Training period began on Monday, October 4, 2021, and extends until Friday, November 19, 2021. Per SAM policy 02.A.26, it is the responsibility of each System employee to complete annual mandatory training. This includes full and part-time faculty and staff, student workers, and temporary employees paid through the University's payroll system. For more information, contact HRSC@uh.edu or 713-743-3988.

Finals Mania Returns

The Cougar spirit lives on through the Finals Mania tradition that returns this fall. Additional details are coming soon!
A&F Resources