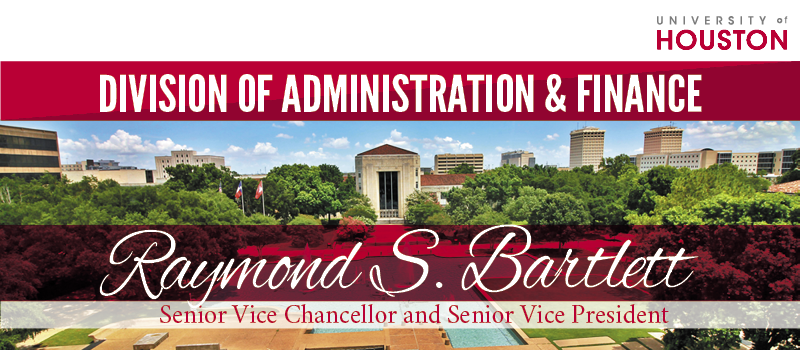 Comprised of Division features, accolades and achievements, as well as valuable "In Case You Missed It (ICYMI)" news you can use, each edition of the newsletter highlights key information and resources across the Division's departmental, operational and service unit areas. To subscribe to this listserv, click HERE.
Leadership Message from the Chief Financial Officer
Dear Administration and Finance colleagues:

As we pause to reflect during the holiday season, I am so thankful to all of you for your vital contributions to the university's successes in 2021. In this month's newsletter, I hope you enjoy reading about some of our most-recent accomplishments, important reminders, and staff accolades for the month of December including:

Occupational Health Services reminds us about preventive steps we can all take during Flu Prevention Month in December, such as frequent handwashing and getting the flu vaccine every year.
Campus Safety provides an update on testing hours for the on-campus Curative testing kiosk and reminders about COVID-19 precautions over the holiday break.
Finance notes required information and the deadline for those departments who issued gift cards/certificates to non-employees in calendar year 2021 so the appropriate 1099 form is issued in January 2022.
Human Resources highlights their Spring 2022 Catalyst course offerings for employee professional development. Catalyst course enrollment begins in January 2022.
Houston Public Media's Lisa Shumate shares information about Career Frontier: Exploring Success in the Changing Workplace, a special radio conference series in which she connects with industry leaders, CEOs, and business experts to discuss the present and future of work.
Facilities/Construction Management reports on the success of their recent key audit, with a 90% completion rate by departments, and well within industry standards of excellence.
UH Dining Services includes their winter break hours of operation, including that Moody Towers Dining Commons remains open for service from 11 a.m. – 7 p.m.
The division celebrates the graduation of three of our Administration and Finance Student Ambassadors during fall commencement ceremonies. Our Ambassador team continues to be a valued resource in helping us communicate about our services and programs to students.

As a division, we also continue to look for ways to connect with our students, such as the recent Finals Mania event, held in partnership with the Office of Administration and Dean of Students Office. At this event, team members served breakfast tacos and hot chocolate to 690 students, as students prepared to take their fall final exams. Congratulations to all Division of Administration and Finance employees on a great year, and sending warmest wishes to you and your family throughout this holiday season.
Highlights & Features
Construction of the John M. O'Quinn Law Center, Hilton University of Houston, and the College of Medicine are swiftly changing the university's landscape and skyline. The construction projects usher in forwarding momentum at the university in providing state-of-the-art facilities for students to learn and excel. Learn more about open dates and catch a glimpse of the live construction sites.

Sixty-five percent of school-aged children will work in jobs that don't even exist today. Success is hardly ever a straight line from point A to B. So how do you approach career planning — get curious! We share three ways to get curious about career growth that can lead you to your next step. Join host Lisa Shumate, author, coach, and general manager for Houston Public Media to explore how curiosity can power your career. Visit Career Frontier to read more and view recorded episodes.

A reminder from UH Occupational Health Services: December is Influenza (Flu) Prevention Month. Did you know that people with certain chronic conditions like asthma, diabetes, and heart disease are more likely to develop severe flu complications?

The best way to reduce your risk from seasonal flu and its potentially serious complications is to get vaccinated every year. Other preventative steps that you can take to protect yourself, your loved ones, and your community are to practice good respiratory etiquette and wash your hands often.

To learn more about flu symptoms and how to reduce the spread, please visit the Centers for Disease Control and Prevention (CDC).

Keeping Up With COVID-19

The COVID-19 omicron variant's exact effects are unknown, but its emergence serves as a reminder to stay on guard against this ever-changing coronavirus. Please continue to practice the precautions that have kept you, your families and our campus community safe. Vaccination remains the leading prevention strategy to protect yourself, including a booster immunization for all individuals 18 and older. In addition, UH encourages wearing face coverings, practicing social distancing and observing good hand washing and respiratory hygiene habits. Lastly, our free COVID-19 Curative Testing kiosk is readily available for testing and will only be closed from December 24 - January 2 during the winter break. Read more from Dr. Stephen Spann's latest message.

Departments are responsible for completing the annual key audit process. Facilities/Construction Management is pleased to announce a 90% department completion rating has been achieved for the 2021 annual key audit. Thanks to each of you for your support in accomplishing this rating. Please visit Key Access Services for additional information about the key audit process or read more on how key audits increase safety on campus.

1099 Reporting - Calendar Year 2021

1099-MISC and 1099-NEC forms for calendar year 2021 will be generated and issued to applicable payees in January 2022. If your department awarded a gift card/certificate to a non-employee recipient and the total amount received by the recipient in the calendar year is $600 or more, your department is responsible for submitting the non-employee recipient's W9 Form, the total gift card/certificate amount, and the purpose/benefit to Accounts Payable, so that we can issue an appropriate 1099 form. Please e-mail the notification to ap@uh.edu by January 7, 2022.

If you have any questions about the 1099 forms, please contact Diana Iraheta 713-743-5660.

UH Dining Updates

Follow UH Dining on social media @uhfoodie or online at the Dine on Campus website for the latest information:

Fall 2021 meal plans end on Friday, December 31st and Spring 2022 meal plans begin on Saturday, January 1st.

Fire Marshal's Office Launches a New Website

Check out the Fire Marshal's new website that features key contacts, resources, and information for fire, life, and safety. The URL is uh.edu/fls. Permit and inspection requestors can now process requests entirely online. Please utilize this new website for permit requests, inspection requests, etc. The Fire Marshal's Office will continue to process paper and emailed permits and requests for the foreseeable future.

The legacy Environmental Health and Life Safety (EHLS) website will remain accessible for a period to facilitate a smooth transition with Fire and Life Safety (FLS) program pages automatically redirecting users to the new website. Fire Marshal contact information will remain the same.

Contact UHFMO for comments or feedback about the site and FLS programs at 713-743-5858 or fls@central.uh.edu, for food safety: foodsafety@uh.edu.

Spring 2022 Enrollment for Catalyst Courses Begin in January

Catalyst Learning Programs offer development opportunities to empower, enrich, and help UH staff and leaders excel. Check out the Spring 2022 courses Catalyst courses here.

Contact Vicki Rawlston at vlrawlst@central.uh.edu for questions regarding Catalyst and other training available to staff.

Congrats to the A&F Student Ambassador Grads!

The A&F Student Ambassador program is critical to promoting Administration and Finance services and increasing student engagement. Hats off to our graduating seniors and A&F Student Ambassadors, Ramya Hemant, Kimberly Perez, and Quang "William" Vo. Check out the celebratory grad photos and learn more about the A&F Student Ambassador program.

A&F Student Ambassadors - 2021 Year In Review

This year, the A&F Student Ambassadors continued supporting student success by promoting Administration and Finance services. The student ambassadors focused on collaboration with multiple student organizations and A&F departments to ensure that students remain informed about key services including textbooks and parking. Learn more about the A&F Student Ambassador's in action.
Staff Spotlight
Facilities/Construction Management Adds New Assistant Directors

UH Facilities continue to revolutionize customer service with the addition of 3 new assistant directors: Jennifer Rea, Dwight Bradley, and David Geis. Learn more about how the newest additions to the Facilities team will help improve customer service, engagement and services provided on campus.

Imani Anderson Receives Registered Sanitarian Certification

UH Health Inspector, Imani Anderson, passed her registered sanitarian examination for Texas. Registered sanitarians are public health professionals qualified by specific education, specialized training, and field experience to protect the public's health, safety, and general welfare from adverse environmental determinants.

Congrats to A&F Cougar Cudos Honorees!

Cougar Cudos goes to Matias Fragoso, Amy Hutchings, Andy Moon, and Phu Nguyen who were honored by Staff Council for exceptional service to the University in December.

To nominate a fellow Staff member and learn more, click here.
ICYMI: News You Can Use
Human Resources Moves to a New Location

Human Resources is excited to announce the team has moved to a new home across from the A.D. Bruce Religion Center. With fully renovated spaces, including the HR Service Center and Training Room, the team looks forward to enhancing their mission of providing Tier One customer service to all University of Houston employees.

Employees who need assistance are still encouraged to call or email the HR Service Center team at 713-743-3988 or hrsc@uh.edu. The new address is 4367 Cougar Village Dr., Houston, TX 77204.

Finals Mania

Finals Mania, a Cougar tradition, returned this semester serving breakfast tacos, snacks, hot chocolate, and more to Coogs preparing for finals. This year's event was sponsored by the Office of Administration in partnership with the Dean of Students Office. More than 2100 breakfast tacos were served to students at the Student Center South - Houston Room. Although this year's event was different from the past, the Cougar Spirit continued to roar in excitement and provided a quick study break for students.

UIT Features "This Week's Top Issues"

In an effort to provide support for the campus community, UIT highlights the week's top issues on the UIT Infotech Services website. Issues include logging into AccessUH, resetting a Cougarnet account, and receiving push notifications for the Duo mobile app. For additional information and to learn more about issues that you may be experiencing, please visit the UIT Information Technology website.
Events
Winter Holiday Break

The Winter Holiday Break is observed from Friday, December 24, 2021 to Friday, December 31, 2021. View the FY2022: 2021 - 2022 UH Holiday Schedule.
A&F Resources