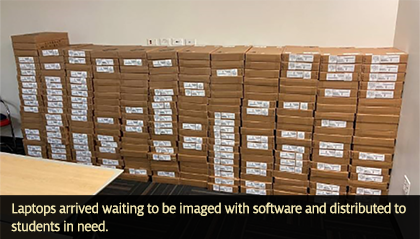 When Harris County and the City of Houston decided to lockdown for two weeks at the end of March, University of Houston began to quickly be transitioned to remote learning. Recognizing that not all students had the technology at home, plans were quickly developed to offer students in need computers to check out. The program highlighted the commitment that UIT has for students and as we found, the commitment that students have for each other in time of need. Students around the world were sent home and the demand for computers was extremely high. Laptop orders were backlogged weeks or months. University Information Technology first worked with the Libraries to acquire 100 computers normally used for check-out in the library and prepared them for immediate, long-term, home checkout. UIT then purchased 240 new laptops which arrived a few weeks later. Based on feedback from the colleges, 340 seemed to be a good starting point but UIT was ready to quickly purchase additional laptops if demand indicated more was needed.
"Faculty, staff and administration at all levels were concerned about a technology gap," said David Johnson, Assistant VP of Technology Service and Support. "We knew we needed a campus wide program and knew we'd be competing with other Universities for a limited supply of computers at a global level. Fortunately, the library came through for us and we were able to develop a campus-wide program and have laptops out the door within a few weeks while we waited for a shipment of new computers."
UIT marketed the service to students and asked them to fill out an online application that would help prioritize students with the highest need. Students who were close to graduation and who had no computer at home were the highest priority. Between March and November, we received about 500 responses which ranged from students whose computer stopped working, to those who were sharing one computer with parents and siblings, to students that had nothing at home and were taking classes on their smartphone. Some students that relied on campus computer labs needed a laptop for the long haul while others just needed to get by until their own was repaired.
Safety was foremost to this program, Leroy Mays, Director of Customer Support said, "We felt very good about the precautions that were put in place early on in the process for the safety of the students and the staff who prepped the laptops and the team who distributed the laptops. We tried to make the process as smooth as possible by providing an online laptop checkout request form and providing contactless distribution early in the process. We kept safety first and foremost."
The laptop checkout team consisted of Dominic Johnson, Rene Gonzalez, Matthew Harvey, Andy Moon, Chuck Townsend, Kevin Vu and Mark Rosanes. Before lending out the laptops, the team sanitized each device, inventoried and then configured the computers.  Once that was complete, another set of folks created and executed the contactless system to deliver the computers to the students. This was a team effort from start to finish. Mark Rosanes had this to say about the program: "The ability to borrow a laptop from UIT became one less concern for students during this particularly stressful time."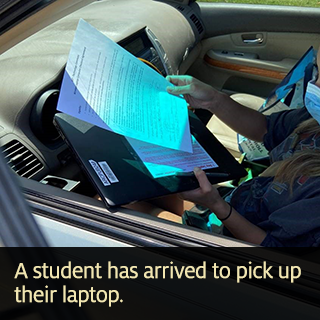 Matthew Harvey, Customer Services rep in UIT, was the lead for the contactless delivery program and he noted, "We have had students ride their bikes to campus, students who have walked, students who have taken multiple buses just to get a laptop. Everyone has been extremely appreciative, going out of their way to thank us and lett us know how much this service is helping them. Even the students who end up not checking out a laptop have expressed this, hoping the laptop will go to a student who needs it."
With interest from over 500 students who inquired about how to borrow a computer, it is clear the laptop checkout program is an important service that has helped a lot of students. UIT will continue to offer the service in the Spring 2021 semester.