Honors College Founding Dean Ted Estess, 59 Undergraduates Become Members of Phi Beta Kappa Honor Society
By Mallory Chesser
May 4, 2018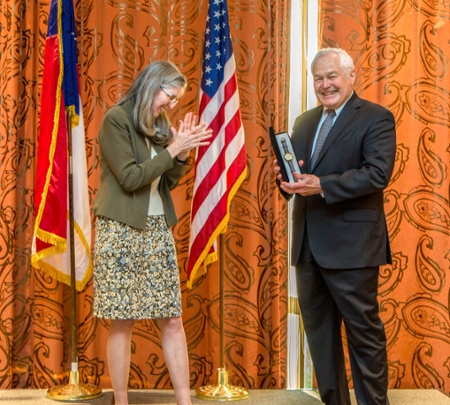 On April 16 in the UH Hilton Shamrock Room, the University of Houston chapter of Phi Beta Kappa inducted its 2018 class—just the third in the newly installed chapter's history. Founded in 1776, Phi Beta Kappa is the most prestigious honor society in the nation and the oldest that celebrates the liberal arts and sciences. It has over 500,000 living members who were elected by 286 chapters at leading colleges and universities across the country. And now, the Honors College Founding Dean Ted Estess and 59 outstanding UH undergraduates have joined their ranks. 
"The students inducted into our Phi Beta Kappa chapter this spring exhibit the breadth, scope, and diversity of our campus community," said Keri Myrick, Phi Beta Kappa chapter coordinator for UH. "These amazing students, who speak languages ranging from Arabic to Zulu and hail from Victoria to Vietnam, represent the top 10% of the University's liberal arts and sciences scholars. We expect great things from them in the years to come."  
Though new members must usually be undergraduates of the electing institution, a chapter may elect, under special circumstances, an honorary member who exemplifies the values of the Phi Beta Kappa society. According to chapter president William Monroe, Estess was a clear choice: "Over the last 40 years, no one person has done more in support of undergraduate excellence than Ted Estess." 
Professor of English, founding dean of the Honors College, and Jane Morin Cizik Chair of Humanities, Estess was recruited to UH in 1977, a time when the city of Houston was vying to become the energy capital of the world and a moment when the University was seeking to establish itself as a world-class university of a world-class city. Under Estess's leadership, the University Honors Program was key in laying the foundation for academic programs that would attract, educate, and graduate Tier One students like those being inducted into Phi Beta Kappa. 
And Estess's contributions have extended well beyond the Honors College. He was appointed by then-president Marguerite Ross Barnett to co-chair the University's first faculty and staff fundraising campaign, has served on numerous senior administrative search committees, including the committee that brought President and Chancellor Renu Khator to the University, and served as chair of the committee charged with establishing a religious studies program. He has won the University of Houston Teaching Excellence Award and was selected seven times as a "Top Prof" by the University of Houston Mortar Board Society. 
"I greatly appreciate that our chapter of Phi Beta Kappa elected me to honorary membership," said Dr. Estess. "But beyond my personal gratitude, I am so proud that the long-time institutional aspiration of UH to shelter a Phi Beta Kappa chapter was finally realized. This certainly makes us all the more 'Cougar Proud.'"   
Monroe hopes that UH students will continue to pursue excellence and set their sights on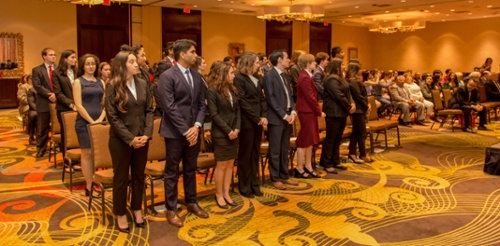 membership in Phi Beta Kappa: "The Phi Beta Kappa honor society is the oldest and most widely recognized measure of individual and institutional academic achievement. It is simply the best of the best." 
The ideal Phi Beta Kappa student is pursuing a broad range of academic interests, including coursework in the arts and sciences, speaks more than one language, and is in the top 10% of arts and sciences students. Though membership is by invitation only, students may contact Keri Myrick at kdmyrick@uh.edu to learn more about the benefits of Phi Beta Kappa and how to become competitive candidates for membership.