Mellon Scholar Lives Her Dreams
By Daniel Wallace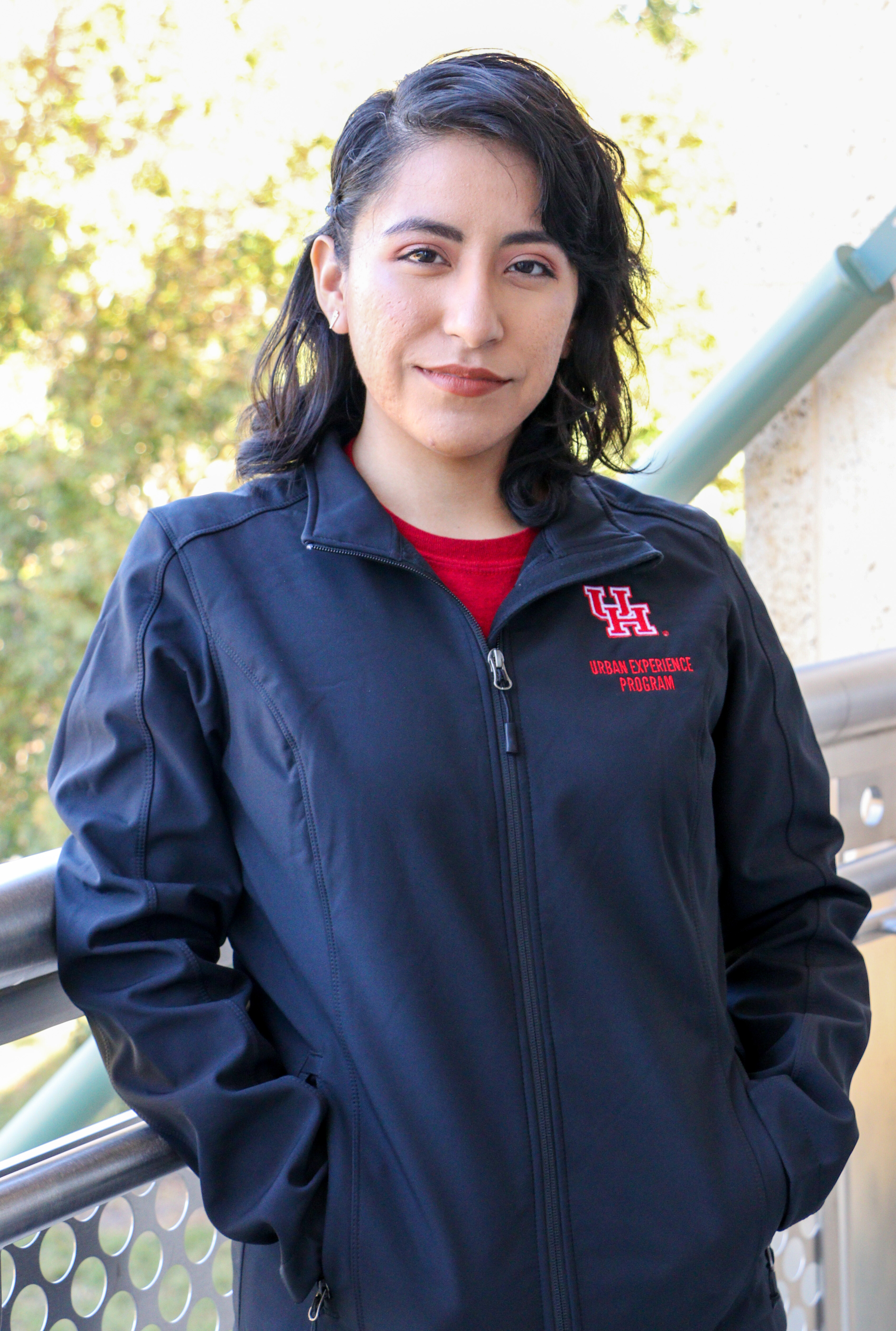 UH senior Layla Mayorga, Mellon Research Scholar and philosophy major in the College of Liberal Arts and Social Sciences, has been selected to speak at the American Philosophical Association's Central Teaching Hub Poster Session in Chicago, Illinois, this upcoming February. She will be one of only six students presenting at the conference. 
"I feel honored to represent UH in Chicago," Mayorga said. "This will be my third chance to travel this year. As an undocumented Mexican student, I never thought I would have such opportunities. But here at UH, being part of the Urban Experience Program, Dream.US, and the Mellon Research Scholars program in the Honors College has made it possible. I have been privileged to travel across the nation." 
In September, Layla attended the first of two COMPASS workshops to which she was accepted this fall. The COMPASS initiative, which began at Princeton University in 2016, is intended to help undergraduate students interested in pursuing graduate school in philosophy "find their way" in the discipline. The workshop brings together students from diverse backgrounds for a weekend of philosophical discussion, networking, and mentoring. The first workshop Layla attended took place at the University of Michigan's Department of Philosophy in Ann Arbor, Michigan.  
"While going to Michigan COMPASS I was able to experience what it is to be a philosopher," writes Mayorga. "I was able to meet up with the other philosophers that had graduated from UH, such as Ariana Peruzzi and Abdul Ansari. I also met students from universities across the United States and Europe."
Mayorga then was accepted to Princeton University's COMPASS workshop.  As Mayorga relates, "On November 8-10, I went to the Princeton COMPASS and I experienced a whole different culture. In this program, I was teamed up with a student from Harvard to present a paper on the philosophy of race. Having to work with someone just through email was very new to me. In that program, it was predominantly students that come from Ivy League schools. Princeton was a nice experience because it made me more independent and helped me to visualize how my career would be." 
Growing up in a religious environment, Mayorga has always been fascinated with expressions of God. As a DACA (Deferred Action for Childhood Arrivals) student, higher education has long been an important goal for her, and it was through studying philosophy at UH that she became inspired by the 20th-century philosopher Ludwig Wittgenstein. Wittgenstein's writings mention that religious language is a limit of the world.
Mayorga believes that there is a way to speak about religious language by analyzing religious texts and our distinctive meanings about God concerning what religious utterances mean rather than what they should mean. She explores these ideas in her Senior Honors Thesis titled, "How Does 'God' Refer?" In addition to her undergraduate work, Layla has already begun coursework for a master's degree in public policy with the UH Hobby School of Public Affairs, where she hopes to continue studying philosophy of language, and eventually earn a doctorate in philosophy. 
Mayorga's research at UH has developed during her time as a Mellon Research Scholar. The Mellon Research Scholars Program at the University of Houston supports underrepresented students (Hispanic, African American, and Pacific Islander) and other undergraduates with a demonstrated commitment to the goal of building a diverse academy in the humanities. The Andrew W. Mellon Foundation is committed to training future scholars and supporting scholarship in the humanities, thereby contributing to culture and society. 
Each participant receives a total of $5,000 for conducting a summer research project and participating in developmental academic and mentorship activities from the spring of their junior year through the spring of their senior year. In addition to Mellon Prep seminars and activities, Mayorga has benefited from the mentorship of Luis R. G. Oliveira and Matthew Babb in the UH Department of Philosophy. This fall Mayorga also began the Accelerated Pathways dual-degree program, and will graduate in Spring 2021 with not only her BA in Philosophy, but also a Master's of Public Policy from the Hobby School of Public Affairs. 
"As a Mellon Scholar," Mayorga said, "I've had the opportunity to see amazing projects my peers have done. It also feels nice to know that within the Mellon Scholars we are all working on our projects and working for our futures. It reminds me that I am not doing all of this alone. Being in a dual degree program and taking master classes as an undergraduate and doing an Honors Thesis is tough. But the hard work is all doable and a very nice experience as a preparation for students considering to fully go into graduate school.
I'm just glad that I was able to do this and make so many friends across the world. I just thank God, Dr. Babb, and Dr. Oliveira for pushing and guiding me to my dreams regardless of the prejudices this country has toward people like me." 
For more information about opportunities, students can email the Office of Undergraduate Research at undergrad-research@uh.edu.