Competing in the Job Market
On the first Friday of every month, Honors students get a leg up the career ladder with the workshop series "Career Fridays." In sessions with alumni, representatives from Houston-area businesses, and career counselors or consultants, students hear about career and internship opportunities with local employers and receive practical guidance about preparing for the workforce.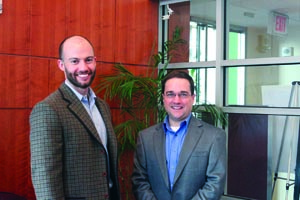 " 'Career Fridays' are another resource we can offer our students as members of the Honors College," said Dr. Christine LeVeaux-Haley, assistant dean for academic programs and organizer of the series. "We believe that access to experienced professionals of all fields will prove invaluable to our students as they get ready to take on today's job market."
On November 5th, students got some frank advice from Honors alumni Steven Hecht ('88, Accounting) and Zeke Ziliak ('98, Biology) on landing their first post-graduation job. In a session entitled "Morning Breath, Motor Mouth, and Other Mistakes Job Candidates Make," Hecht and Ziliak explained how (and how not) to make it past the interview stage.
From the usual tips—following up with a handwritten note—to the unusual—consulting a Brooks Brothers catalog—Hecht and Ziliak addressed everything from resumé formatting and interview attire to handling yourself at a company cocktail hour. Because job interviewers may not always have time to prepare for a candidate interview, Ziliak stressed the importance of coming to the interview ready to take charge and sell yourself. "Most candidates who get interviews are already qualified—you have to bring the extra piece that makes you stand out," he said.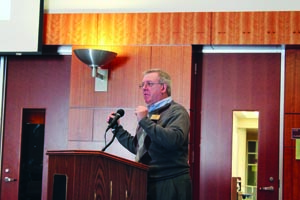 Students put Ziliak's advice to good use with workshops on constructing resumés and enhancing interview skills. On February 11th, students met with Tom Durkin, a campus recruiting and university relations representative from Shell Oil, who critiqued their resumés and offered suggestions for improvement. 
Senior management and management information systems double major Catherine Nguyen was impressed with Durkin's individual approach. "At Bauer College we get drilled on various aspects of the job search all the time, but one-on-one time with an HR representative at a major employer like Shell was incredibly helpful," said Nguyen. "Tom was very approachable and gave everyone as much time as they needed at the event."
Other "Career Friday" installments this spring included a session on interview skills on February 25th, taped mock interviews on March 4th, and an etiquette training session on April 1st.