A recent study by sociologists at New York University and the University of Virginia showed that more than a third of students showed no improvement in critical thinking skills, even after four years at a university. With their heavy load of writing assignments, graduates of the Honors College aren't likely to end up in that bottom third. Especially now.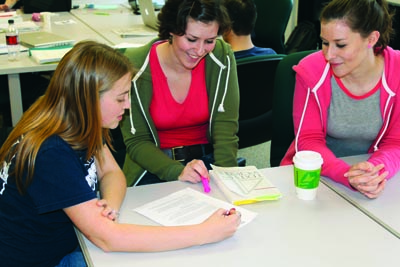 To support the writing efforts of Honors students, the College has recently instituted three new programs: Senior Honors Thesis Writing Studios, Peer Writing Tutoring for Human Situation students, and Craft Talks from our own professors and other writing experts.
The Senior Honors Thesis Writing Studios—working through the University of Houston Writing Center—support students engaged in projects that require an entirely new level of writing and research. "The studio provides a backbone for the document," explained Sarika Patel, a senior finance major writing a thesis on the emergence of liquefied natural gas (LNG) as a global commodity. 
"A thesis is an overwhelming project, and many undergraduate students are unaware of exactly how much dedication and discipline it takes to complete it. But the studio helps students with the logistics of the thesis—it helps me create goals and stay on task since it is an independent project. Going about such a big project can be scary; it's nice to know that there are others out there just like you who are feeling the same thing."
The fear that strikes thesis writers can be just as intense for a freshman making his or her first foray into college writing in Human Sit. That's where the value of peer tutors—upper-level Honors students who have already experienced the rigors of Human Sit—is most apparent.
"Every time before I write a paper, I always freak out—I never know what to write about, and my ideas get jumbled up as I write," said Kelley Poblete, who worked with peer tutor Erica Fauser before turning in her first Human Sit paper of the semester. "But when I met with Erica, she showed me places where my explanation was lacking, or places where I repeated myself in multiple statements. Afterwards, I felt great about my paper."
Last fall, Honors professors delivered four Craft Talks—on style, interpretation, writing process, and argumentation—that packed the Commons with eager freshmen (and more than a few upperclassmen) looking to improve. These new programs promise great things for the quality of Honors students' writing—and for the development of critical thinking skills in higher education, and beyond.