The Ethics Center sponsors lectures, conferences, and other educational activities that encourage individuals to reflect on their ethical responsibilities as individuals, citizens, members of informal groups, and participants in formal organizations. Topic may include the nature of a good life, the ethical treatment of others, setting norms for ethical behavior, or pursuing social and political justice. Areas of interest include bioethics, business, law, medicine, public policy, and others.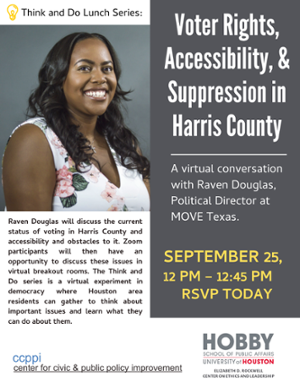 Think and Do Lunch Series
Topic 1: Voter Rights, Accessibility, and Suppression in Harris County
Raven Douglas, Move Texas
September 25, 2020
12 PM- 12:45 PM via Zoom
Raven Douglas will briefly discuss in an interview format the current status of voting in Harris County and accessibility and obstacles to voting. Zoom participants will then have an opportunity to discuss these issues among themselves in randomly assigned virtual breakout rooms. The session will end with participants coming back together to ask Ms. Douglas questions and information about further resources. The Think and Do series is a virtual experiment in democracy where we bring together Houston area residents to learn and talk about important issues in our city, state, and country.
Voter Engagement Resource Page
This event is sponsored by the Elizabeth D. Rockwell Center at the Hobby School of Public Affairs and the Center for Civic and Public Policy Improvement.