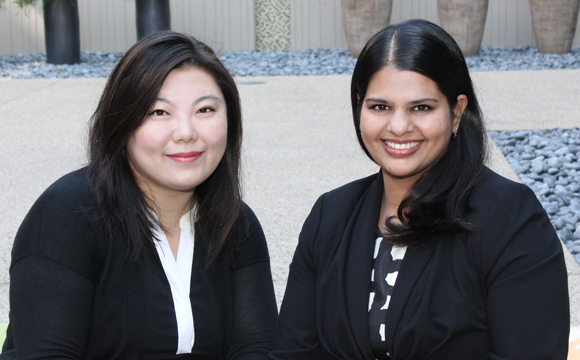 Introducing our new Assistant Professors!
It's no secret that we have the best faculty around, and now, there are even more of them to brag about! Hilton College welcomed two new tenure-track professors this semester, including a familiar face. You may recognize Dr. Sujata Sirsat (right) from her previous work with Dr. Jay Neal as a research assistant professor in our Food Safety Lab. Sirsat will continue her research in food microbiology and is teaching two sections of Safety and Sanitation in the Hospitality Industry this semester. Our other addition, Dr. Rachel Han, comes to us from Penn State, where she just completed her doctoral studies. Han is teaching Revenue Management this semester. Her research interests are in pricing, promotion and consumer behavior perspectives. Please join us in welcoming these promising new assistant professors to our faculty. We're thrilled to have them! (Photo: Taylor Wiley)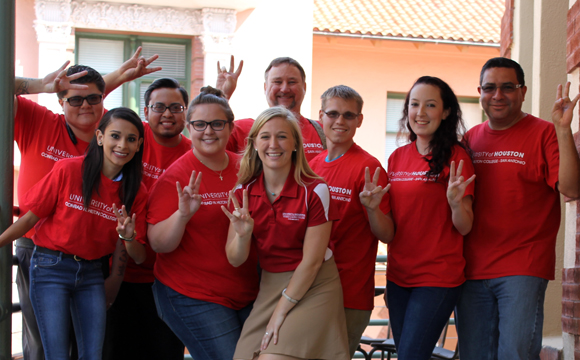 Repping the HC in SA: Meet Our Alamo City Student Ambassadors!
Cougar Pride has found its way into the Alamo City, courtesy of the new Conrad N. Hilton College – San Antonio, and who better to spread the word than the students themselves? That's where the first-ever class of Conrad N. Hilton College – San Antonio Ambassadors come in. Pictured left to right are Tranquelina Casanova-Ramonez, Martha Rosas, Jose Ojeda, Jordan Steele, Caitlin O'Brien (one of our Houston campus Ambassadors), Richard Bundick, Phillip Watts, Tayler Rivera and Generoso Alvorez. Caitlin made a special trip to the San Antonio campus to help train the new Ambassadors, teaching them about the history of the College and helping them create a tour of their newly renovated facility in the historic Mission Hotel at Sunset Square. Caitlin and the new Ambassadors also brainstormed ways to promote their new program and campus to potential students and industry leaders in their city. We can't wait to see what these standout students can do…. Way to represent the HC!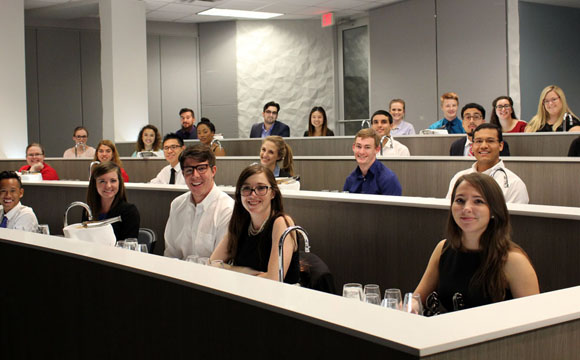 Champagne 101: All About the Bubbles
The corks were popping in the Spec's Beverage & Food Appreciation Laboratory on September 28, when representatives from Moet Hennessy USA hosted a special "Champagne 101" tasting and seminar for a lucky group of Hilton College students, faculty and staff. Moet Hennessy approached Director of Fred Parks Wine Outreach Programs Kevin Simon and Dr. Chris Taylor, director of the College's beverage management program, about using the lab for the event and were eager to help educate the future leaders of the beverage industry about the history and production of their products. There wasn't an empty seat in the house when Robert Gilroy, Houston-area market manager at Moet Hennessy USA, got things started with a crash course on champagne production. Next, Janie Higgins, a champagne specialist at Moet Hennessy USA, took over and guided the class through the history and tastings of six champagnes: Moet & Chandon Imperial, Brut, NV; Veuve Cliquot Yellow Label, Brut, NV; Ruinart Blanc de Blancs, Brut, NV; Moet & Chandon Rose Imperial, Brut, NV; Krug Grand Cuvee, Brut, NV; and Veuve Cliquot Demi Sec, NV. Cheers to our friends at Moet Hennessy USA for providing such a unique—and bubbly—learning experience for our students in our world-class Spec's Lab! (Photo: Taylor Wiley)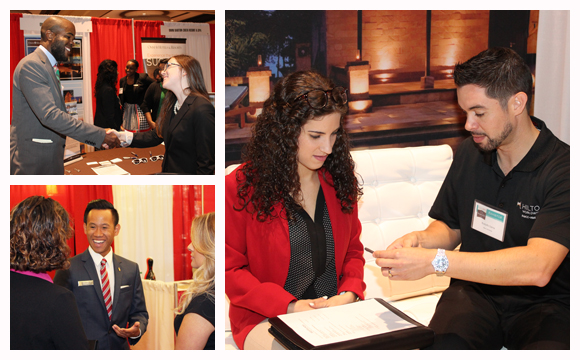 Getting the Job Done: Another Successful Career Fair!
Hospitality is hiring, and nowhere is that more evident than at our bi-annual Career Fair and luncheon! On October 15, recruiters from 61 of the world's top hospitality companies were on hand to meet, interview and hire our students and alums. About 530 job- and internship-seekers were in attendance, passing out resumes and networking with recruiters representing companies from all sectors of the hospitality industry. After the fair, attendees joined College faculty and staff at the luncheon, where keynote speaker Shawn McAteer—vice president of brand management for Hilton Worldwide's full-service brands—shared his professional journey. Of course, none of this would have happened without the hard work of Director of Career Development & Placement Lori Osborn and Career Counselor Colleen Gleeson, who never fail to provide our students with unmatched opportunities for career success! (Photos: Taylor Wiley)