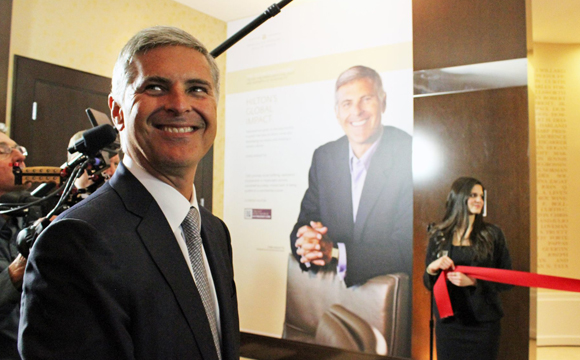 Chris Nassetta Inducted Into Hospitality Industry Hall of Honor
Christopher J. Nassetta, president and CEO of Hilton Worldwide, was inducted into the Hospitality Industry Hall of Honor on October 21. Industry leaders from across the globe were on hand for the occasion, which was planned and executed by a team of nine student managers led by General Manager WeiSyn Tan and more than 200 student volunteers. The induction dinner included a four-course meal designed by Hilton Worldwide's Corporate Chef Marc Ehrler and top chefs from Hilton properties in Dallas and Houston. The event also featured industry Think Tank sessions and the grand opening of the Hilton Legacy Exhibit, a special exhibit of the College's Hospitality Industry Archives commemorating the Hilton legacy and its century-long influence on the industry. Proceeds from the event—which were record-breaking, thanks to our generous sponsors and ticket sales—supported the College's newly established Hospitality Without Borders Endowment, which will provide life-changing opportunities for the future leaders of the industry. In a message posted to Hilton Worldwide's social networking platform after the event, Nassetta, who spent two days interacting with students prior to the ceremony, praised the students and their efforts. "Reflecting on last week's trip to Houston, what stands out most is the incredible hospitality and passion of the students at the Conrad N. Hilton College of Hotel and Restaurant Management…thank you to everyone involved—it was truly a memorable trip!" Nassetta wrote. We couldn't be more proud of our student managers, volunteers, Faculty Advisor Alexis Hoey, Assistant Dean for Business Development Jon C. Schultz and a host of others from the College and Hilton Worldwide for all of the hard work they put in to make this the most successful Hall of Honor in the event's 20-year history! (Photos: Taylor Wiley)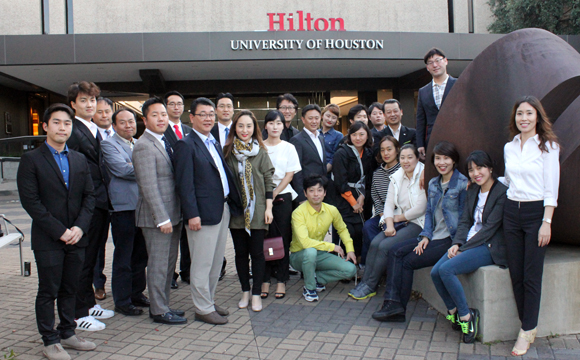 South Korean Execs Get the Hilton College Experience
Hilton College wouldn't be what it is today without strong ties to industry, and that includes companies both abroad and at home. One of those companies, Kangwon Land, Inc.—a leading casino and hotel services provider in South Korea—recently sent 21 hospitality professionals to the College for a customized, two-week executive education program hosted by Dr. Ki-Joon Back, associate dean for research and graduate studies. Led by a dozen of our faculty, the program included a series of 12 lectures covering topics like hospitality technology, organizational behavior, casino marketing and luxury service management, as well as a visit to our San Antonio campus, dinner on the River Walk, a tour of the JW Marriott San Antonio, a wine appreciation seminar and a four-day cruise to Mexico out of Galveston. The participants also enjoyed hands-on, experiential-learning opportunities through tours and presentations by local hospitality partners, including the Four Seasons Hotel Houston, Hilton Americas-Houston, Topgolf and the Houstonian Hotel, Club & Spa. Kudos to Dr. Back and Director of Career Development & Placement Lori Osborn for coordinating this jam-packed agenda. This is the first of what we hope will be many customized executive education programs in the months and years ahead and an invaluable opportunity to strengthen our industry ties in the booming South Korean market. (Photo: Taylor Wiley)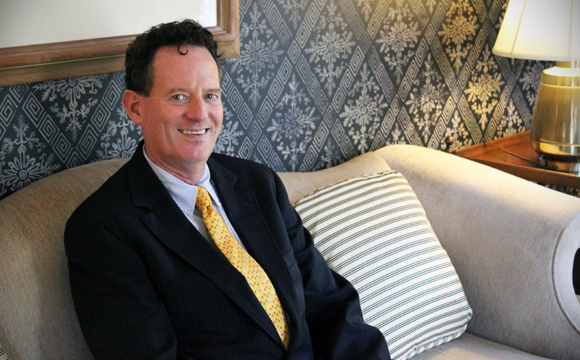 Club Exec Jonathan Shear Joins 'The Club'
Jonathan D. Shear, CCM, CCE ('80), the newest member of Eric's Club, has served as general manager of the Bayou Club of Houston since 1995. He came back to the College on November 5 to share his story with students at the 29th Eric Hilton Distinguished Chair Alumni Lecture Series. Shear, a Baltimore native, first got interested in the club industry as a student, when he took a job at Houston Country Club. He stayed there after graduation, eventually moving into management before taking on the role of GM of Golfcrest Country Club, where he stayed for 10 years. But when the Bayou Club came calling, he knew he'd found the perfect job. It isn't just any club—it's a Houston institution and widely regarded as the most exclusive and intimate private club in town. Shear says the difference between his experience at the Bayou Club and other industry jobs is simple—his members. "I'm never leaving. My members are, quite simply, incredible people. They walk the walk. This is a place with so much history and understated elegance. There's nowhere else like it," he said. His advice for others who'd like to follow a similar path? Work in a commercial kitchen, and get your hands dirty. The club industry, like so many other facets of hospitality, is food-based business, and aspiring managers need to learn it from the inside. "Become a foodie. Work in chef-driven environments so you can understand what your members will want when you're running a club. Become a wine geek. You have to drink it to understand what it's about," he said. "Club management is a side of hospitality a lot of people never think about, but it can provide you with the best lifestyle in the industry. You can work to live, rather than live to work. All you have to do is take care of your members, and they will take care of you." Congrats, Jonathan, and welcome to the club! (Photo: Taylor Wiley)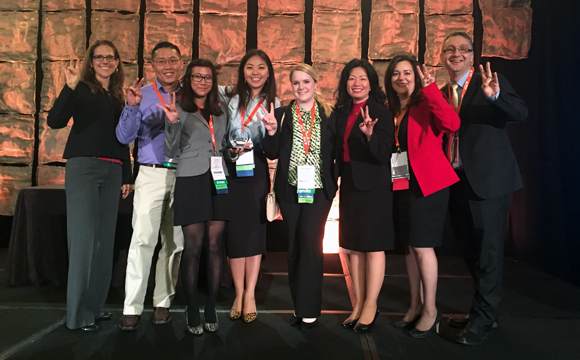 HFTP Headlines: Awards, Leadership & New Scholarship!
Hospitality Financial and Technology Professionals (HFTP) is making headlines at the College! First, the HFTP Cougar Chapter took home major honors at the annual HFTP conference in Bellevue, Wash., in October. They won their third-straight Student Chapter of the Year Award, as well as the Chapter Choice Award and the Gen YP Challenge. Also at the conference, Lecturer Arlene Ramirez, co-advisor of the student chapter (pictured second from the right), was installed as global president of HFTP. In that role, Ramirez will represent the organization at industry events and meet with HFTP members at chapter meetings and educational conferences across the globe. HFTP has also announced the establishment of the Agnes DeFranco, Ed.D., CHAE Scholarship at the College. To honor Dr. DeFranco (pictured third from the right)—a past global president of HFTP and past co-advisor of the student chapter—HFTP made a $25,000 donation that was matched by the Conrad N. Hilton Foundation to support the future leaders of the industry. We're so proud of our outstanding HFTP Cougar Chapter and its high-achieving advisors. Way to represent the HC!
Brewing Up a Good Time at Alamo Showdown Cook-Off!
The first annual Alamo Showdown Cook-Off went off without a hitch on November 15 at the Alamo Beer Company headquarters in San Antonio, thanks in part to the efforts of Lisa Hernandez, director of development, and more than 70 student volunteers from the College's Houston and San Antonio campuses. All proceeds from the event, which featured original, one-pot dishes created by 25 teams using Alamo beers, benefited the Conrad N. Hilton College–San Antonio. There were more than 225 guests in attendance, sampling culinary creations and enjoying live Texas music while the student volunteers helped with cooking, ticket sales and event logistics. Though all the dishes were delicious, there could only be three winners. Arthur Coulombe of the JW Marriott San Antonio took home the grand prize, with El Machito winning second place and the Hyatt Regency San Antonio team scoring third-place honors. Special thanks to all of the cooking teams, the volunteers, Chef Johnny Hernandez, the Alamo Beer Company, Culinaria and the San Antonio Restaurant Association for kick-starting this exciting new tradition for our Alamo City campus. We're already looking forward to doing it again next year!