Spring Career Fair Luncheon Allows Students to Shine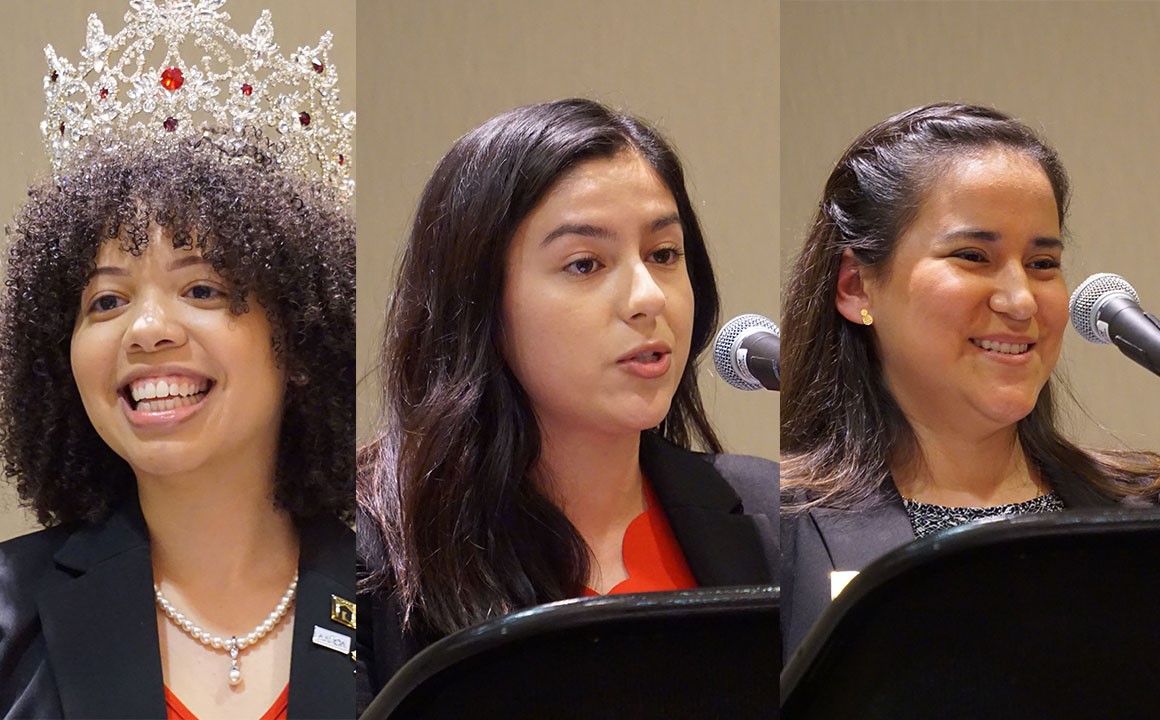 Hilton College introduced a new format to its Spring Career Fair Luncheon, held Feb. 20 at the Hilton University of Houston. Instead of a keynote speaker, the event featured three stellar students – from left, Chelsea Lawson, Alexsandra Macias and Natalia Llanos Lopez – who took the podium to share their hospitality journeys.
Lawson, a senior with a minor in finance, provided opening remarks. Lawson has four years of professional experience in the lodging industry, and has worked with Marriott International as a Global Operations analyst. At Hilton College, she is the president of the National Society of Minorities in Hospitality (NSMH) – Cougar Chapter. This past October, she was named the 2019-2020 University of Houston Homecoming Queen. Lawson one day aspires to own hotels, which will allow her to create a pathway for women to gain knowledge on hotel ownership.
Macias, a Dean's List honor student graduating in May 2020, introduced Dean Dennis Reynolds after speaking about her many accomplishments, including holding leadership positions for the NSMH – Cougar Chapter, the Conrad N. Hilton College Ambassadors and the Eta Sigma Delta International Hospitality Management Society. Macias is completing a human resources internship at Chartwells Higher Ed and, upon graduation, plans to work for Hilton as an HRCC ResMax Global Support specialist. This venture which will allow her to partner with hotels throughout the Americas.  
Lopez, a second-year graduate student pursuing her Master of Science in Hospitality Management with an emphasis in Human Resources, provided closing remarks. She spoke about finding a second home at Hilton College after arriving in Houston from Peru in 2018. Her industry experience includes internships with Walt Disney World in Entertainment, Swissôtel in the Rooms Division, and the Golden Nugget Las Vegas in Human Resources. After graduation, Lopez will fulfill her OPT (Optional Practical Training) year with more industry experience in HR. Her long-term plans include pursuing a Ph.D. and, ultimately, a career in academia. 
Lopez has also found a niche for herself as graduate assistant in the Career Development department, working with Director Gloria Ratliff and Career Counselor & Internship Coordinator Ashley Mills. In her role, Lopez helped lead this semester's Career Fair Management team: Khoi Le, Jiabao Chen, Jiahuan He, Kang Zhao, Xiaoqin Xie, Gunnar Ohlson, Shiqi Zhong, Piyush Prem, Eleanor Yang, Lily Wang and Tu Le. Lopez also played a major part in planning the Pre-Career Fair Mixer, which was attended and enjoyed by more than 100 recruiters and students.
"I would like to give an extra shout out to Natalia for being instrumental in making this Career Fair a success," Ratliff said. "As she nears graduation, she has never once caught an ounce of 'senioritis' and  continues to go above and beyond."
This semester's event also introduced table assignments and icebreakers for all luncheon attendees, which allowed extra time for meaningful conversation and networking opportunities among students, recruiters, faculty and staff. More than 300 job seekers and representatives from 67 hiring employers attended Spring Career Fair, which preceded the luncheon.
"Our students are the true stars and the main reason we have Career Fair," Ratliff said. "This year's format definitely allowed them to shine even brighter." 
(Story & Photo: Pearl Cajoles)
Posted on March 26, 2020