Team Hilton College Shares Marathon Milestones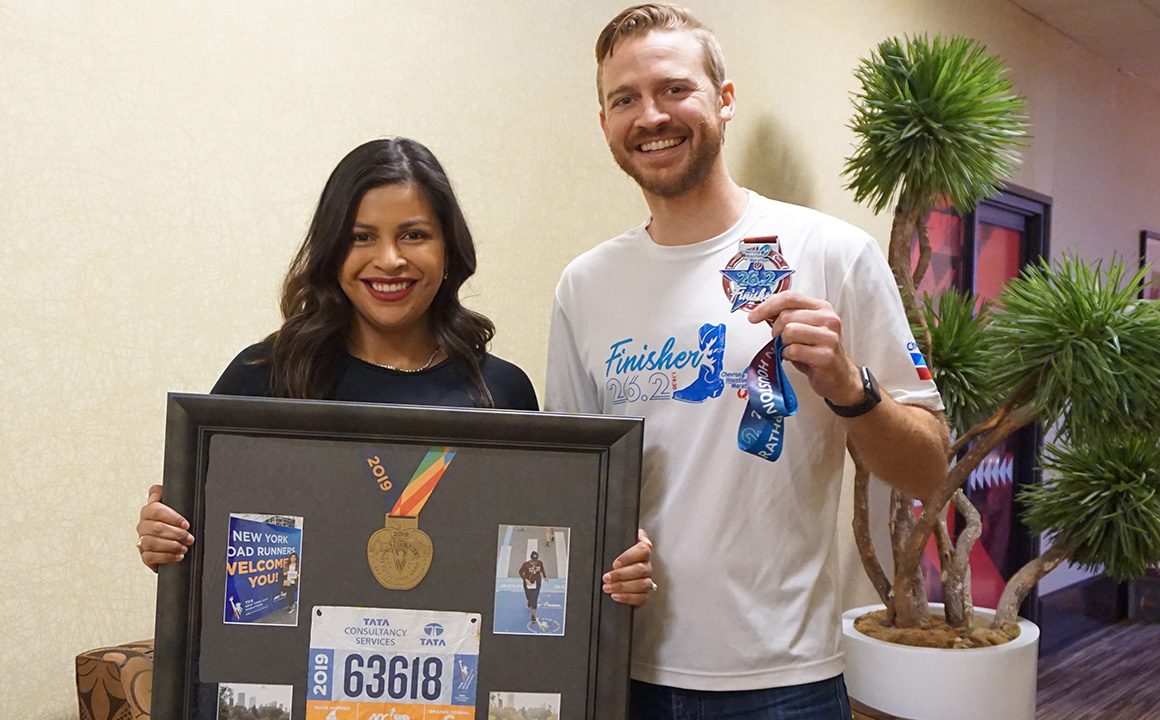 For two members of Team Hilton College – Director of Executive Programs Maggie Padilla and Assistant Professor Scott Taylor Jr. – running is a way of life. Recently, both achieved personal triumphs on the marathon circuit. After beating very slim odds, Padilla won a lottery drawing for a spot to run in the TCS New York City Marathon on Nov. 3, while Dr. Taylor completed his first Chevron Houston Marathon on Jan. 19 after suffering a leg injury.
Inspired by a Memory Box
When Maggie Padilla was getting ready to move after graduating from Texas A&M University, she found a memory box from high school with a list of accomplishments she wanted to achieve before her 10-year reunion. One was to run a marathon.
"In my mind, anyone who ran a marathon was a true athlete," she said. "I was overweight my entire childhood, and during college I dropped the weight and got healthy."
Determined to meet the goals she had set years before, Padilla signed up for the Chevron Houston Marathon, which would soon become the first of many races. In four years, she ran five marathons, and has lost track of how many half marathons she has completed to train.
"When you do 26.2 miles, 13.1 becomes a weekend run," she said.
As the stresses of work and post-college life took over, long-distance running also took a back seat. After a four-year break, Padilla resolved that nothing should get in the way of something she truly enjoyed. She had always dreamed of running the TCS New York City Marathon, so she signed up despite the odds.
"For 2019, there was less than a 9 percent chance of getting in through the lottery," she said. "Some people try year after year and never get selected, so I never thought I would be going to New York."
The good news came during another turning point in Padilla's life.
"The day I got in was also the day I submitted my resignation at my prior job so I could work at Hilton College," she said. "I had so much anxiety about turning in my resignation letter that I forgot the drawing was that day, or that I had even put my name in."
She immediately called her husband, who gave his full support. Padilla left work that day knowing the exciting turn of events had to mean that her life – and her running – could only go full speed ahead. On Nov. 3, she became an official New York City Marathon finisher!
"Running in NYC was not about setting a personal record," she said. "It was more about getting back an old part of myself that I had lost in the shuffle of stress. It was truly a sign that bigger and better things were to come."
Going the Distance… Literally!
When it comes to running, Dr. Scott Taylor Jr. has always been a natural. In high school, he won numerous medals for cross country and track. When it was time for college, he accepted a running scholarship to Central Methodist University. It didn't take long for Dr. Taylor to realize he loved running on the trails to relieve stress more than he loved doing laps around the track to prepare for a meet.  
"After four days on the team, I knew it wasn't for me," he said. "I realized that I liked running for myself, not for other people."
With running now lower on his priority list, Dr. Taylor transferred to the University of Missouri, where he earned his Bachelor of Science in Hotel and Restaurant Management and his Master in Food Science. When he began his doctoral program in Hotel, Restaurant and Tourism Management at the University of South Carolina, running once again became a major part of life.
"I needed something to help relieve my stress," he said. "While working on my dissertation, I would take breaks to run at lunch before getting back to work. Running kept me sane. It has always been my thing."
Though he ran 5Ks regularly and was a seasoned distance runner, Dr. Taylor had yet to conquer running all 26.2 miles of a full marathon. After some encouragement from his wife, Keyara, he signed up to run the Chevron Houston Marathon. In the midst of training, Dr. Taylor suffered a leg injury, but it didn't deter him from his goal. On Jan. 19, he completed his first ever marathon in four hours and eight minutes.
With his first marathon in the books, Dr. Taylor is setting the pace for bigger dreams. He wants to run a 100-mile ultramarathon before he turns 40. But first, he'll continue running shorter races, starting with the 10K Rodeo Run Feb. 29. He'll also continue training with two running clubs in East Downtown – The Sigma Run Club, which meets at Sigma Brewery on Thursdays, and on Tuesdays with the EaDo Dog Run Club, which he and his wife founded (they meet at a dog park). And, if he gets lucky like Padilla, Dr. Taylor just might add the New York Marathon to his running accolades as well!
(Story & Photo: Pearl Cajoles)
Posted on Feb. 20, 2020