Winning Big in Vegas: College Snags Two of Three Best Paper Awards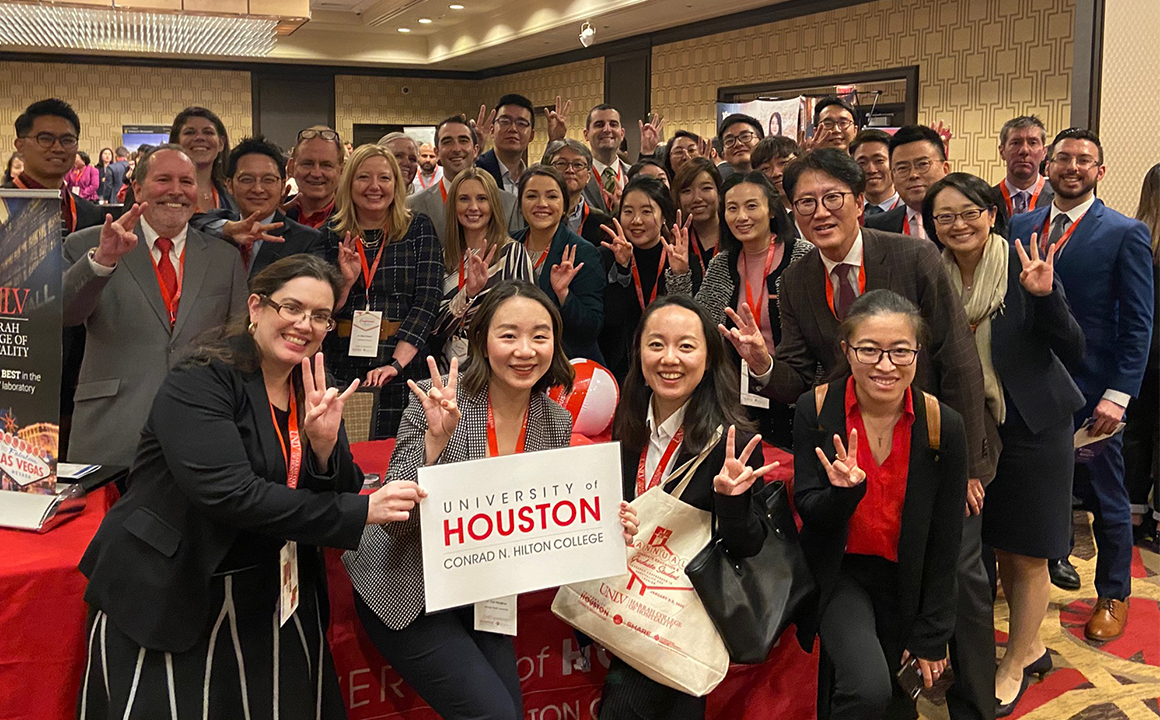 Hilton College made its presence known in Las Vegas, winning two of the three Best Paper awards at the 25th Annual Graduate Education & Graduate Student Research Conference in Hospitality & Tourism. The event was hosted by the William F. Harrah College of Hospitality at the University of Nevada, Las Vegas on Jan. 3-5 and held at the Golden Nugget Hotel and Casino.
Ph.D. student Minjung Shin and Associate Dean Ki-Joon Back received the Best Paper Award for their study titled "Inferring luxury from idleness displays in travel settings," sponsored by the Journal of Travel and Tourism Marketing, while Ph.D. student Wooseok Kwon, Dr. Minwoo Lee, Dr. Back and Dr. Kyung Young Lee (Dalhousie University, Canada) received the Best Paper Award for their study titled "Determinants and interaction effects on restaurant review helpfulness: Drawing on dual-process and social influence theory," sponsored by the Journal of Hospitality and Tourism Technology.
Graduate student Hyekyung Park, Dr. Lee and Dr. Back also received a Best Paper nomination for their stand-up presentation about "Exploring the asymmetric effects of wellness attributes on customer satisfaction in the lodging industry: Testing a two-factor theory through big data analytics," while Inhae Jung, Dr. Heyao Yu (MS '15, Ph.D. '18) and Dr. Tiffany Legendre received a Best Poster nomination for their study titled "Customer's reaction to post-merger and acquisition of local food brand: The role of moral judgment in brand betrayal evaluation."
In total, 21 faculty members and graduate students represented Hilton College, delivering 11 stand-up presentations and 14 posters. Dr. Mary Dawson, associate dean for academic affairs, also represented the College well as part of a panel discussion about best practices in teaching.
And, conference attendees made connections at the annual Hilton College Alumni Association Mixer at the Troy Liquor Bar in the Golden Nugget Las Vegas, arranged by Miguel Cabrera, director of development & alumni engagement. Nearly 50 alumni, students, faculty, industry partners, and friends of the College enjoyed the gathering.
This hospitality graduate conference annually attracts up to 400 students, educators and research professionals from around the globe, and is held at Hilton College every odd-numbered year. Our host committee has already begun ramping up preparations for the 2021 conference, with event co-chairs Drs. Yoon Koh and Jason Draper who are working with Dr. Back.
"This grad conference is the most competitive hospitality research forum for graduate students in the world, and taking most of the gold was a great way to kick off 2020," Dean Dennis Reynolds said. "We look forward to welcoming everyone back to Houston for an even bigger showcase for research and networking next year."  
(Story: Pearl Cajoles | Photo: Courtesy of Dr. Ki-Joon Back)
Posted on Jan. 23, 2020