Student Team Achieves Top 5 Placement in Sustainability Challenge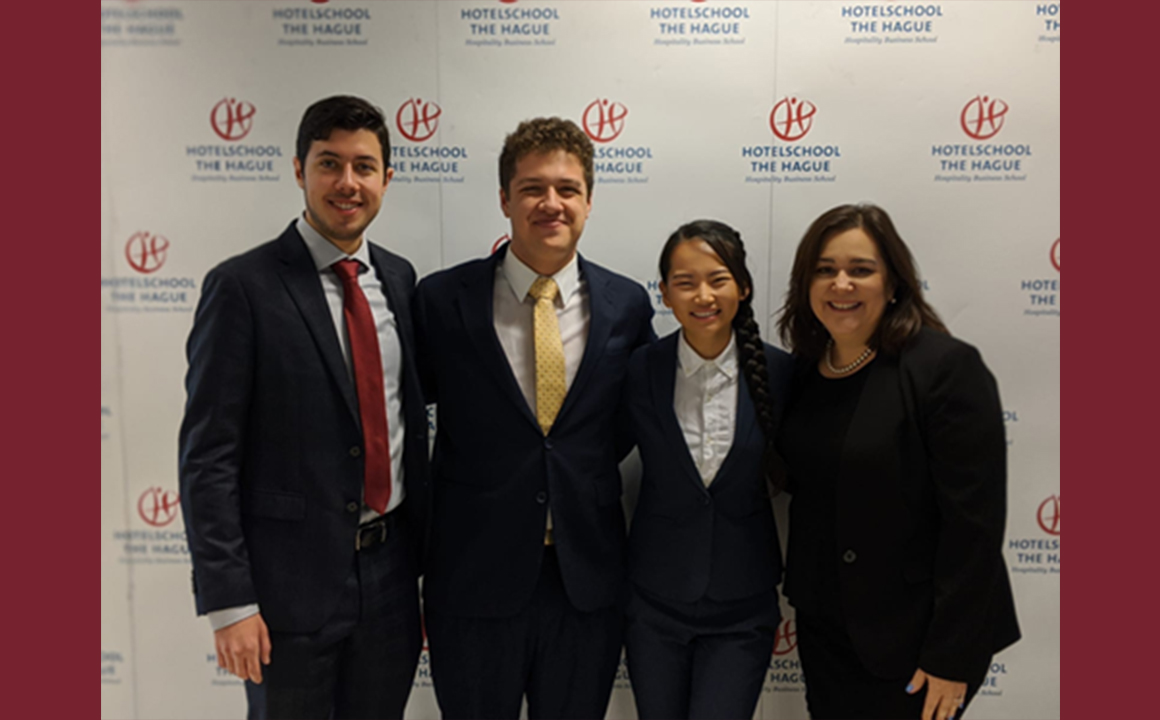 After their case study placed Top 5 at the Genio Worldwide Innovation Summit in Amsterdam last fall, students Juan Trevino, Jack Hodges, Ailin Fei – and their coach, Instructional Assistant Professor Arlene Ramirez – are gearing up for the final round of competition. The team will travel to Berlin on March 2-4 for a chance to win the grand prize at the International Hospitality Investment Forum, an event that attracts more than 2,500 industry professionals each year.
The students received their invitation to the summit in September and had a month to prepare for the case study competition, which tasked them to create breakthrough innovations that would address sustainability issues faced by the hotel and travel industry. The invitation-only event, hosted by Hotelschool The Hague on Nov. 18-22, brought together 16 of the world's best hospitality schools for several days of competition, learning and networking. Sponsors included Yays, an urban tourism company that specializes in concierge boutique apartments, and Smart Travel Lab, a company with a mission to turn the travel industry into a leader in sustainability.
For their case study, the students conceptualized a Green Vision app, which through the use of hotspots in the room, would encourage guests to learn about and take advantage of sustainable practices offered at Yays properties. They also developed a pop-up F&B concept called the BeeHive that would allow chefs and restaurants to offer guests in Yays properties food and drinks infused with local honey. Guests would also be able to participate in the Adopt a BeeHive Campaign to further boost the ecology.
To cater to younger travelers, the students created the concept of Bo Bee, a stuffed animal with a QR code on its belly and a custom dock called a Bee Bed. When scanned by a mobile device, the QR code would allow guests to project kid-friendly videos with Bo Bee and Friends teaching age-appropriate sustainability concepts. When Bo Bee is placed on his Bee Bed and connected to a mobile device, Bo Bee can be viewed flying to eco-friendly areas inside each guest room. At each stop, Bo Bee would then educate his younger audience about ways to be kinder to the environment.
To prepare for the challenge, the students met several times in Houston for brainstorming and research. They also reached out to industry professionals via conference calls to increase their understanding of the market. In Amsterdam, the team participated in several seminars about sustainability and presentation skills. They also practiced their pitch in front of a member of the communications faculty from the Hotelschool The Hague, who provided valuable feedback.
"Ailin, Jack and Juan truly are a dream team. They each had many individual strengths that blended together so well, and they worked amazingly as a team," Ramirez said. "Coming home for the summit, every one of us left feeling proud of our College and of the many resources and opportunities available to our students."  
(Story: Pearl Cajoles | Photo: Courtesy of Arlene Ramirez)
Posted on Jan. 23, 2020