Hilton CEO Imparts Industry Wisdom at Fall 2019 Commencement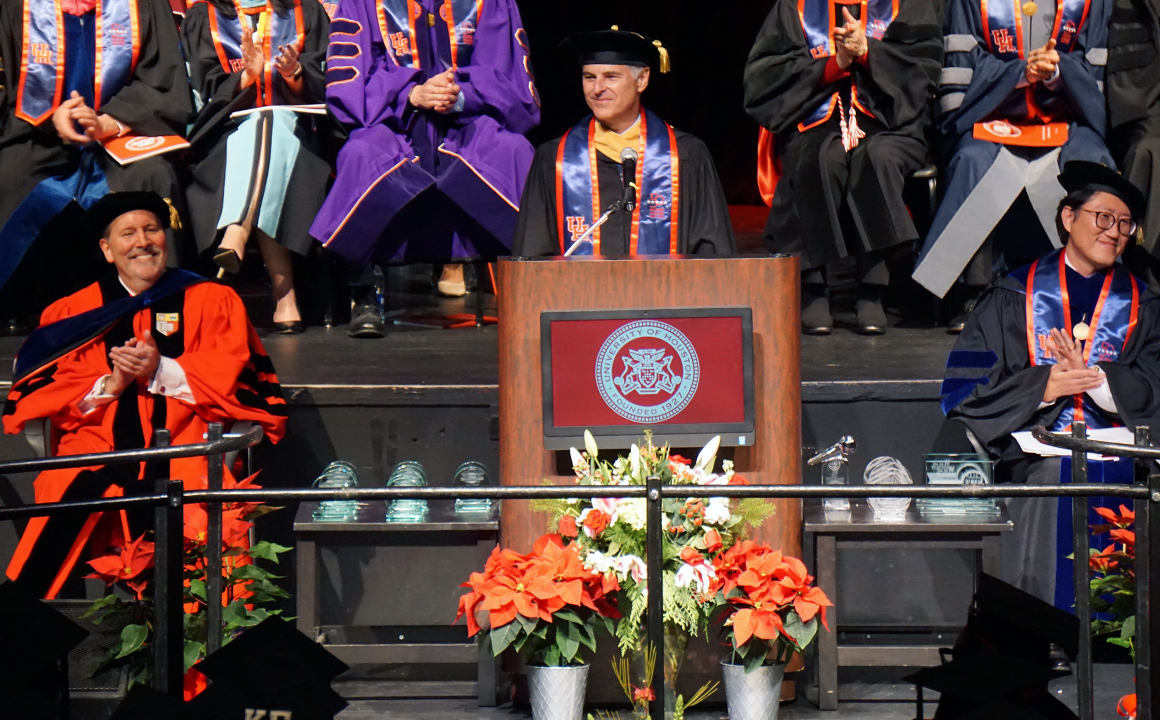 After an inspiring keynote address from Hilton CEO Chris Nassetta, the Hilton College fall 2019 graduating class crossed the commencement stage on Dec. 13 at the University of Houston's Cullen Performance Hall. Degrees were conferred upon 94 undergraduates, including 7 from Hilton College-San Antonio. Of our graduate students, 14 earned their Master of Science in Hospitality Management, 16 their Executive Master of Hospitality Management, and 28 their Master of Science in Global Hospitality Business. Among these students, nine graduated summa cum laude (highest honors), 10 magna cum laude (high honors) and 20 cum laude (honors).
Nassetta took the podium after opening remarks from Dean Dennis Reynolds; Doug Brooks ('75), member of the UH System Board of Regents; and Mike Pedé ('89), president and CEO of the UH Alumni Association. A firm believer and practitioner of the adage that people should be part of something bigger than themselves, Nassetta urged our graduates to find where they can make a difference, and to measure their success not with titles, but with the company they keep.
"It is a great privilege, and also a great responsibility, to be part of an industry that exists to serve others and one that brings our world closer together like no other," he said. "Remember that people want to be seen for who they are – hotels have a unique ability to unite our communities – and that you have the biggest impact when you surround yourself with others who care and who share the same values."
A dedicated family man and father of six daughters, Nassetta also reminded our graduates that work and life are inextricably linked. He advised that they should strive to find harmony between the two and not fall into the trap of trying to create a "work-life balance."
"I couldn't find happiness if I only did the things that a CEO should do. So, I'm a soccer dad. I cook for my family almost every Saturday night. I make time to see my brothers and sisters and parents. I'm happy because I do the things that a dad and husband and son should do, in addition to the things a CEO should do," he said. "Believe it or not, you can actually be incredibly fulfilled at work and in your personal life all at the same time."
Following Nassetta's address, graduates received awards in several categories. For our global master's program – in partnership with EHL Group in Lausanne, Switzerland and the School of Hotel and Tourism Management at Hong Kong Polytechnic University (PolyU) – Associate Deans Achim Schmitt (EHL) and Catherine Cheung (PolyU), presented the Spirit Award to Luc Espaillard and the Capstone Award to Kanchan Balani, Luc Espaillard and Hui Liu for outstanding work on their final consulting project with Lotte Hotel.
On behalf of the Hilton College Alumni Association, Pedé returned to the podium to present the Alumni Association Award for Scholastic Excellence to those graduating with perfect 4.0s: MS grads Rouchi Han, Krupali Mani Krushiker and executive master's grads Djibril Djamil Bah-Traore, Alicia Lauren Beaver, Dylan C. Dornbusch, Reba Haskell, Robert J. McKinley, Andrew Steven Nesburg and Larnetta J. Stewart. Undergrads Alicia Garza and Juan Trevino also received the award.
Pedé, who often presents these awards in his role with UHAA, was surprised with his own engraved crystal microphone award for his passion and commitment to the College's 50th anniversary celebrations, including serving as emcee for the Golden Anniversary Gala. Dean Reynolds also presented Nassetta with an etched crystal award in appreciation of his historic commencement address that topped off the College's 50th year. 
Before inviting our graduates and their guests to a reception at the Hilton University of Houston, Dean Reynolds presented the coveted Dean's Award to graduate Rouchi Han and undergraduate Maya Hajjar. Recipients of this award are students who embody the spirit of Hilton College through academics, involvement and volunteerism. Nassetta also joined the reception, where he spent more time taking photos and connecting with our newly minted alumni.
"As stewards of Conrad Hilton's legacy, we are proud to bear the Hilton name," said Dean Reynolds. "At the close of our 50th anniversary year – and of Hilton's 100th – we couldn't have asked for a more ideal keynote speaker."
Congratulations to our newest Forever Coogs! As Nassetta also remarked, there is no better time to join the industry. Click here to see photos from the big day.
(Story & Photos: Pearl Cajoles)
Posted on Jan. 23, 2020