Fall Career Fair Continues to Break Records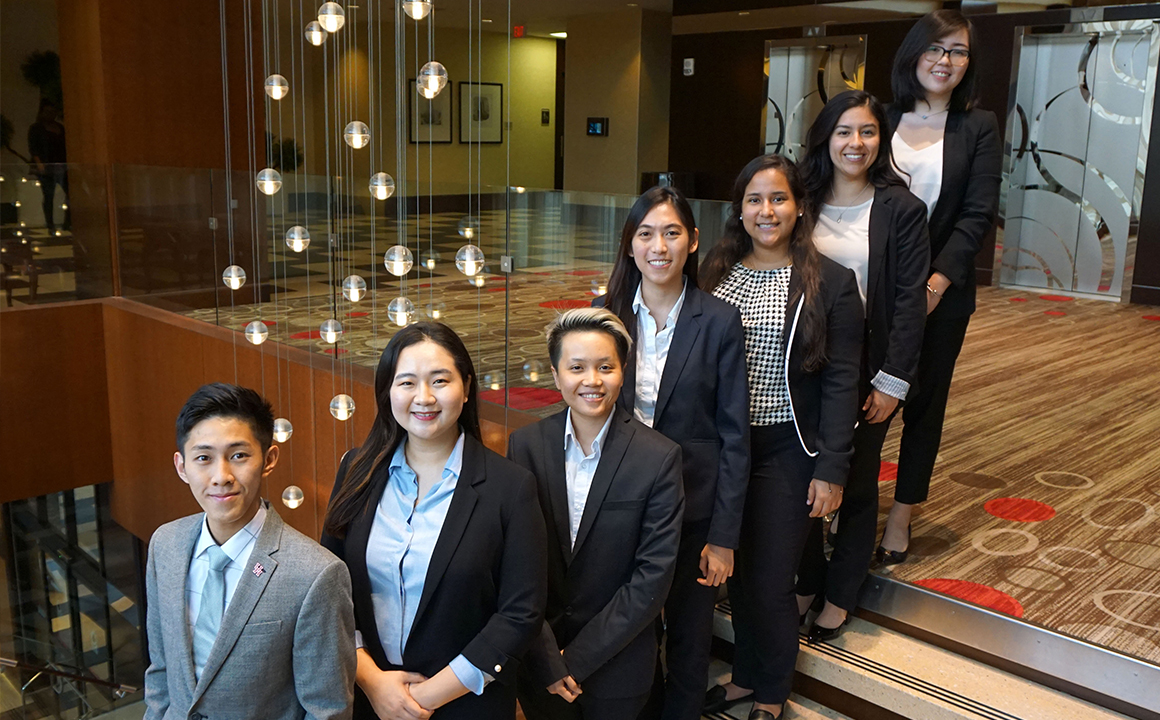 Topping last semester's attendance record, more than 475 students took part in Fall Career Fair, held Oct. 17 at Hilton University of Houston. Guests included recruiters from 67 companies and 31 students from Hilton College San-Antonio, who traveled to Houston with the program's Assistant Dean Ashli Johnson, Clinical Assistant Professor Nathan Jarvis and Instructional Assistant Professor Tucker Johnson. 
In addition to support from faculty and staff, as well from hiring employers, Career Development Director Gloria Ratliff credits the success of the event to the Career Fair student management team, from left, Bugsy Chiu, Soomin Cho, Hong Doan, Vy Duong, graduate assistant Natalia Llanos, Alexsandra Macias and Minh Vo.
"They truly showed great leadership and teamwork, took initiative and created great ideas that we will be using for future Career Fairs," Ratliff said. "It was an extremely busy week leading up to the event, but everyone showed up on time and got the job done along with balancing their other commitments. This was a dream team, and I honestly can't say enough great things about them."
After a morning of fruitful professional connections, students and guests then proceeded to the Career Fair Luncheon in the Waldorf-Astoria Ballroom, where keynote speaker Dr. Kim Nugent – a certified leadership coach and best-selling author – engaged the audience and shared tips for personal and professional development. Graduate student Aalia Udawala, and undergraduates Jose Betancourt, Ruth Suh and Kayla Simmons also took the podium to welcome guests and to share their individual academic journeys. 
"This has been an extremely special Career Fair because it was the first I have organized in my new position, and the last to be held during our College's 50th anniversary year," Ratliff said. "I am so grateful to all the employers who came out to hire our students, and to the faculty and staff who supported our students and the event. Most importantly, I am so proud of all our students who came to network and take advantage of all the great opportunities offered at Career Fair."
(Story & Photo: Pearl Cajoles)
Posted on Dec. 5, 2019