Hilton College Gives Back for Golden Anniversary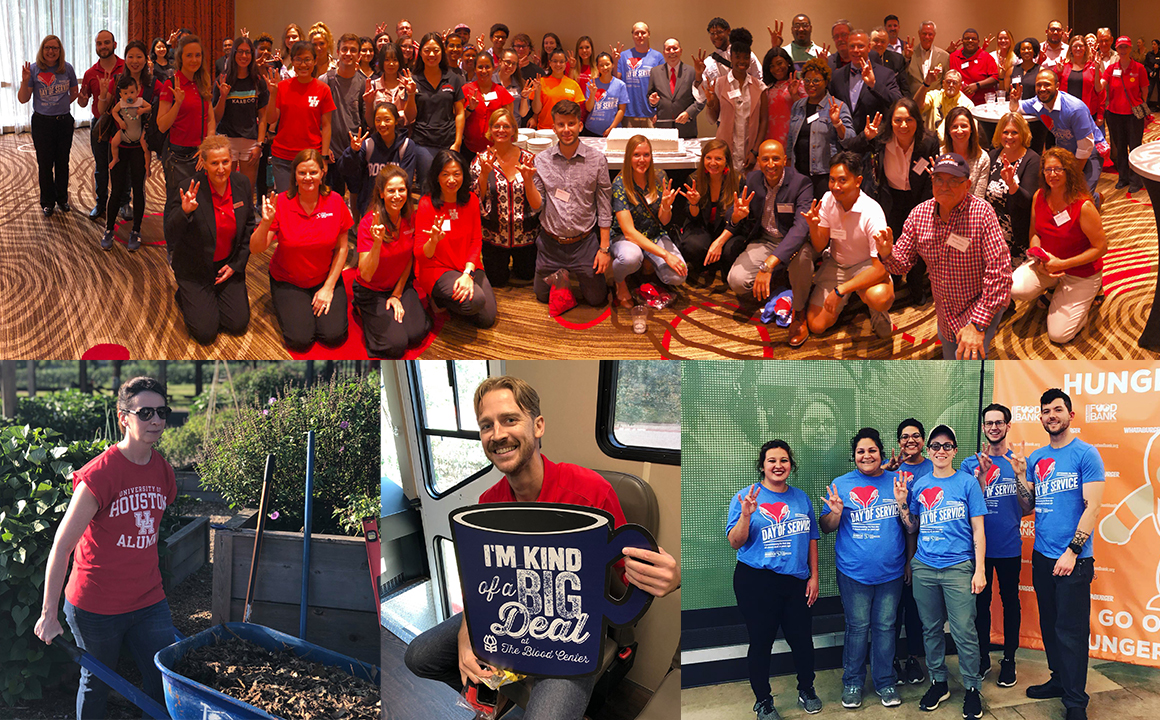 On Sept. 16, 1969 classes began at Hilton College with 39 students and three professors. Exactly 50 years later – on Sept. 16, 2019 – the Hilton College family came together to celebrate that historic occasion by giving back to the community with a Day of Service.
The full day of events began with a volunteer breakfast of coffee and donuts in the lobby of Hilton University of Houston to fuel students, faculty and staff before they dispersed to several locations throughout the community. At Hope Farms, volunteers helped construct vegetable garden beds, while another group spent the morning at the Houston Food Bank, where they stocked pantries and packaged food for distribution to those in need. Others visited Covenant House, where they helped clean and organize the donation closet at this safe haven for young people. Many also chose to donate blood at the Gulf Coast Regional Blood Mobile parked in front of the hotel. Our students and colleagues in San Antonio also spent the morning in the helping prepare meals at the San Antonio Food Bank.
At lunchtime, those in Houston headed back to Hilton College for a volunteer lunch sponsored by Whataburger. Participants also received a commemorative T-shirt. Day of Service culminated with a cake and champagne reception for alumni, students, faculty and staff in the hotel's Shamrock Ballroom, where Dean Dennis Reynolds made a toast to the College's humble beginnings and to the next 50 years.
"The entire day was a way to give heartfelt thanks to the community that has supported Hilton College for the past 50 years. In the evening, we also took the opportunity to celebrate our faculty, staff, students and alumni for their service and dedication to hospitality education, and for the tremendous impact they have made and will continue to make to the industry we serve," said Miguel Cabrera, director of development and alumni engagement. Cabrera, along with Joel Jaffe, assistant dean for business development, and Yasmin Ali, development/alumni coordinator, led the efforts to organize this memorable event.
In total, more than 150 volunteers participated in Day of Service. Our founding Dean James C. Taylor and our benefactor, Conrad N. Hilton, would be proud to see the camaraderie and community shared by all. Happy 50th Birthday, Hilton College!
(Story: Pearl Cajoles | Photos: Courtesy of Miguel Cabrera & Hilton College-San Antonio)
Posted on Oct. 17, 2019