Global Master's Partnership Renewed During International Conference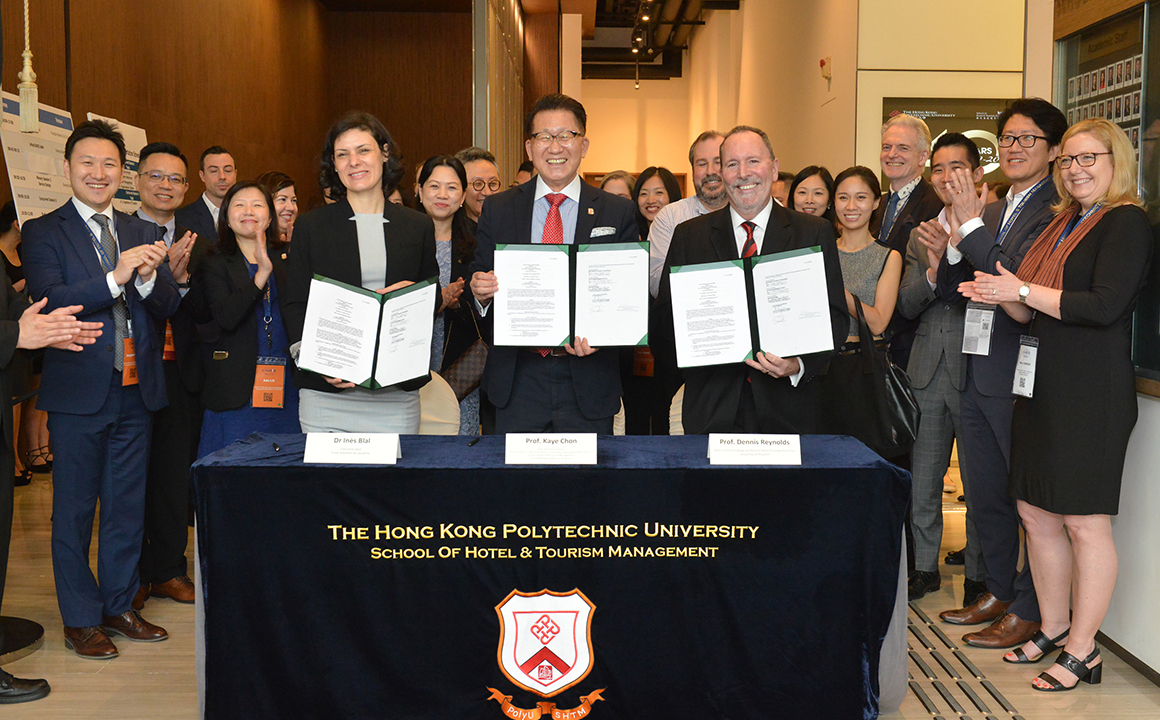 Several members of our faculty traveled to represent Hilton College at the 4th Global Tourism Hospitality Conference, held May 22-25 in Hong Kong. The event was also an opportunity to sign the five-year renewal agreement for our tripartite Master's in Global Hospitality Business with partners École hôtelière de Lausanne and the Hong Kong Polytechnic University School of Hotel & Tourism Management. 
Lending their signatures to the Memorandum of Understanding were from left, EHL Dean Ines Blal, PolyU SHTM Dean Kaye Chon and Dean Dennis Reynolds. Associate Deans Ki-Joon Back and Mary Dawson, and Drs. Carl A. Boger Jr., Agnes L. DeFranco, Tiffany Legendre and Juan M. Madera – who attended the conference to present their research or lead panel discussions – were also on hand to witness the signing.
This year is the first time the Asia Pacific and European federations of the International Council on Hotel, Restaurant and Institutional Education (APacCHRIE and EuroCHRIE) have joined forces to co-host an annual conference. Showcasing "East Meets West in Hospitality Tourism Education," the event brought together educators from all reaches of the industry.
While in Hong Kong, our faculty also caught up with alums and friends of the College during a mixer organized by Forest Ma (MS '12) and Gregg Rockett ('86). Ma, who previously served as banquet manager at our Hilton University of Houston and, at the time, was an instructor at PolyU SHTM, is now pursuing her Ph.D. at the University of South Carolina. Rockett, who is a member of Eric's Club and retired vice president of corporate hotel development for Hilton, is now a hotel management professor of practice at PolyU SHTM.  
"It was a great opportunity to celebrate the success of our College," said Dean Reynolds. "Our presence and representation in Hong Kong and in many corners of the world shows our expanding reach."
(Story: Pearl Cajoles | Photo: Courtesy of Dean Dennis Reynolds)
Posted on Aug. 22, 2019