Faculty and Staff Awards Luncheon Recognizes Best of the Best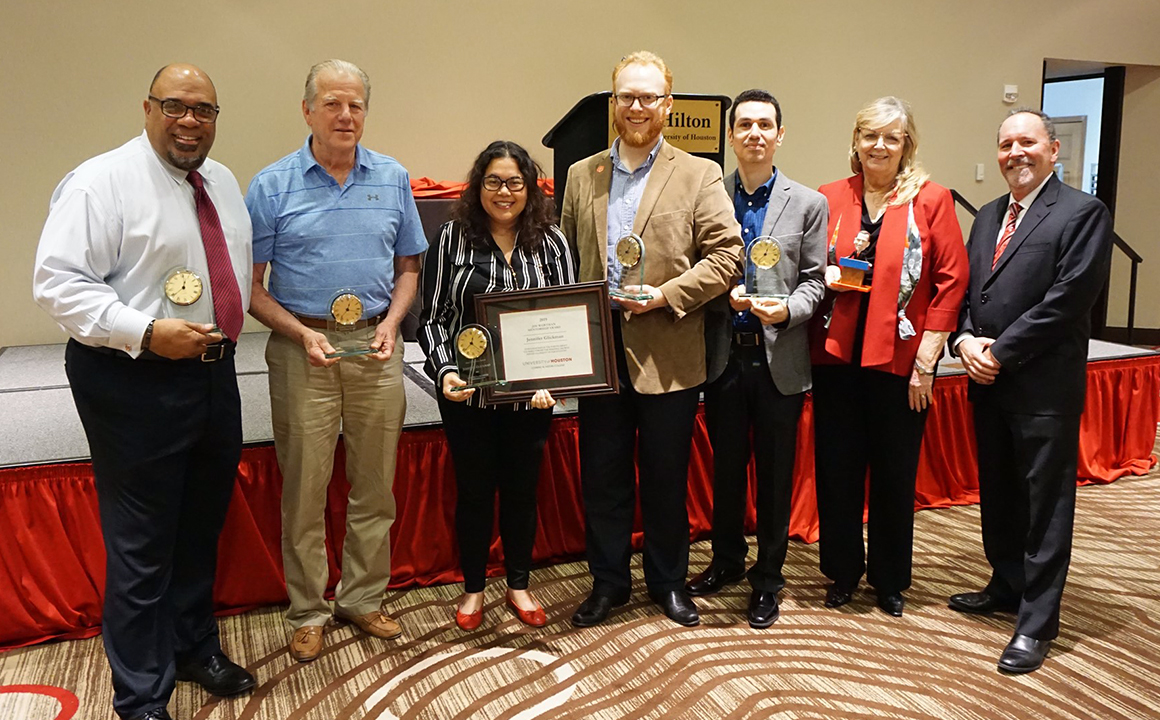 Dean Dennis Reynolds hosted the fourth annual Faculty and Staff Awards Luncheon, held May 2 at the Hilton University of Houston. As he took the podium in the Waldorf-Astoria Ballroom, Dean Reynolds expressed his gratitude to all who work at our College and hotel.
This event, created after the Dean's first year of service, gives faculty and staff recognition among peers for their achievements and contributions. Associate Dean for Research & Graduate Studies Ki-Joon Back and Associate Dean for Academic Affairs Mary Dawson assisted Dean Reynolds with the presentation of awards.
This year's awardees, pictured from left with Dean Reynolds, are:
Chef Anthony Chevalier, lecturer, a token of special recognition for his years of selfless service and mentorship of our students
John Bowen, professor, Donald Greenaway Teaching Excellence Award. This award pays tribute to the first associate dean of the College (1969-1976), a phenomenal teacher who set the bar high for those who followed.
Jennifer Glickman, director of International Programs, College Staff Excellence Award and Jim Wortman Mentorship Award. Students nominate recipients for the Wortman Award, which honors the late gaming professor whose 18-year tenure at the College inspired thousands. Glickman also made history by being the first staff member ever presented with two awards within the same year.
Nathan Jarvis, instructional assistant professor in San Antonio, Teaching Excellence Award
Juan Madera, associate professor, Stephen Rushmore/HVS Faculty Research Award
Donna Shaw, Dean's executive assistant, a token of special recognition for her invaluable presence and support of the College. Shaw helped our Gourmet Night student managers raise a record-breaking $60,000 for this year's silent auction, and has been the "woman behind the curtain" of this awards luncheon, holiday parties and all other events coordinated through the Dean's Office. 
Dr. Agnes DeFranco also received the College's Service Excellence Award, while housekeeper Rosa Giron was honored with the Hotel Staff Excellence Award. Both were unable to attend the luncheon.
Winners of all Excellence Awards and the Stephen Rushmore/HVS Faculty Research Award received an engraved clock and a $1,000 honorarium. Staff winners were given free parking for a year as well. 
At the luncheon, Dr. Dawson also recognized three members of our faculty honored at the University level by Provost Paula Myrick Short during the 2019 Faculty Excellence Awards Dinner on April 18. Dr. JéAnna Abbot received the Innovation in Instructional Technology Award, Instructional Assistant Professor Simone Doudna was given the Instructor/Clinical Award, and Dr. Nancy Graves was honored  for her 30 years of service.
"The tireless contributions of our faculty and staff year in and year out have made Hilton College the best hospitality program in the world," Dean Reynolds said. "With so many nominations and deserving recipients, selecting only a few winners is never an easy task."
Congratulations to all!
(Story & Photo: Pearl Cajoles)
Posted on May 23, 2019