Students Make Global Connections at Young Hoteliers Summit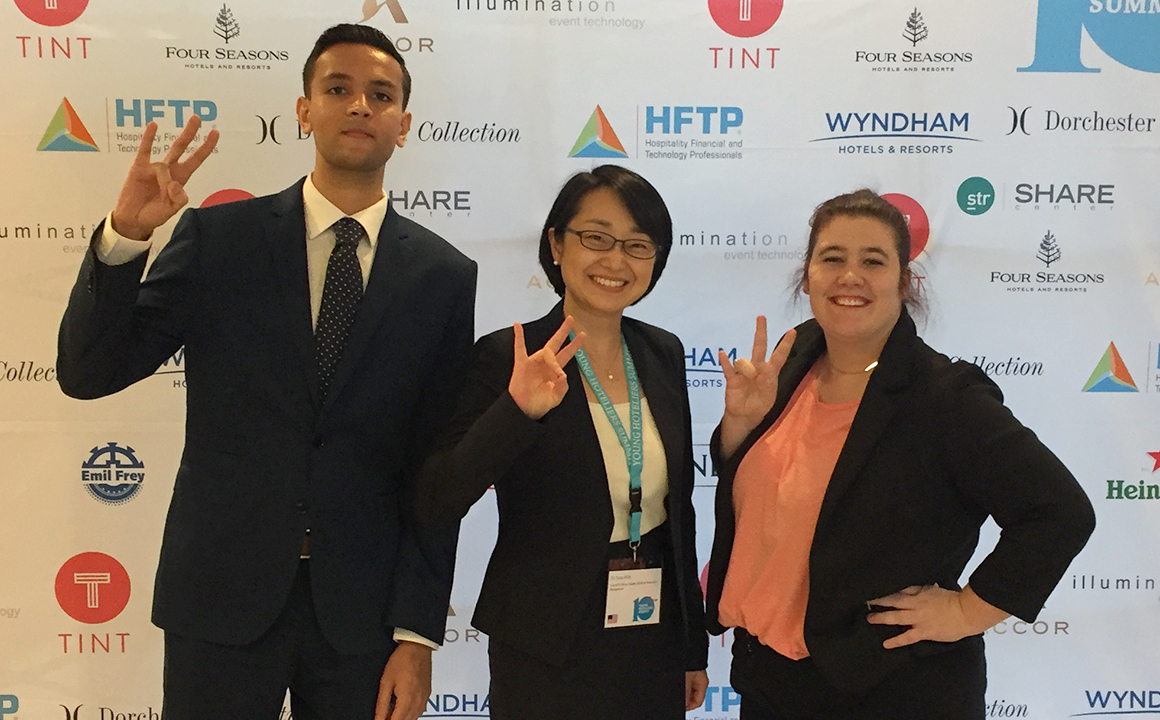 Seniors Arshdeep Lidhar and Monique McCloskey traveled to Switzerland to widen their global perspectives as delegates for the Young Hoteliers Summit (YHS), held March 25-27 at École Hôtelière de Lausanne. Associate Professor Yoon Koh attended as our faculty representative. 
In its 10th year, YHS brings together students from around the world for three days of industry panels, keynote presentations, workshops and networking opportunities. This year's theme, The Scope of Hospitality: Envisioning – Defining – Succeeding, included topics in customer service, technology and data management, leadership and global brand expansion. Students are also divided into groups for an industry challenge given by a sponsoring company, this year, Accor Hotels.
Given only one night to work on their challenge – which was to present innovative ideas to improve employee relations within the Accor brand –  Lidhar and McCloskey relied on data analysis to propose innovative solutions. With this experience, both learned how to collaborate with people from other cultures who they had only met for the first time.
Lidhar, who applied to become a delegate for an opportunity to network with industry leaders and represent the College on a global stage, said visiting Lausanne was the icing on the cake. He and McCloskey were chosen to attend the summit after a rigorous selection process headed by Instructional Assistant Professor Simone Doudna and Dr. Koh.
"My experience in Switzerland was something I will take with me on my journey through this industry," said Lidhar. "Getting the chance to talk with so many great people from around the world is a career highlight. The most valuable thing I took from this experience is seeing firsthand that the hospitality industry truly connects everyone from every corner of the planet."
For McCloskey, the trip was her first outside of the United States. Dr. Koh said she enjoyed seeing both students shine on a global stage, especially during their presentations and as they exchanged ideas with students with different worldviews and perspectives. Including Hilton College, which has a permanent seat at the table, 45 schools were invited to YHS this year.
Applications for the 11th edition of YHS opens next fall. Competition is tough, but the rewards are worth the effort for this once-in-a-lifetime experience. To apply, interested rising seniors in Houston and Hilton College-San Antonio must be prepared to submit a video presentation about their career aspirations and thoughts about the future of hospitality, a résumé, and undergo an interview process by the College's faculty selection committee. Finalists then need to submit a 500-word essay and participate in another set of interviews with YHS representatives, who make the final selection of just two delegates from each school.
This is the fourth consecutive year Hilton College has been able to send students to participate in YHS, thanks to the help of funds from the Dave Smalley/Spectrum Catering Student Leadership Endowment. To see videos and photos of this year's event, visit Young Hotelier's Summit on Facebook. For more information about YHS or the application process, e-mail Doudna or call 713-743-1760.
(Story: Pearl Cajoles | Photo: Courtesy of Dr. Yoon Koh)
Published on April 25, 2019