Gourmet Night Celebrates College's Golden Anniversary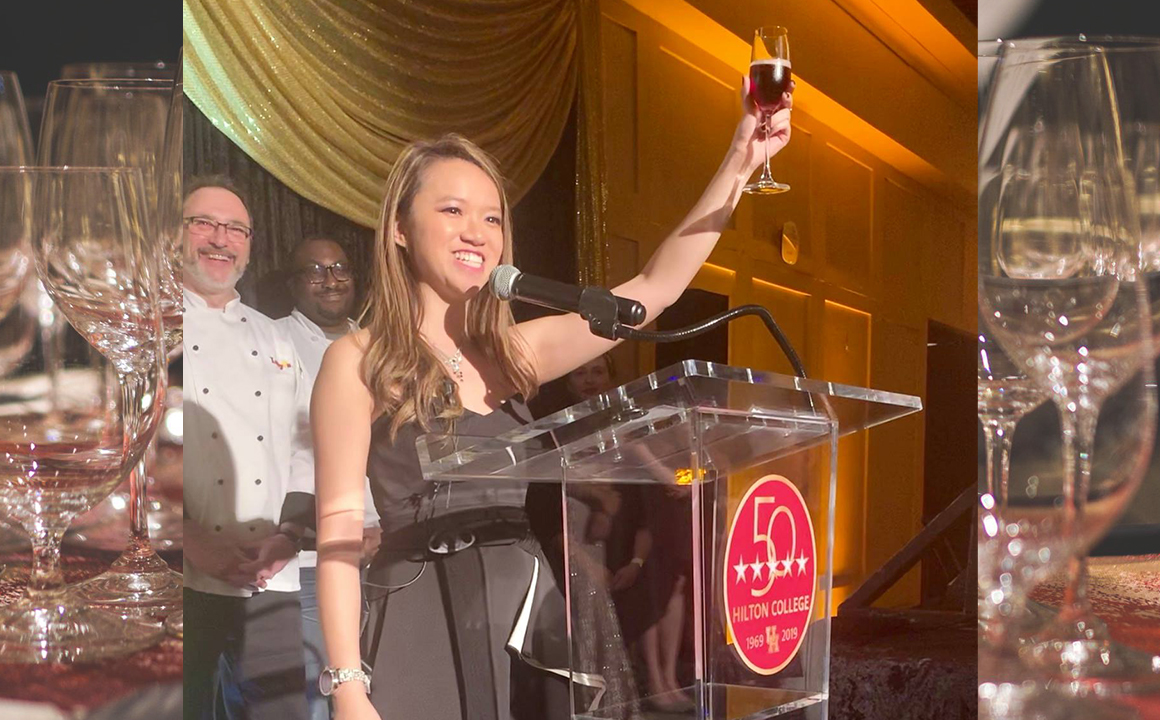 It was a celebration of Hilton College during the 46th Annual Gourmet Night, held April 13 at the Hilton University of Houston. This year's theme, "Cheers to 50 Years: It All Started with a Dream," paid tribute to the College's golden anniversary. Led by Events Manager Michelle Cao (pictured), more than 360 guests dressed in elegant black tie toasted to our benefactor, Conrad N. Hilton; his sons Eric and Barron, who championed his dream to build a world-class hospitality school; and the collective College community that has helped bring that dream to life.
The evening began with cocktails and hors d'oeuvres during our silent auction. This year's bid tally shattered all previous records with more than $60,000 raised for scholarships and student success programs! Kudos to Dean's Executive Assistant Donna Shaw and her committee for mentoring and working with Silent Auction Managers Maya Moujaes and Jackie Rideau to solicit and package such amazing auction items, including several dream trips, to make this a truly historic and memorable silent auction!
After the call to dinner, guests walked down memory lane to the Conrad Hilton Grand Ballroom, passing through displays of Hilton College and Hilton hotel memorabilia. Shortly after guests took their seats, student volunteers served a delicious smoked duck salad with herbs, berries and apricots. Our five-course dinner had begun! Dean Dennis Reynolds took the stage to welcome guests, and spoke about another historic event in the making – the $30.4 million renovation and expansion of our Hilton University of Houston, which includes a five-story tower consisting of 71 guest rooms above the South Wing. Construction is anticipated to begin within 18 months with completion by early 2023. UH President Renu Khator also shared the latest and greatest happening at the University.
Dinner continued with a shrimp roulade with crab in a spicy tomato broth. The intermezzo was a grapefruit and Aperol sorbet. For the main course, guests enjoyed a rosemary garlic flat iron steak with tiger prawn. For the grand finale, servers presented guests with Conrad's Confectionary Classic – rich chocolate cake with layers of vanilla Bavarian cream, raspberry gelee and chocolate ganache – served on a plate embellished with a golden cocoa butter stencil of the College's 50th anniversary logo.
Accolades to our special team of guest chefs who worked with volunteers and student Kitchen Managers Young Jin Ko and Shiv Zachariah to put the "gourmet" in Gourmet Night: Chef Kevin Bell of Wicked Whisk Catering (main course); Luby's Chefs Kaitlyn Venable-Valdez ('12), Benjamin Schulman, Dan Phalen and Antoine Ware (second course); and Chef Gracie Nguyen ('17) of The Briar Club (dessert course).
In addition to Cao in events, Moujaes and Rideau with the silent auction, and Ko and Zachariah in the kitchen, our student leadership team included Food & Beverage Managers Ruth Suh and Jonathan Vu, Marketing Managers Tiffany Wooyeon Shin and Abigail Garcia, and Human Resources Manager Brianna Deatherage.
And finally, congrats to Gourmet Night Executive Director Reba Haskell for "thriving and surviving" her first year-long Gourmet Night Management class of mentoring her team of student managers to perfect every detail of this milestone evening.
"The biggest triumph of the night was seeing the students' hard work come together to create such a successful and elegant event," said Haskell. "I am so proud of the all the work that was put in and of the personal development of each individual on the team."
Mark your calendars for next year's event on April 4, 2020! Visit Hilton College on Facebook and scroll to see several albums of this year's Gourmet Night – from guest arrival, cocktail reception and silent auction to the ballroom and all of the action in the kitchen and prep stations. Cheers to everyone who helped us make history… Cheers to 50 Years!  
(Story & Photo: Pearl Cajoles)
Published on April 25, 2019