Hilton College-San Antonio Student Joins NSMH National Board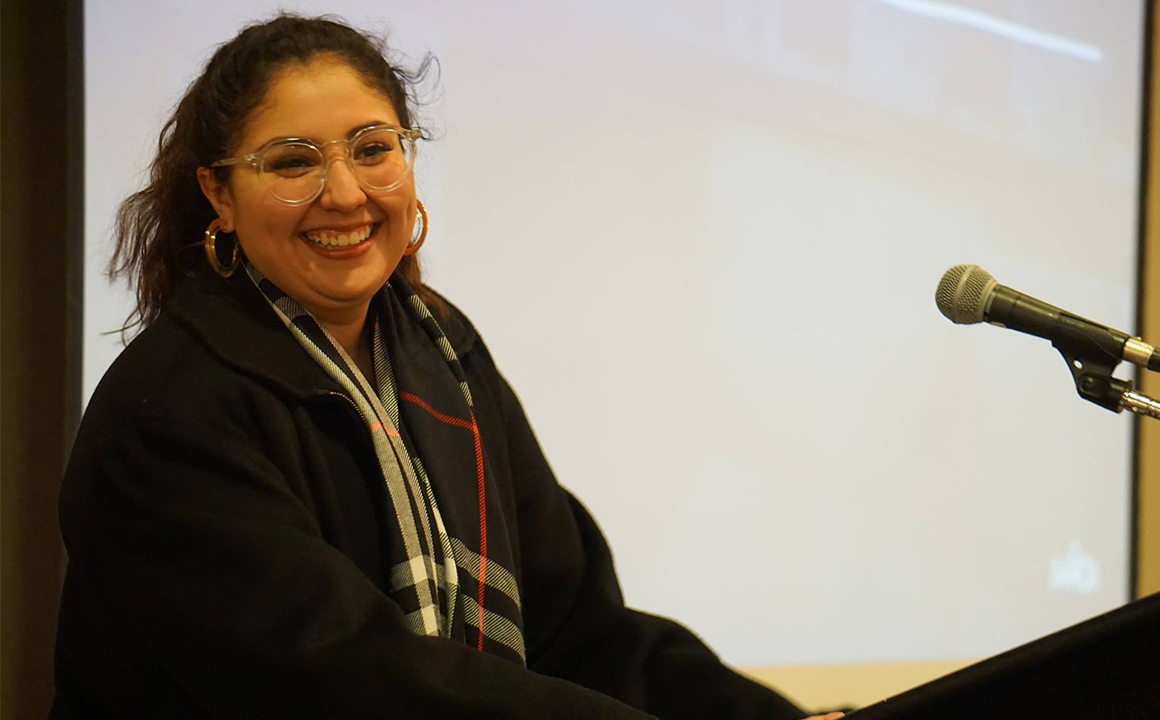 This past February, Hilton College-San Antonio (HC-SA) junior Ana Benitez Ibarra was elected public relations director for the national board of the National Society of Minorities in Hospitality (NSMH), a position she will assume in June. This is the first time since 2008 that a student from Hilton College has held national office for NSMH.
"Serving on the national board of an organization such as NSMH is both a huge honor and responsibility. This role will enhance Ana's professional development, will allow her to network with industry executives, and the internship and post-graduation opportunities are bar none," said Ashli Johnson, assistant dean at Hilton College-San Antonio. "Since enrolling in our program, Ana has shown an incredible amount of passion for her studies and is dedicated to making meaningful contributions through service – she is certainly a leader among her peers."
Running for the position took a lot of courage for Ibarra, who has lived in the United States for just six years. Just 10 days before her 15th birthday, she moved in with her grandmother in San Antonio from her hometown of Mexico City. Until then, Ibarra thought going to school in America would be like Disney's High School Musical, but things were not what she expected.
"The first few years were difficult, and I found it hard to fit in. I quickly realized life in the States wasn't what I saw on TV, and it was so different from the tourist experience," Benitez Ibarra said. "I also wasn't the best student, and even though I went to a bilingual school in Mexico, there was still a language barrier. There were times when I thought I wouldn't make it to my high school graduation."
But she did graduate, and decided to enroll at St. Philip's College for an associate's degree in Culinary Arts. Her family in Mexico has been in the seafood and restaurant business for decades, so taking a hospitality course seemed like a natural progression. After receiving her degree, she transferred to Hilton College-San Antonio and joined NSMH.
"I was drawn to NSMH because membership encompasses people working in all parts of the industry. It was also refreshing to be around those who celebrate that hospitality is universal – it goes beyond culture, beyond language," she said.
In 2018, Benitez Ibarra attended her first NSMH national conference in Colorado, an experience that changed her outlook and inspired her to become a leader. 
"It was mind-boggling to see how many successful people were there just to talk to students," Benitez Ibarra said. "They were there to help and to make a difference in our lives, as well as to others who may have once been in their shoes. I felt a rush to do the same."
With the encouragement of Assistant Dean Johnson, she worked up the courage to run for national office the next year, campaigning and speaking in front of hundreds during the national conference, held Feb. 14-17 in Atlanta. She also had the support of her NSMH peers from Houston, who attended the conference with Faculty Advisor Chef Anthony Chevalier and Staff Advisor Gloria Ratliff. And, she drew inspiration from her own struggles and successes, especially as a young immigrant trying to assimilate into high school, and as a college student working a full-time job to help support herself.
"I want to be a role model to minorities, who like me, once doubted themselves," she said. "There were so many times that I questioned if I would make it, especially with English as my second language. Campaigning and speaking in Atlanta put me outside my comfort zone, and I enjoyed it so much."
As she waits to assume office in a few months, Benitez Ibarra is planning to focus on social media outreach and in helping area chapters find the most opportunities to use their NSMH memberships. She's also busy with her involvement in other student organizations. She is outreach director for the UH chapter of NSMH, a HC-SA Ambassador and a founding member of the International Live Events Association Student Chapter.
A few weeks after she was elected to national office, Benitez Ibarra would take the podium again at the Hilton College Spring 2019 Career Fair Luncheon, held at the Waldorf-Astoria Ballroom at the Hilton University of Houston. There, in front of some 300 guests, she presented closing remarks and a gift to another inspiring minority hospitality leader – keynote speaker Jagruti Panwala, vice chairwoman of the Asian American Hotel Owners Association.
"We were all so proud. It was awesome to witness Ana represent our program with such poise during the Career Fair," said Assistant Dean Johnson, who attended with the entire HC-SA staff and 29 students.
In 2020, the NSMH National Conference will be held at the Hyatt Regency Houston on Feb. 20-22. As public relations director for the planning year, Benitez Ibarra is sure to have a full plate, and plenty of experience to beef up her resume in time for graduation!  
(Story & Photo: Pearl Cajoles)
Posted on March 21, 2019