First Hotel Investment Day Hosted by Hilton College-San Antonio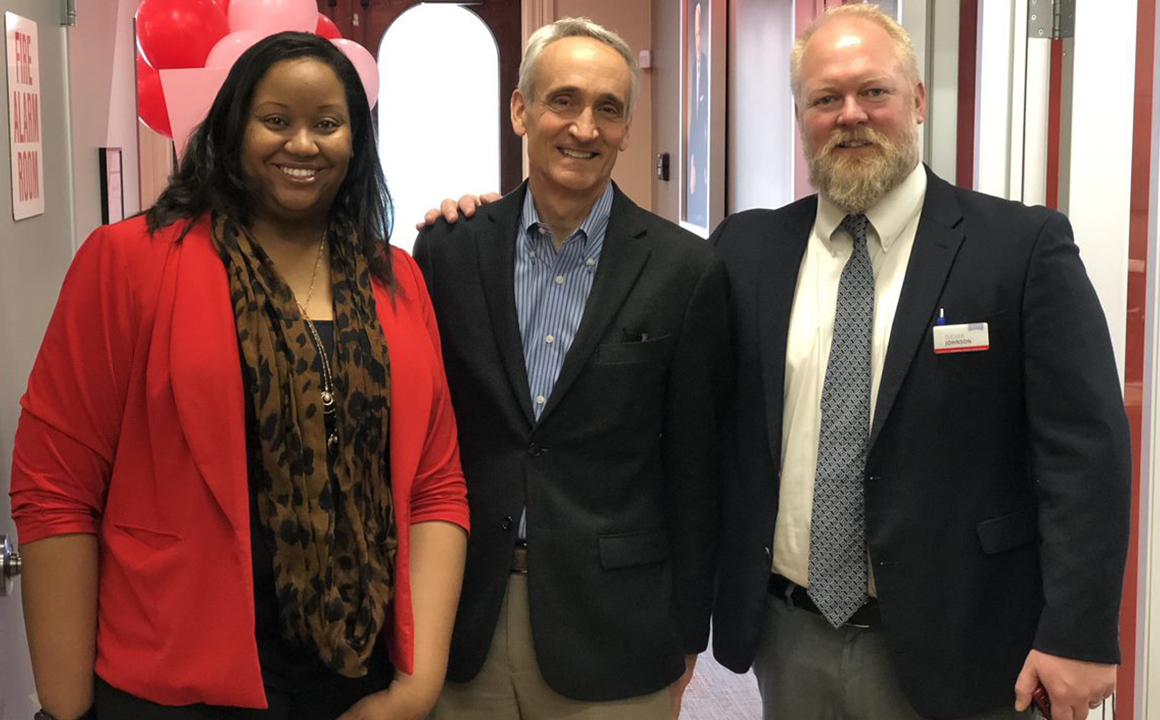 Through a series of panel presentations from industry experts, students from Hilton College-San Antonio (HC-SA) and St. Philip's College learned about another lucrative sector of hospitality during the first ever Hotel Investment Day, co-sponsored by the Latino Hotel Association (LHA). Members of the Hotel & Lodging Association of Greater Houston – UH Chapter also traveled with their Faculty Advisor Cathy Cheatham to attend the event, held Feb. 28 in the HC-SA building at Sunset Station.
The panels focused on what it takes to succeed in hotel ownership and development, and students gained valuable insight into various aspects of franchising, acquisitions, asset management, personal development and feasibility. The HC-SA Ambassadors helped greet and direct guests, while the San Antonio Restaurant Association – UH Chapter decorated the event space and served refreshments.
"We are always looking for new ways to show our students career paths they may have overlooked or not yet discovered," said Assistant Dean Ashli Johnson of her team in San Antonio. "After a conversation with LHA, we knew that we could create something special to bring this part of the industry to our students."
The day's exceptional lineup of industry speakers and panelists included Lester Adams, director of Emerging Markets, Choice Hotels; Henry Cisneros, former secretary of the U.S. Department of Housing & Urban Development and former mayor of San Antonio; Matt Clark, senior manager of Development Southwest Region (Texas), Hilton; Philip Colon, senior manager of Lodging Development, Marriott International; Bill Fortier ('83), senior vice president of Development Americas, Hilton; Mike Lakusta, CEO and founding partner, EthniFacts; Joe Luck, vice president of Franchise Sales & Development, Red Roof Inns; Lynette Montoya, president and CEO of LHA ; Nick Naik, CEO of Baywood Hotels; Wendy Solis, CEO of New Lion II LLC & LHA board member; and Jeff Stephenson, vice president of U.S. Franchise Development, G6 Hospitality.
Hotel Investment Day ended with a reception sponsored by Baywood Hotels at TRU by Hilton San Antonio Riverwalk, where students – praised by our panelists for their professionalism and thirst for knowledge – continued to network with community leaders, business owners and industry professionals.  
Under the leadership of Assistant Dean Johnson, a big shout out goes to our San Antonio team – Executive Secretary Cassandra Wentz, Clinical Assistant Professor Nathan Jarvis and Instructional Assistant Professor Tucker Johnson (pictured right with Johnson and Bill Fortier). Special thanks also goes to Miguel Cabrera, director of Development & Alumni Engagement, and Yasmin Ali, Alumni/Development coordinator, along with our industry partners who gave generously of their time and resources to make this inaugural event an overwhelming success! 
(Story: Pearl Cajoles | Photo courtesy of Ashli Johnson)
Posted on March 21, 2019