Fall Class of 2018 Celebrates Commencement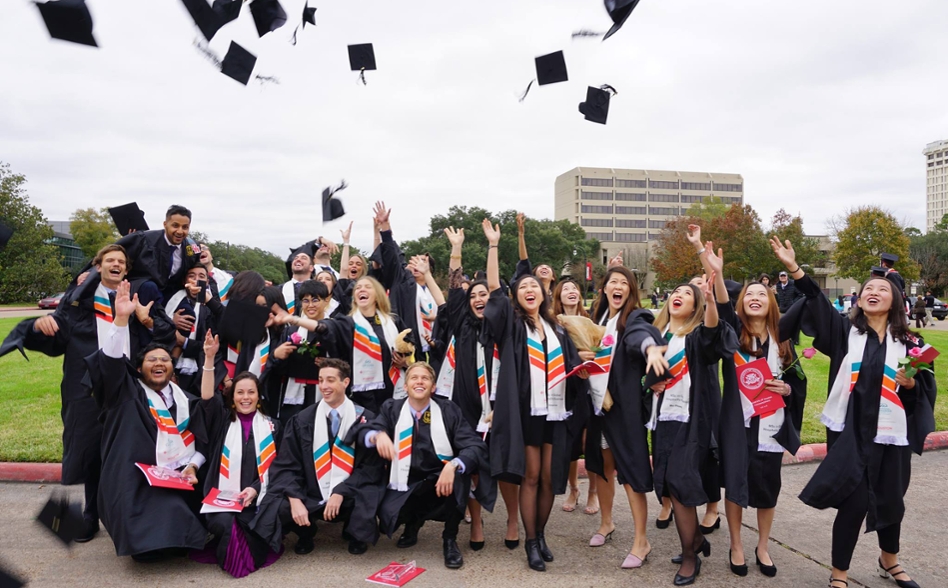 Festivity – and mortarboards – filled the air outside and inside Cullen Performance Hall on Dec. 14, when 124 Hilton College students, including four from Hilton College-San Antonio, received their bachelor's degrees in Hotel and Restaurant Management. Among them, three received designations of summa cum laude (highest honors), 22 magna cum laude (high honors) and 15 cum laude (honors).
Students from our graduate programs also crossed the commencement stage with 12 graduates earning their MS degrees in Hospitality Management, 31 receiving their MS degrees in Global Hospitality Business (pictured) and four taking home their Executive Master in Hospitality Management. One of our doctoral candidates also received her Ph.D. in Hospitality Administration and we're now calling her "Dr." Elizabeth Whalen!  
Joining Dean Dennis Reynolds in this semester's platform party was Andrew Z. Teoh ('20), student member of the University of Houston Board of Regents, and keynote speaker Mike Waterman, president of the Greater Houston Convention and Visitors Bureau. Dylan Dornbusch ('18) gave the student address.
It was also a big day for the third cohort of our tripartite MS Global Hospitality Business program. These students completed their studies in Houston after spending one semester in Switzerland and another in Hong Kong. The Global Master's program is a partnership with Ecole hôtelière de Lausanne (EHL) and the School of Hotel and Tourism Management at Hong Kong Polytechnic University (PolyU).
Associate Dean for Research & Graduate Studies Ki-Joon Back, EHL Associate Dean Achim Schmitt and Executive Dean Ines Blal, along with PolyU Associate Dean Catherine Cheung, conferred this third cohort of graduates and presented special awards. The Spirit Award went to Reza Daryan, whose positivity helped his classmates to persevere during their scholastic journey across three continents. Rena Cukurova, Remy Steinhilber and Max Ulveling received the Capstone Award for outstanding work on their final project.
Kaitlyn Venable-Valdez ('12), board president of the Hilton College Alumni Association, also took the podium to encourage new graduates to stay connected as alumni and to present the Alumni Association Award for Scholastic Excellence. On behalf of the board, these awards went to those graduating with the highest GPA in their major – undergraduate Penny Michelle Hamilton, and graduate students Yanjun "Maggie" Cai, Xiao "Lilac" Li and Michael David Schuster.
Finally, Dean Reynolds presented the coveted Dean's Award to graduate Xiao "Lilac" Li and undergraduate Emma Sinclair. Recipients of this award are students who embody the spirit of Hilton College through academics, involvement and volunteerism. 
After the ceremony, the graduates and their guests proceeded to the Hilton University of Houston for a reception in their honor. Congratulations to the Fall Class of 2018! We expect great things!
Click here to see event photos on Facebook.
(Story & Photo: Pearl Cajoles)
Posted on Jan. 23, 2019